Beto O'Rourke announced his run for Texas governor on Nov. 15, targeting the incumbent Gov. Greg Abbott who is seeking a third term.
"I'm running to serve the people of Texas, and I want to make sure that we have a governor that serves everyone, helps to bring this state together to do the really big things before us and get past the small, divisive politics and policies of Greg Abbott," O'Rourke, a Democrat, said in an interview with The Texas Tribune. "It is time for change."
Once a congressman, O'Rourke caught national attention when he almost unseated Sen. Ted Cruz (R-Texas) in 2018, losing by only a 3 percent margin. O'Rourke entered the 2020 presidential race, but he withdrew the bid before the primaries began.
In a video released Nov. 15 on his campaign website, O'Rourke criticized Abbott's "extremist policies around abortion, or permitless carry, or even in our schools," claiming those policies only divide Texans and prevent Texans from working together on the "truly big things."
"Those in positions of public trust have stopped listening to, serving, and paying attention to and trusting the people of Texas," O'Rourke said in the video, blaming the Abbott government for millions of Texans losing power during the snowstorm in February. "And so they're not focused on the things that we really want them to do, like making sure that we have a functioning electricity grid, or that we're creating the best jobs in America right here in Texas, or that we have world-class schools, or that we make progress on the things that most of us actually agree on, like expanding Medicaid, or legalizing marijuana."
Abbott responded on his Twitter account that O'Rourke wants to "impose socialism." Abbott said O'Rourke would defund the police, kill good-paying oil and gas jobs, allow open border policies, support President Joe Biden's policies, and "take your guns."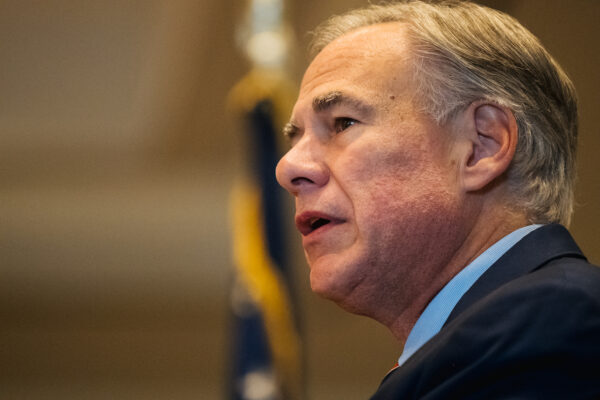 "From Beto O'Rourke's reckless calls to defund the police to his dangerous support of the Biden Administration's pro-open border policies, which have resulted in thousands of fentanyl deaths, Beto O'Rourke has demonstrated he has more in common with President Biden than he does with Texans," Abbott campaign spokesperson Mark Miner said in a statement. "The last thing Texans need is President Biden's radical liberal agenda coming to Texas under the guise of Beto O'Rourke."
Abbott's campaign had released video ads against O'Rourke well before his announcement.
In one ad, O'Rourke was seen saying, "Hell yes, we're going to take your AR-15, your AK-47."
On Nov. 14, Abbott's campaign released a new ad titled "Beto Biden Border Crisis," during which O'Rourke told crowds, "We do not need any walls to solve a problem that we do not have." O'Rourke also was seen telling a reporter along the border, "Yes, I'd take the wall down."
With his fund-raising and campaigning ability, O'Rourke has been viewed by Democrats as a candidate to take on Abbott.
"Beto O'Rourke enters the race for Governor with the highest name recognition and fundraising ability of any Democratic challenger in a generation," Ed Espinoza, president of Progress Texas, said in a statement, The Hill reported.
In a recent poll conducted by the University of Texas and Texas Tribune Polls, Abbott led O'Rourke by nine points, with 50 percent of registered voters having an unfavorable opinion of O'Rourke.
The poll also showed that Abbott has no meaningful competitors within Republicans.
With Biden's approval rating falling, O'Rourke's gubernatorial bid could be a hard fight. Former President Donald Trump won Texas by more than 5 percent, and he has already endorsed Abbott.
Abbott has endorsements by Cruz and Texas Attorney General Ken Paxton as well.
"Texas voters have already rejected Beto O'Rourke for statewide office, and they'll do so again now that they know just how radical he really is," Republican Governors Association spokesperson Joanna Rodriguez said in a statement.
"Beto 2.0 vowed to confiscate the firearms of law-abiding citizens, pledged to tear down physical barriers along the border, and supported regulations that would kill over a million jobs across the state, and raise taxes and the cost of living on families and small businesses. There's no telling how far Beto 3.0 will go in his vain attempt to stay relevant after running out of promotions to chase in Washington."