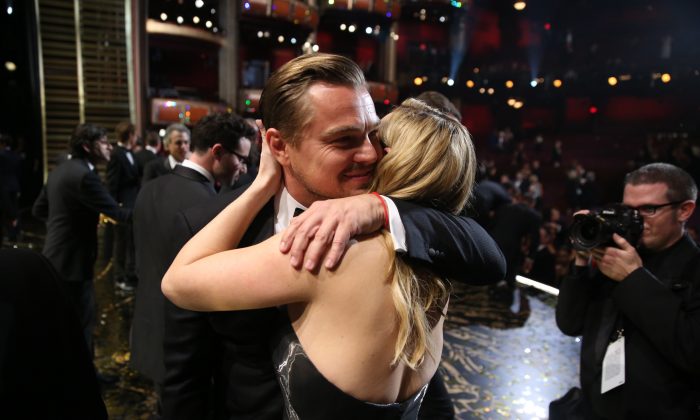 Best Twitter Reactions to Leonardo DiCaprio's Oscar Win
It was an emotional moment. Mostly because we all probably felt he deserved it, partly because we may have felt something terrible might have happened if he lost—like his fans taking to the streets and going all "Revenant" on the Academy members. But it happened. People were happy. They clapped. Even celebrated.
Some, however, took their enthusiasm for Leonardo DiCaprio's Oscar win to another level … or to another platform … Well, to Twitter anyway. Here's a selection of the best reactions—funny, witty, and tear-jerking.
What happens when Leo wins #oscars pic.twitter.com/GGiT02TM4K

— Damian Sanders (@makemebad35) February 29, 2016
The God damn best reaction video to #leo winning an #Oscars 😂😂💯💯👍👍👍 pic.twitter.com/04XrRfkQm6

— Joe/JBrunz (@JBrunzGaming) February 29, 2016
Arguably the greatest moment to result from Leo's #Oscars win. #LeoandKate pic.twitter.com/rJQwxILVsA

— TODAY (@TODAYshow) February 29, 2016
I'M SO HAPPY, CONGRATS LEO.#Oscars pic.twitter.com/ZFSsMkxiaT

— CONGRATS LEO. (@shxrlocked) February 29, 2016
Congrats Leo. Your heart can finally…go on. #Oscars @jonnysun pic.twitter.com/ItPHVTMTct

— Andy Cole (@AndyCole84) February 29, 2016
The day has come, friends. Congrats, Leo!!!! https://t.co/taNtJxdL05 #Oscars pic.twitter.com/eyQzip4R4A

— VH1 (@VH1) February 29, 2016
Here's to Leo 🍷 #Oscars pic.twitter.com/U5pnKoZXmA

— Meg V. Jones (@ItsMegNotMegan) February 29, 2016
If Leo's raising a glass, so shall we… 🍸🍸 #Oscars #ChinChin pic.twitter.com/1Sze0DtgU6

— Steph and Dom (@stephanddom) February 29, 2016
Congratulations to all of tonight's #Oscars winners! pic.twitter.com/YOp04hk94S

— The Academy (@TheAcademy) February 29, 2016
It's all over now, no more Leo memes. We can all go home now. 🙁 #Oscars pic.twitter.com/qVBcncren7

— Kat♛ (@Kathyyx_) February 29, 2016
RECOMMENDED