Sen. Bernie Sanders (I-Vt.) declared victory in New Hampshire's Democratic presidential primary on Tuesday night in the second contest to find a challenger to take on President Donald Trump in the Nov. 3 election.
With 89.7 percent of precincts reporting, Sanders had 26.0 percent of the total votes. Pete Buttigieg, the former mayor of South Bend, Indiana, followed closely behind at 24.4 percent. Sen. Amy Klobuchar (D-Minn.) was third with 19.7 percent.
"This victory here is the beginning of the end for Donald Trump," Sanders declared Tuesday night.
As results were totaling up and Sanders was projected to win, Buttigieg congratulated his rivals and called for unity within the Democratic Party.
"Thanks to you, a campaign that some said shouldn't be here at all has shown that we are here to stay," Buttigieg told a cheering crowd.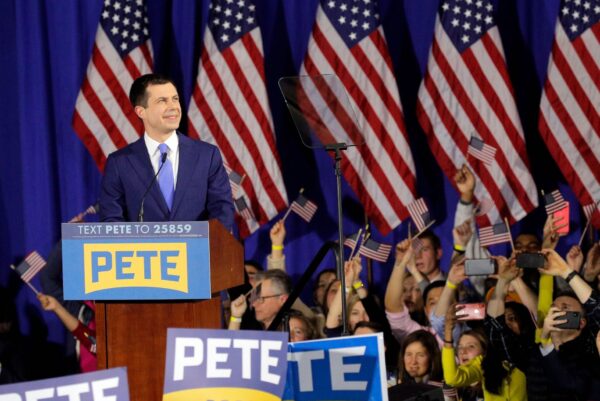 Sen. Elizabeth Warren (D-Mass.) came in at 9.3 percent while former Vice President Joe Biden garnered 8.4 percent.
Biden left New Hampshire for South Carolina before the results started rolling in.
"It ain't over, man. It's just getting started," Biden told his supporters in South Carolina.
Businessman Andrew Yang and Sen. Michael Bennet (D-Colo.) dropped out shortly after the polls closed.
Results for New Hampshire rolled in much more smoothly than last week in Iowa, where technical problems caused delays in the counting of votes for several days. Buttigieg narrowly held the lead ahead of Sanders in Iowa. Both campaigns have requested a partial recanvass of the results from Iowa.
Up next will be the Feb. 22 caucuses in Nevada and the Feb. 29 primary in South Carolina.
Former New York Mayor Michael Bloomberg is skipping all four states that are voting in February and will begin competing next month starting with the Super Tuesday primaries on March 3.
Four years ago, Sanders, 78, won New Hampshire easily over rival Hillary Clinton with about 60 percent of the vote in his unsuccessful bid for Democratic presidential nomination.
Reuters and The Associated Press contributed to this report.