NEWS ANALYSIS
Warren Buffett's holding company, Berkshire Hathaway Inc., crossed a milestone last week by eclipsing $300 billion in market capitalization.
Class A shares of the investment company rose $1,597, or 0.88 percent, to $183,772 per share on the New York Stock Exchange last Friday, giving the firm a market capitalization of $303 billion.
Buffett's firm is the fifth largest U.S. company by this metric, trailing in order, Apple Inc., Google Inc., Exxon Mobil Corp., and Microsoft Corp.
Shares Up on Q4 Earnings
Shares of Berkshire Hathaway have risen 3 percent since it announced record fourth-quarter and full-year earnings on March 1.
The company was buoyed by the announcement of $19.5 billion in net income and $182 billion in revenues for the year, leading several Wall Street analysts to affirm their "buy" ratings on the stock. The company's 2014 outlook is also strengthened by higher employment and a housing market recovery.
In a research note, S&P Capital IQ estimated organic operating revenues at Berkshire to rise 5 to 8 percent in 2014 and 8 to 10 percent next year. The firm expects Berkshire's finances to reflect an improving U.S. economy, given its stakes in the economically sensitive industrial and insurance sectors.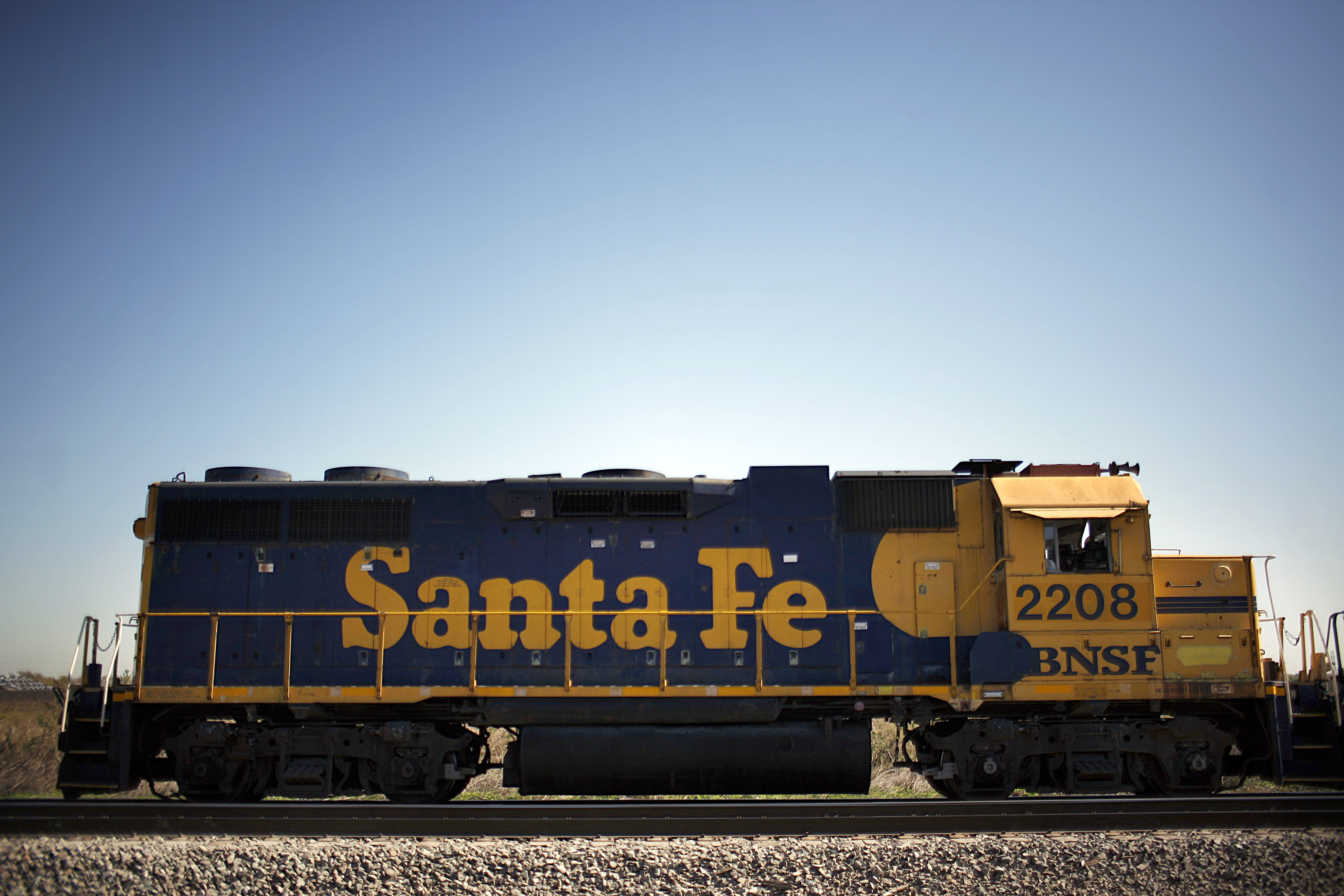 A locomotive sits idle near the Burlington Northern Santa Fe (BNSF) Railway Intermodal Facility on Nov. 3, 2009, in Haslet, Texas. The BNSF purchase was one of the biggest acquisitions of Warren Buffett's Berkshire Hathaway. (Tom Pennington/Getty Images)
Losing Transparency?
But as Berkshire's girth and profitability have grown, the company has become almost impossible to analyze for the average investor.
Due to its size and nature, Berkshire's public disclosures are different from other companies.
In its 10-K filing with the Securities and Exchange Commission, Berkshire splits its revenues by Insurance and Other; Railroad, Utilities, and Energy; and Finance and Financial Products.
Berkshire's wholly owned insurance companies, such as General Reinsurance and Geico, are easy to spot. So are its massive Burlington Northern Santa Fe railroad operation and MidAmerican Energy business, which dominate the second segment above. Lastly, the Financial Products revenue stream includes derivatives and swaps.
Less transparent are its external, noncontrolling equity interests, which as of Q4 2013, are Wells Fargo & Co., Coca-Cola Co., American Express Co., and International Business Machines Co. as its four biggest holdings. This income is included as investment gains/losses under its Insurance and Other segment.
There are some businesses that are even less transparent and barely get a mention, including the Berkshire Hathaway Real Estate brokerage business, which is considered part of the energy segment.
In 2013, the SEC requested more information from Berkshire on natural disaster claims in its insurance arm as well as derivative contracts on equities and swaps. Such disclosures are routine for its competitors in the insurance space.
The SEC doesn't have hard and fast rules on what constitutes material information necessary for disclosure. A company typically would disclose any business line greater than 10 percent of consolidated revenues. However, that threshold is around $18 billion for Berkshire, and given its diverse holdings, many strategically and financially important subsidiaries don't make the cutoff.
For instance, Berkshire portfolio company Fruit of the Loom, with its 26,000-strong workforce, is barely mentioned in its financial filings and discussions.
Berkshire owns too many companies, some of which may not fit within the three segments. And the company must make some subjective decisions on what it deems to be material enough to disclose. This allows Berkshire to bury certain gains and losses more easily than a company with greater business concentration.
A Matter of Trust
Buffett's company has no benchmark in the industry—there isn't any real competitor remotely close in size, scope, and diversity.
In terms of industry comparison, the closest are private equity firms. Yet Berkshire does not have LP investors to cushion its losses. Berkshire's holdings are diverse, yet heavily weighted toward some sectors, namely the industrial, consumer, and insurance industries. Outside of its equity holdings in companies, it also buys and sells financial derivatives on a variety of asset classes.
That's one reason why Buffett, 83, and Berkshire Vice Chairman Charles Munger hold a five-hour question and answer sessions annually at the company's shareholder's meeting in Omaha, Neb.
Buffett also pens long letters each quarter, discussing the company's holdings, performance, and notable happenings. Those are done according to what Buffett feels is most pertinent to shareholders in his eyes, and does not necessarily cover the most important financial issues in an absolute sense.
In a 2012 interview with Charlie Rose on PBS, Buffett said that he writes his letters with his sisters Roberta and Doris in mind—they've invested money in Berkshire but have little understanding of finance.
This strategy works mainly due to the public's trust in Buffett, and his matter-of-fact demeanor and investment track record over the past four decades. Buffett himself also owns roughly 20 percent of the company. In theory, as long as Buffett is at the helm, there isn't demand for more information. And investors trust Buffett more than almost any other corporate executive.
But all of that could change when Buffett no longer runs the company. Meyer Shields, an analyst at Keefe, Bruyette & Woods, told Bloomberg this month: "You don't really know what you're getting within Berkshire Hathaway."