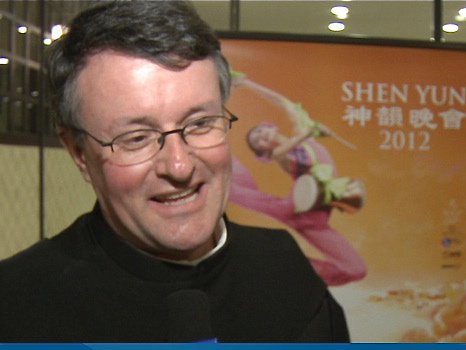 ZURICH—The audience at the Shen Yun Performing Arts International Company's performance at the Kongresshaus in Zurich on Sunday, March 25, appreciated learning about China's 5,000-year-old culture, from the legends of the culture's creation through to modern tales of courage.
Father Theo Flury, a Benedictine monk from the Swiss abbey Einsiedeln, a professor at the Pontificuim Institutum Musicae Sacrae Roma (Pontifical Institute for Sacred Music) in Rome, and a composer and organist, attended the Sunday evening performance.
New York-based Shen Yun states on its website: "After more than 60 years of Communist rule in China, and especially after the Cultural Revolution, Chinese traditional culture has been all but completely demolished. However, the deeper spiritual core of the ancient culture, with its values of benevolence, honor, propriety, wisdom, and sincerity, as well as a reverence for the gods and the heavens, cannot be destroyed."
Father Flury said: "It is something most shocking that one attempts to destroy the roots and the history of a people. It is similar to cutting a plant and stopping it from blooming.
"Therefore, I'm most grateful to this group of performers and advocates of the [Chinese] culture. Recognizing this effort strengthens me on my path to my own roots.
"The show represents the deep awareness of divine support in times of need."
Father Flury was glad to know of a culture where spiritual tradition was still alive. "This is rare in these modern times and finding that made me sigh with relief," he said.
As he continued, he said: "Today, we are either spiritual, that is, being completely spiritually minded, or we follow the path of intellectualism, which is biased against anything that is not based on materialism and hedonism.
"On the other hand, a show such as Shen Yun presents the beauty of the spirit, intrinsic values, and links to personal qualities.
"The Chinese culture also advocates that humans and nature must live in harmony" and that "one needs to respect the divine to come to accept one's fate."
"For me, it is of great importance that such values are actually brought to the public, not through intellectual discourse, but in leading by example through beauty, benevolence and forbearance.
"I think that during this period of time we are in dire need of such people who advocate spirituality as an alternative to today's way of life. By this, I'm not pointing at China alone, but at the entire Western hemisphere."
On departing he said to the Shen Yun artists, "You won my heart and my deepest respect for what you are doing. I'm telling you this as a Christian monk. I wish you all the best. Thank you."
Reporting by Meilin Kleemann and Qin Huang.
New York-based Shen Yun Performing Arts has three touring companies that perform simultaneously around the world. Shen Yun Performing Arts International Company will next perform in Frankfurt, Germany from March 30-31.
For more information, please visit ShenYunPerformingArts.org.