'Belle': An Elegant Period Film Echoing Contemporary Ideals
May 4, 2014 5:48 am Last Updated: May 4, 2014 8:22 am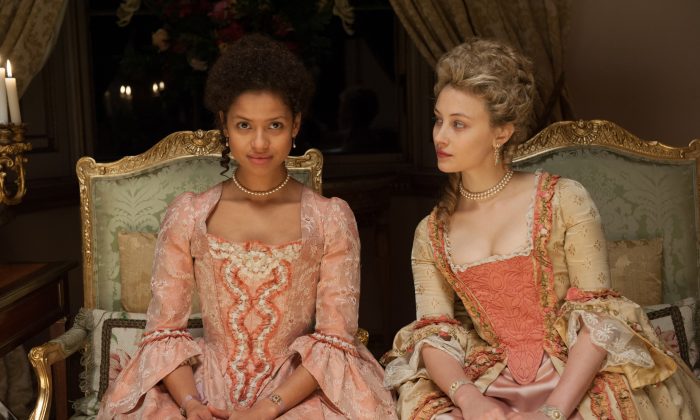 "Belle" is a peek into the struggles of Dido Elizabeth Belle, the illegitimate daughter of a Royal Navy officer and an African woman who was a slave in the West Indies. Through her story, a larger one is told—one of a world unable to accept a biracial woman.
Rather than ignore her, Sir John Lindsay (Matthew Goode) takes Dido (Gugu Mbatha-Raw) from a life in the slums and puts her under the care of his uncle, the first Lord of Mansfield (Tom Wilkinson). There she grows into a beautiful, intelligent, and well-rounded lady. 
Lord and Lady Mansfield (Emily Watson) raise Dido and her white cousin Elizabeth "Bette" Murray (Sarah Gadon) as children of their own. As the two ladies enter society and marriage, the 18th century's norms of social status open Dido's eyes to the harsh realities of a prejudiced world. 
While her birthright gives her certain privileges, the color of her skin is always a barrier that keeps her from participating fully in the traditions of their class. She is not "low enough to eat with the servants, but not high enough to eat with the family and guests" in her own home. 
The family's domestic turmoil plays out against the backdrop of the 1781 Zong ship massacre, in which the owners of the slave ship are found guilty of killing their human cargo for insurance money. Dido and Lord Mansfield become significant catalysts for the case.
Politics Under the Skin
The discovery of Belle's large inheritance from her late father immediately makes her extremely alluring to the social climber Lady Ashford (Miranda Richardson) whose sons Oliver and James are looking to attach themselves to women with land and money.
James (Tom Felton) shares the alarmingly similar bigoted mentality of Felton's previous character, Draco Malfoy, from the "Harry Potter" franchise. James's attitudes were shared by most of society. 
Oliver (James Norton), on the other hand, is drawn to Dido and genuinely develops feelings for her. However, they are rooted in the fact that he thinks Dido is beautiful despite her "misfortune" of being born half black. 
Many struggles are as much internal as they are external. These struggles are wonderfully embodied by Mbatha-Raw in little moments, from struggling to brush her African hair as effortlessly as her cousin Bette brushes her own, to trying to claw her skin off, crying alone in front of her vanity mirror. 
Seasoned Cast, Even-Handed Direction
The passionate yet innocent essence of Dido is captured perfectly by Mbatha-Raw, herself of South African and British descent. Coming fresh off Broadway and television, Mbatha-Raw captivates from start to finish.
Two-time Oscar nominee Tom Wilkinson nearly steals the spotlight in the strong supporting role of Lord Mansfield. Wilkinson translates how difficult it must have been for such an influential figure to take a stand for an unpopular cause. 
"Belle" boasts enormous talent with a seasoned cast that includes Emily Watson, Penelope Wilton, Sarah Gadon, and Matthew Goode. Much of the credit also goes to the costume and set designers who brought that era to life on screen. 
Director Amma Asante doesn't rush the story and keeps the pace light. Although steady, it never drags. The screenplay was written by Misan Sagay, who was inspired by a painting of the real-life Dido and her cousin.
Asante and Sagay borrow elements of a Jane Austen novel and create a delightful story. While Sagay and Asante do follow a formula in their story, which culminates to an expected conclusion, the simplicity of the plot allows more focus on the complexities of the characters. 
Despite being a period film, "Belle" champions gender equality and human rights, ideals that we continue to strive for today. "Belle" invites us into the world of Dido Elizabeth Belle, a true pioneer in her time.
'Belle'
Director: Amma Asante
Starring: Gugu Mbatha-Raw, Tom Wilkinson, Sam Reid, Sarah Gadon, Miranda Richardson, Penelope Wilton, Tom Felton, James Norton, Matthew Goode, Emily Watson
Rating: PG
Run Time: 1 hour, 45 minutes
Release Date: May 2
4 stars out of 5