BRUSSELS—Belgian lawmakers have raised fears their country has inadvertently supported organized crime after reports emerged that billions of dollars were wrongly paid out from frozen accounts belonging to former Libyan dictator Muammar Gadhafi. The issue is now being investigated by the country's prosecutors.
The central government in Brussels is coming under increasing pressure to explain what happened to up to $5.7 billion in interest and dividends that was dispensed by Belgian banks between 2011 and 2017, according to a report by Belgian broadcaster RTBF.
Opposition members of Parliament and experts fear the cash may have been siphoned off by criminal gangs trafficking weapons and people in and out of the country, where law and order broke down in the aftermath of the 2011 toppling of Gadhafi.
They are now demanding that Prime Minister Charles Michel explain publicly where the money went and whether it could have been used by militant groups operating in war-torn Libya.
The alleged scandal is especially sensitive for EU countries like Belgium which have faced a serious migration crisis since 2015. Libya became a major launchpad for gangs trafficking asylum seekers to Europe after it descended into lawlessness and civil war.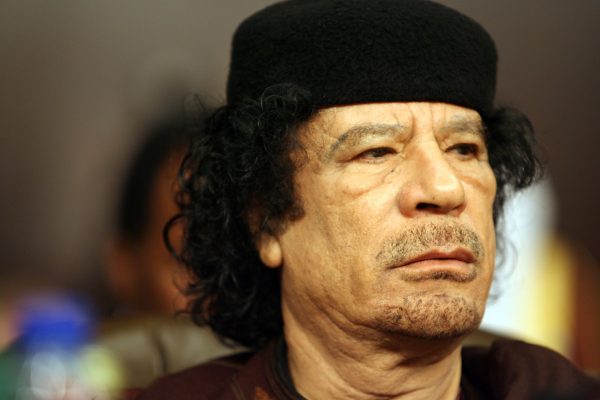 Gadhafi was deposed and later killed during a 2011 uprising, which was part of the Arab Spring of popular movements, and during which rebel fighters were backed by airstrikes from a multi-state NATO-led coalition.
Earlier that year, the United Nations had passed a resolution calling for all of the Libyan dictator's assets held outside of Libya to be frozen to prevent him bankrolling his war effort or escaping the country.
At least four banks managed by Euroclear, a financial institution with headquarters in Brussels, together held some $18 billion of Gadhafi's wealth which should have been frozen, but instead an investigation by Politico showed that billions in interest and dividends were paid out to accounts in Luxembourg and Bahrain.
In September, a U.N. panel of experts issued a damning report which concluded that Belgium was in violation of international sanctions over the payouts and warned they "could lead to the misuse and misappropriation of funds."
Dirk Van der Maelen, a politician from the Flemish part of Belgium, has put in questions to Foreign Affairs Minister Didier Reynders and Finance Minister Johan Van Overtveldt to clarify who has been releasing the money, who has been receiving the funds, and what it has been used for.
Robert Wtterwulghe, a law professor at Belgium's Louvain University, said in an interview with RTBF that the issue involves human trafficking concerns and other illegal activity.
"There is a whole market that aims to bring migrants and to engage Nigerian prostitution networks. It is a mafia enterprise but relies on all the militias in question—they receive external funds."
However Georges Gilkinet, a Green lawmaker in the Belgian Parliament, warned people they should be "very careful" before claiming the country had been involved in financing militant groups or traffickers, Politico reported.
"I think links between the money leaving Belgium and arms deals have been made too quickly. Belgium was obliged to respect the obligation of the U.N., but in 2011, it agreed to release the interest of these funds," he said.
"Hundreds of millions of euros were redistributed. No one knows where or why, we just know that it was Minister Reynders at the time who had the power of decision."
For his part, Reynders told reporters he had "taken no decision" on the matter of whether interest and dividends should be paid, and pointed out he left the finance ministry in December 2011.
A European Commission spokeswoman said it was up to the Belgian authorities to ensure that sanctions against Libyan figures were "duly enforced and properly implemented" by banks.
"The freezing of assets was adopted in 2011 against the Libyan investment authority, also against Muammar Gadhafi. Those measures still hold, the freeze is still there, it is still in force, there has been no change," the spokeswoman said.
A spokesman for the Belgian finance ministry said, "In this matter, Belgium has acted in coordination with its European counterparts in the application and in accordance with guidance shared and approved by said counterparts."