Belarusian president Alexander Lukashenko went to a jail in Minsk on Saturday to hold a meeting with detained opposition leaders, the state-run Belta news agency reported.
In a photo published by a pro-Lukashenko channel on Telegram and cited by Belta on its website, Lukashenko and eleven casually-dressed people are seen sitting at a round table decorated with flowers.
Opposition politician Viktor Babariko, who was barred from running for president in August's disputed election and detained in July along with his son, was seen on the picture to the left of Lukashenko in the photo.
A spokesman for Babariko's team, Gleb German, said he believed the picture was authentic but he did not know the reason for the meeting.
"Everyone is processing this information now," he said.
All people at the table apart from the president had a name card in front of them. The only woman seen at the table was a member of the opposition coordination council, lawyer Lilia Vlasova, who was detained in late August.
Reuters could not immediately confirm the authenticity of the picture.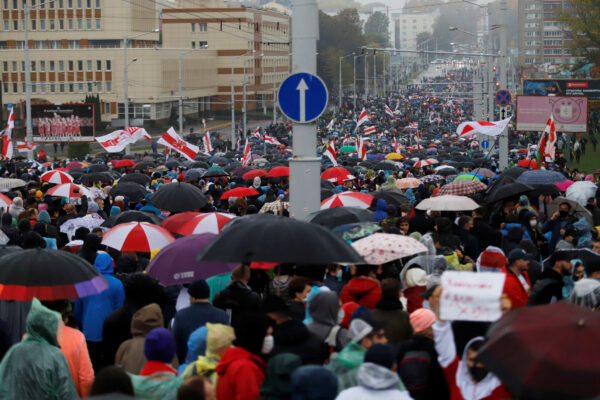 On Sunday following the meeting, tens of thousands of protesters rallied in the Belarusian capital Minsk for the 10th consecutive weekend, demanding Lukashenko's resignation. The Viasna human rights center estimated that around 100,000 people took part in the protest, which the police moved to disperse with water cannons, stun grenades, and truncheons. Rallies also took place in other cities.
Dozens of protesters sustained injuries, according to Viasna. The group released a list of protesters detained across the country on its website that by Sunday evening had more than 300 names on it.
"This has been the harshest dispersal of a Sunday march since August," Viasna leader Ales Bialiatski told The Associated Press.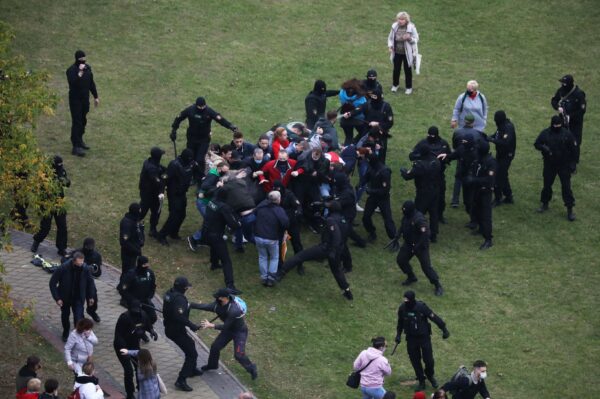 Observers saw Lukashenko's visit to prison as part of his efforts to steal the protesters' thunder by offering vaguely-described reforms, such as his proposal to draft a new constitution. During the meeting in prison, Lukashenko emphasized that "the constitution can't be written in the streets," his office said without offering other details of the meeting.
Lukashenko's main opposition rival, Svetlana Tsikhanouskaya, who is currently in exile in Lithuania wrote on social media that Lukashenko had "acknowledged the existence of political prisoners whom he used to call criminals," BBC reported. But she added, "You can't have dialogue in a prison cell," according to BBC.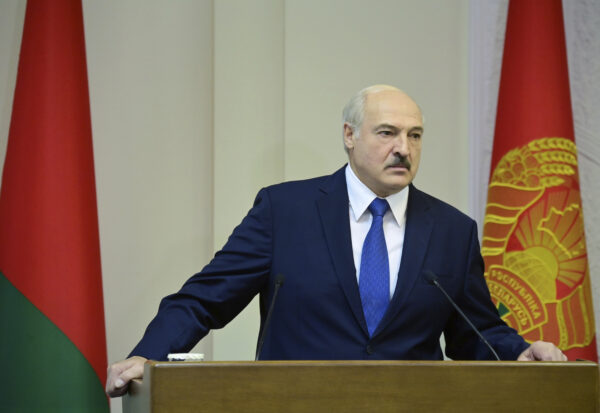 Pavel Latushko, a former culture minister and ambassador to France, who joined the opposition's Coordination Council and was pressured by authorities to leave the country, said that the meeting reflected the Belarusian leader's weakness.
"Lukashenko was forced to sit down at the negotiation table with the people whom he jailed," Latushko said in a statement, demanding the release of all political prisoners.
"After two months of protests and harsh repressions, Lukashenko is moving to de-escalate the situation," said Valery Karbalevich, an independent Minsk-based political expert.
"The discussion of a new constitution is an attempt by the government to imitate a dialogue. It would allow Lukashenko to drown the protests in talks, reduce tensions and enforce his agenda both inside the country and to foreign players," Karbalevich said.
Belarus has seen two months of protests since a contested Aug. 9 presidential election, in which Lukashenko claimed a landslide victory. His opponents say it was rigged to hand him a sixth term in power.
More than 13,000 people have been arrested and some later freed, while major opposition figures have been jailed or exiled in a crackdown that began even before the election was held.
The Associated Press, Reuters, and Epoch Times reporter Ella Kietlinska contributed to this report.