JERUSALEM, Israel—Less than 2 hours after a car bombing in Beirut, Lebanon that left 8 dead and at least 78 injured, social media sites were ablaze with photos and firsthand information about the attacks. Media reports, led initially by the BBC, continued to update the number of casualties throughout the afternoon as information became available and verifiable.
A large number of messages sent out on Twitter repeated an urgent call for people in the surrounding area to donate blood to help victims arriving at area hospitals.
The car bomb explosion, which went off at about 3 p.m. local time was in the Christian neighborhood of Achrafieh. Initial eyewitness reports of the aftermath of the bombings, including detailed—and sometimes graphic—photographs, came from users on Twitter.
The bombing took place near Sassine Square, and many area residents impacted by the bombing are in need of shelter due to the damage and chaos in the area. Late Friday afternoon, some Twitter users were attempting to coral housing support under the search term #SassineAID. 

Chady Abou Jaoude, a digital content specialist in Lebanon, took some of the earliest images of the bombing aftermath that were subsequently reposted on the Internet.
"[Social media is the] fastest and best effective way to communicate short and breaking news," stated Jaoude in an email on Friday afternoon. "All the Lebanese media (TV, radio, newspapers, websites) have twitter accounts and are being really fast. They have no precise info to share at first…at the end Twitter is for me the most effective medium where I can get second by second exclusive pics and breaking news whenever I need to."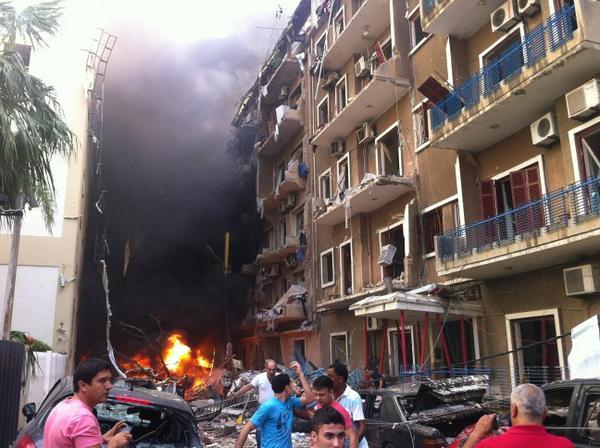 Due to reportedly long lines at the hospitals to donate blood, Donner Sang Compter, a Lebanese NGO that promotes safe blood donation, was asking potential donors to register online by checking their Twitter feed @DSCLebanon and going through their Facebook page.
The Epoch Times publishes in 35 countries and in 19 languages. Subscribe to our e-newsletter.
Join us as an Epoch Times Contributor!