News Analysis
Beijing's zero-covid tolerance policy is making life unlivable for many in China.
More than a year-and-a-half since the beginning of the pandemic, Chinese citizens are still suffering from ongoing quarantines, of up to thousands of people at a time, and pervasive PCR testing as often as daily in some schools.
Since Oct. 23, approximately one-third of China's 31 province-level regions, including Beijing, have remained under some sort of restrictions, including prohibition of travel from other provinces, school lockdowns (where students remained inside for testing), restaurant and entertainment closures, or periodic bans on going outside.
Ruili city, a jewelry trading center in China's Yunnan Province, on the Burma (Myanmar) border, has undergone four lockdowns since September 2020, with some of the lockdowns lasting as long as 26 days.
On social media, parents are posting about how they and their children are suffering under the Chinese Communist Party's (CCP) quest for "zero covid." One woman claimed that her two year old had been subjected to 100 PCR tests. Other people lament that they have spent months in isolation and that some local businesses have been closed for over half a year. And most residents of the town complain that they have had no income since the border closed.
The mayor of Ruili has defended the measures, saying that they will have to remain in place until the number of infections reaches zero.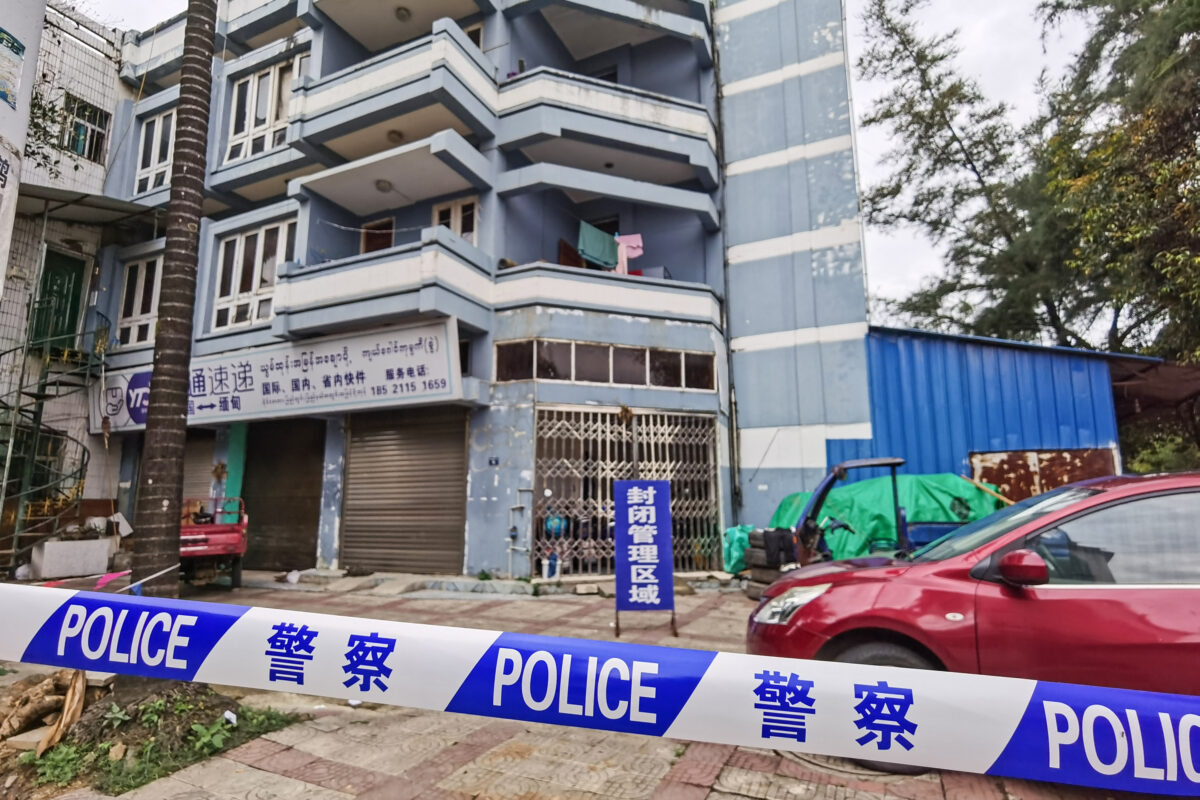 Towns on the Mongolian border have been under lockdown, on and off, since the beginning. The Mongolian border has been closed for months, adding to the coal and power shortages in China, and causing tremendous hardship in Mongolia, which is dependent on China for most finished goods, as well as vegetables and fruits.
The outbreaks and restrictions are not limited to the border areas. The CCP recently shut down more than 10 schools in Beijing. The principal of one of the schools told parents to bring pillows and blankets, because their children would be locked in the school, awaiting COVID-19 test results. He also said that one parent could stay with the child for the mandatory two-week quarantine that would follow.
Hundreds of people on a high-speed train from Shanghai to Beijing were rerouted to quarantine. In Zhejiang Province, the ancient city of Xitang has been closed. Some parts of Guizhou Province banned tourists from outside of the province. In Heihe city, Heilongjiang Province, mass transit and taxi services were suspended. And in Shanghai Disneyland, approximately 30,000 guests were sequestered after a single visitor was notified of a positive test after she had left the park.
Contact-tracing apps are causing people to be locked in their homes or sent off to quarantine. When a teacher, who was fully vaccinated, tested positive, the school was immediately shut down. Other teachers, who had received booster shots at the same location, were contact-traced. This led to a dozen more schools being closed.
Contacts are traced through cell phone location data, and those believed to have been exposed are notified that they must report for testing and isolation. The CCP is using technology that it refers to as "spatial and temporal companion." If a phone is in close proximity (within 800 meters by 800 meters, or around 100 football fields) to the phone of a confirmed case for more than 10 minutes, the owner will receive an official SMS notification, and their green health code will be changed to a yellow code of warning.
When their health app is downgraded to yellow, citizens must undergo two PCR tests within the next three days. Even if they return two negative tests, they must self-quarantine for 14 days.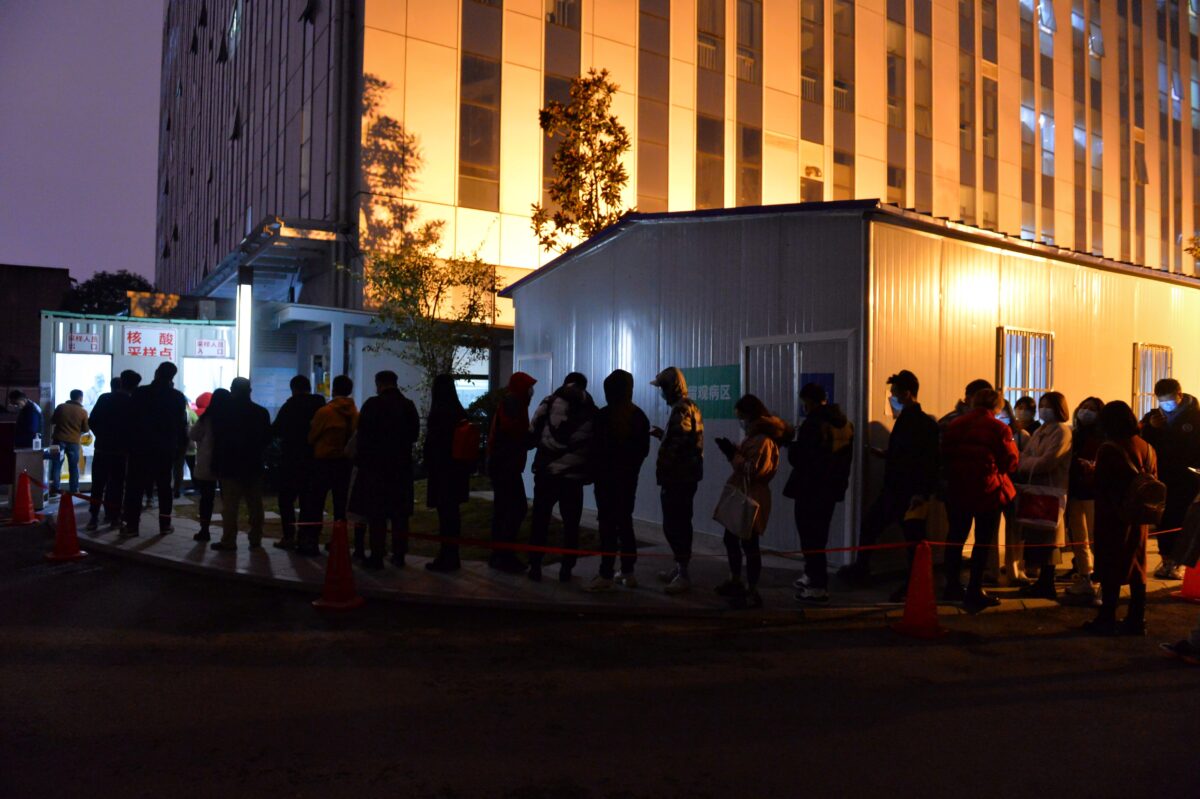 Due to the large size of the grid, people often do not know or even see the person they were allegedly exposed to. Additionally, the grid is designated as a hot spot for up to 30 hours—meaning, that someone arriving the next day, who had no contact with and no knowledge of the infected person, would have their health status downgraded. Consequently, people are referring to these suspected positive cases as "time-travelers."
The term "time-travelers" was first coined by residents of Chengdu who had left the city, as much as a day and a half, before positive cases were detected, but were then notified that their health status had been changed to yellow. According to the Chengdu Public Security Bureau, since Nov. 3, a total of 82,000 people have had their status reduced to yellow due to "time-space companionship."
Zhong Nanshan, China's top respiratory-disease expert, supports the "zero-covid" policy, claiming that it would be less costly than "reintroducing restrictions each time outbreaks occur." This statement, however, makes no sense, since the CCP has been reintroducing restrictions each time a new cluster of infections emerge.
Despite official statements to the contrary, the costs of the "zero-covid" policy are crippling the Chinese economy. Foreign and domestic companies are finding it harder to operate because they do not know when the next lockdown or restrictions will come. Foreign experts are reluctant to go to China because of vaccine, testing, and quarantine requirements, as well as the danger of getting stranded.
The human cost of ongoing and sporadic COVID-19 measures has been staggering. Foreign students at China's universities have had to put their education on hold, not being able to enter the country. Chinese citizens, studying and working abroad, have been unable to see their families for nearly two years.
A Commerce Ministry spokesperson urged the public to stock up on essentials, which many understood to mean that more lockdowns were coming. Meanwhile, public health officials have suggested that the restriction may continue through the end of next year. That would make three years of restrictions. Clearly, China has not done well with the virus.
Views expressed in this article are the opinions of the author and do not necessarily reflect the views of The Epoch Times.