The grand opening of Beijing's first Han Dynasty theme restaurant on March 24 attracted nearly one hundred customers. The Hanfeng Shiyi restaurant is not only constructed in the Han style with waiters and waitresses in traditional dress, but customers also don Han outfits.
Restaurant founder Shaofong, 30, hopes to use the restaurant to promote traditional Chinese culture. Customers can choose among hundreds of Han style outfits upon entering the restaurant. While they eat, they sit in traditional Han style—cross legged on the floor.
In addition to food and décor, the restaurant has information on several cultural topics posted for discussion and hosts traditional culture classes every weekend. The restaurant also puts on special events during traditional Chinese holidays.
Shaofong graduated from a professional art college in China and began to publicize Han style fashion and traditional Chinese culture classes last year.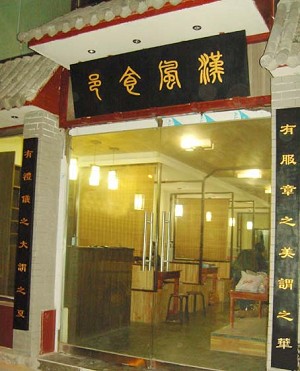 She told reporters: "My friends and I love traditional Chinese culture very much. One time a tourist said to us, 'Your Han clothes are very beautiful, but we don't know when or where we could use them.' From that point on I began to think about how to best publicize our Chinese culture. Then I thought of opening a theme restaurant since it would be available to people in all strata of society.
"We hope this way of spreading information will be a vehicle for Chinese people to reclaim their culture," said Shaofong. "When people put on Han style clothing, they may start to think about what's behind the clothing—like the etiquette, philosophy, morals, and social structures that fostered this style.
"By discussing the traditional works—the Four Books, Five Classics, and Four Arts of strings, chess, calligraphy and painting, we will not only wear our ancestors' clothing, but will also have brought to life our ancestors' virtuous civilization. We desperately need a revival of this in China today."
Shaofong added: "Some of my friends come and play the gu zheng [an ancient Chinese string instrument] for customers when they have time. People can learn to play as well if they are interested."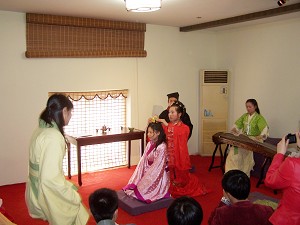 Book shelves beside the stage area contain dozens of ancient texts including Lunyu ( The Analects of Confucius ), Da Xue ( The Great Learning ) and Yi Jing ( The Book of Changes ). The restaurant plans to arrange study groups led by experts and scholars in society.
The Hanfeng Shiyi restaurant has received a lot of attention since its initial planning. "A lot of people have shown their support for this cultural rebirth. But some have distorted our original intention, claiming we were driven by profit. I hope they will come to a clear understanding of this since all of our cultural events are free, regardless if people dine or not," Shaofong said.
"Our true intention in founding this restaurant has always been to enhance and glorify traditional Chinese culture. "Guiding people to understand Chinese culture is a slow process," she said. "The education required could take anywhere from 5 to 20 years. But if people are interested, I am grateful. My motivation in doing this does not come from school education, nor is it inborn. It comes from admiring and understanding Chinese traditional culture for many years.
"The Chinese culture is broad and profound," she added. "The spirit of Benevolence, Righteousness, Etiquette, Wisdom, and Truthfulness are expressed in many different ways. The essence of Chinese culture cannot be learned in one lifetime."