A woman from Beijing said she was imprisoned and tortured for nine years, and in a recent incident, she was burned by "unknown chemical" that was poured on her head by Chinese communist authorities.
The reason, she said, is because she practices Falun Gong, a type of meditation practice. Since 1999, adherents of the practice have been subjected to persecution at the hands of Chinese Communist officials—including torture, imprisonment, bribes, beatings, and according to a new report, organ harvesting.
"After the persecution started in July 1999, the police arrested me multiple times and ransacked my home. Most of the time the police never identified themselves or showed any search warrant," Yang Jinxiang told Minghui.org, a website dedicated to publishing information about Falun Gong, also known as Falun Dafa, and the persecution. In 2000, police broke into her home and arrested her, stealing about $6,000 in cash.
"The police beat me and shocked me with electric batons, trying to force me to incriminate myself," she wrote.
Over the next decade, she was incarcerated, deprived of sleep, doused with cold water in the winter, and had her "eyelashes and pubic hair plucked out," Yang said.
"Once I was tied down on a bed for a month straight, until blood came out of my mouth," she added.
In the meantime, she went on a hunger strike to protest her inhumane treatment and torture, but prison guards responded by ordering other "prisoners pry my mouth open and force feed me." Several of her teeth were knocked out as a result.

Describing her ordeal further, Yang wrote that "the food went down my throat with blood and pus from my mouth. When I got weaker, they took me to a hospital. I refused to let them inject me with anything and fought back. I started to bleed where the needle was and splashed all over."
It didn't get better when she was sent back to her prison cell from the hospital. "I was denied use of the toilet and was forced to soil my pants. The guards would parade me in front of other prisoners to humiliate me," she wrote.
While she was incarcerated, Yang wasn't allowed to make phone calls or receive visits; her 80-year-old mother died and she didn't know.
While Yang said she has been out of prison for several years, the persecution started again in late May 2016. She was arrested.
"To silence me, they dripped an unknown chemical on my head. I couldn't open my eyes and almost suffocated," she said.
"When I wouldn't stop shouting, the police grabbed my head and repeatedly banged it on a desk. They even tied a piece of cloth around my neck," she wrote. After that, they stuck a piece of rag in her mouth.
Yang said police tried to draw blood from her because, as she claimed, it would be used as a match for "potential organ recipients" to "sell [her] organs for profit."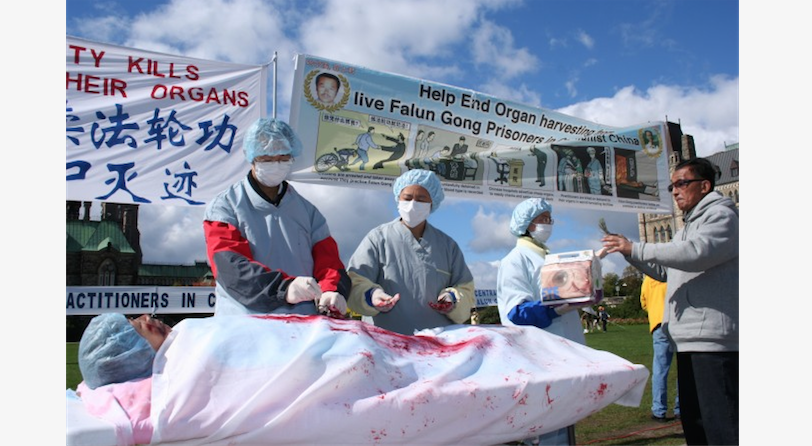 A report published in June 22 said that the Chinese regime built up a massive transplant industry via harvesting organs from prisoners of conscience, believed to be mainly practitioners of Falun Gong. It says as many as 1.5 million people may have been killed for their organs over the past 16 years.
During the doctor's examination, police covered her mouth.
"They covered my mouth and throttled my neck while holding my head down. My arm was covered in blood. The doctors refused to examine me like that, so the police had to take me back," she said.
The chemical police dripped her head with turned her white jacket black.
"The skin on my face was dark too," she said. "As soon as the sunlight hit me, my face started to burn," she added.
Ultimately, detention facility officials wouldn't take her without health examination results and with her shouting. She was taken back to the Yongning Police Station in Beijing, but they had nowhere to keep her, so they sent her home. 
Yang said she began practicing Falun Gong in 1996, crediting the practice with helping her deal with longtime ailments.