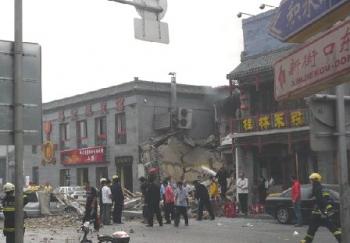 An explosion leveled an ethnic Uyghur restaurant in downtown Beijing Friday morning, raising security concerns ahead of China's 60th anniversary celebrations next week.
State-run Xinhua news agency said the blast injured three employees of the Xinjiang Kashgar Delicacy City Restaurant, and an unknown number of passers-by. The wounded were taken to a hospital, and their injuries were not life threatening, Xinhua reported.
Police immediately attributed the explosion to a canister of cooking gas. They locked down the area and cleared it of journalists. The street was cleaned up and reopened by noon.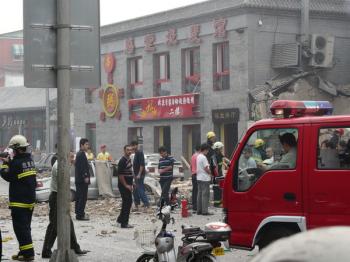 Residents and shop owners in Xinjiekou, the northwest Beijing neighborhood where the blast occurred, said they heard a loud roar around 9 a.m. and ran out to find bloodied passers-by in the street and the restaurant leveled to the ground.
A worker, at another restaurant on the same street, told The Epoch Times in a phone interview that the blast was as loud as a bomb exploding. "Other nearby restaurants also faced various degrees of losses. Although my place is not close [to the explosion], I could still feel the shaking from the force of the explosion," he said.
The Xinjiekou police station said to The Epoch Times: "I know what you are trying to investigate. I can't tell you anything even if I know the answer." The phone was hung up immediately.
The Jishuitan Hospital, where the injured were taken, was not willing to answer any questions.
Many Internet users uploaded pictures taken at the scene and exchanged information regarding the incident on blogs. However, those blogs were shut down and the messages deleted by noon.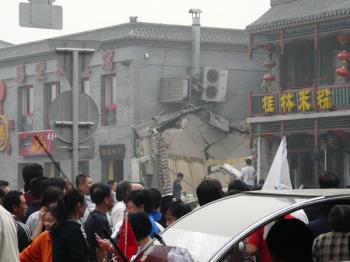 According to The New York Times, even if it was an accident, the timing of the explosion—and the fact that the restaurant was run by members of China's Uyghur minority—was not lost on residents in the neighborhood. A woman working at a nearby noodle shop called it "a bad coincidence."
Relations between China's Han majority and its Uyghur Muslim minority have been especially tense since ethnic riots in the western Xinjiang autonomous region in July—disturbances that according to official reports left nearly 200 people dead, most of them Han. And earlier this month, at least five people died after protesters clashed with the police in the regional capital of Urumqi.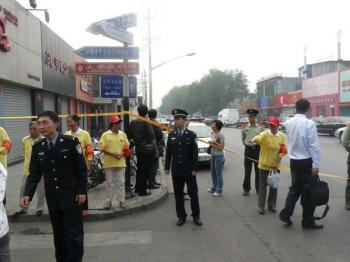 Beijing has been locked down ahead of the Oct. 1 celebrations, with troops and masked gunmen patrolling key buildings and intersections. Despite the massive increase in security, a pair of recent violent incidents in Beijing has raised tensions in the area. On Sept. 17, a stabbing spree near Tiananmen Square left two private security guards dead and more than a dozen other people injured. A suspect had been arrested, but two days later, a French tourist was stabbed in the same neighborhood.