Amnesty International has criticized Beijing for using its wide-reaching "red line" policy to justify suppressing freedom of speech in Hong Kong.
In a report released on Sept. 23, the rights group said officials in Beijing and Hong Kong have used "aggressive tactics" to shut down dissenting voices and protest movements in the city, on the grounds they're "threats to national security being orchestrated from abroad."
Hong Kong, a former British colony, returned to China's governance in 1997 under the policy of "one country, two systems," which promised the city a high degree of freedom and autonomy not available in the mainland.
This guarantee has come under attack under the Chinese' regime's vague and broad definition of national security known as its "red line" policies, the report said.
Red Line Policies
In a speech on July 1, 2017, the 20th anniversary of Hong Kong's handover, Chinese leader Xi Jinping said: "Any attempt to endanger China's sovereignty and security, challenge the power of the Central Government and the authority of the Basic Law of the HKSAR [Hong Kong Special Administrative Region] or use Hong Kong to carry out infiltration and sabotage activities against the mainland is an act that crosses the red line, and is absolutely impermissible."
In September 2014, a student-led civil disobedience movement remembered as "Occupy Central" or the "Umbrella Movement" broke out in Hong Kong, during which activists staged a 79-day sit-in protest at government headquarters to advocate for universal suffrage.
The Hong Kong and Beijing governments deemed the protests "illegal," labeling it a "Hong-Kong-version of Color Revolution." About 1,000 people were arrested in connection with the protests, and aside from nine student leaders who were given jail terms in April, a large majority of the arrested protesters remain in legal limbo five years later.
"The 'red line' is a false proposition. They extend the 'red line' indefinitely," Avery Ng, president of local political party Leagues of Social Democrats, told Amnesty International in the report.
"They strategically simplify and frame anything we do for our own freedoms without touching their sovereignty as a part of the Hong Kong independence movement and blame us."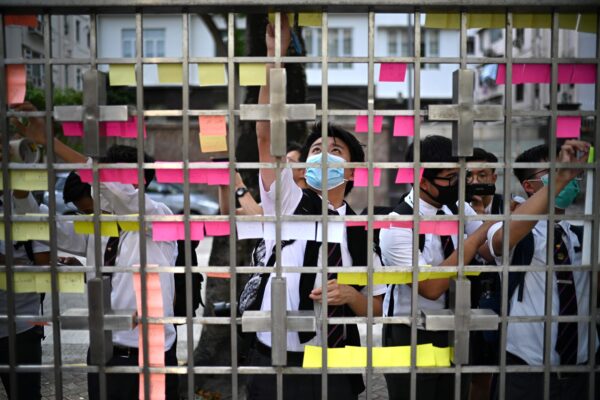 Censorship and Self-Censorship
Political and civil rights groups such as the Civil Human Rights Front, the League of Social Democrats, and Demosisto have all spoken of being targeted for their views or activism, the report said.
In September 2018, authorities banned the pro-independence group Hong Kong National Party for "the interests of national security" and "public safety." China's Liaison Office applauded the ban, saying that Hong Kong officials were doing their part to "safeguard the national sovereignty, security and development interests," according to China's state-run media Xinhua.
A social worker for a youth center who gave the alias Kong, told Amnesty that most local NGOs dared not to challenge the authorities' policies for fear of losing financial support from the government or business sectors.
"We cannot get involved in anything which could have legal consequences," he said. "The government video-records everything and prosecutes activists for minor issues. We have no idea who, when, and what situations will be prosecuted, and what laws they will use to prosecute people."
"The 'red line' imposed by Beijing on Hong Kong's civil society has given rise to a political environment of censorship and self-censorship," the report said.
Five Hong Kong booksellers for Mighty Current Media Company, a local publishing house critical of the Chinese regime, went missing between October and December 2015, and were later confirmed as being held in mainland China. One of them, Gui Minhai, emerged on China's state broadcaster on Jan. 17, 2016 for a televised confession.
Amnesty said Hong Kong authorities have also used the Public Order Ordinance, a law that dates back to colonial times, to "ban or place unreasonable limits on peaceful protest."
For instance, in June 2017 the police denied an application from the Hong Kong National Party to hold a vigil to mourn the "fall" of Hong Kong since its handover to China, on the basis that the group's advocacy for an independent Hong Kong was contrary to the city's constitution.
"The provisions of the Public Order Ordinance establish a system in which permission from police, not mere notification, is required to stage a protest. This runs counter to international law," the report said.
Amnesty said the government's response to the continuing large-scale protests—with a 2 million turnout during the peak—"demonstrated that the Hong Kong authorities are willing to use aggressive policing and prosecution tactics to enforce China's vague definition of national security, even when it violates international human rights laws and standards."
"The increasing curtailment of these human rights in Hong Kong must end," the report said.