The authorities in Beijing have a brainwave for solving the Chinese capital's crippling air pollution—direct the gray miasma out of the city via urban engineering. But the fetid fumes will likely plague nearby areas, argue concerned Chinese citizens.
Wang Fei, the deputy head of Beijing's urban planning authority, said that a "ventilation network" would be constructed in Beijing to facilitate air flow and divert smog and other pollutants out of the city, according to a Feb. 20 report on the official Beijing government's website.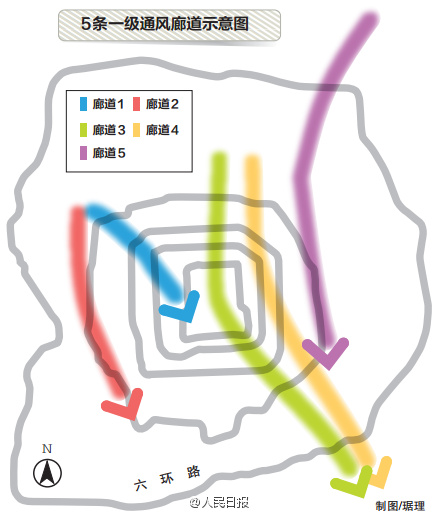 Five main "ventilation corridors" that will be more than 500 meters wide (about 547 yards), as well as several 80-meter-wide secondary corridors, will be constructed in the first phase of the project, Wang said. These corridors will be built by linking parks and green spaces, highways, and low-rise buildings.
Wang added that building construction would be tightly monitored at city blocks within the ventilation zones. No time frame has been given for the completion of the project.
While Beijing is one of China's worst polluted cities, the local government's efforts to combat the smog appear lackluster. For instance, the Beijing municipal authorities finally declared a "red alert"—the highest-tier smog warning in its pollution precaution scheme—during a particularly noxious patch of smog last December after the public raised its hackles. To slash emissions, the authorities ordered over 2,000 factories to shut, closed highways, and allowed only half the city's cars to travel on roads.
The Beijing authorities' latest project to curb air pollution hasn't been greeted with much fanfare; in fact, Chinese citizens say it's another poorly conceived, stop-gap measure.
In an interview with Radio Free Asia, Wu Lihong, an environmental activist from the city of Wuxi in eastern China, said that the ventilation corridors won't remove the root cause of air pollution in Beijing.
"What causes the smog? It's the coal-fired power plants, as well as the steel and chemical industries," Wu said. "Besides, where would the smog go after being blown away by these corridors? Does it go to Hebei? Or does it go to Tianjin? What happens if a gust of wind blows everything back to Beijing?"
Both Beijing and Tianjin are cities in Hebei Province.
Many on Sina Weibo, China's Twitter-like service, draw similar conclusions.
A netizen from Shandong Province going by the moniker "RunnerRoger" wrote: "The smog will end up in Hebei and Shandong."
"Cooo—" from Tibet wrote: "What a joke! The smog will end up in satellite cities near the capital."
"Your home is filthy, so you have to make mine filthy as well," wrote a netizen from Tianjin.
Instead of building the ventilation corridors, Wu Lihong the environmental activist feels that Beijing's air pollution should be "dealt with at the source, which means shutting down the companies that create or cannot deal with their emission issues."