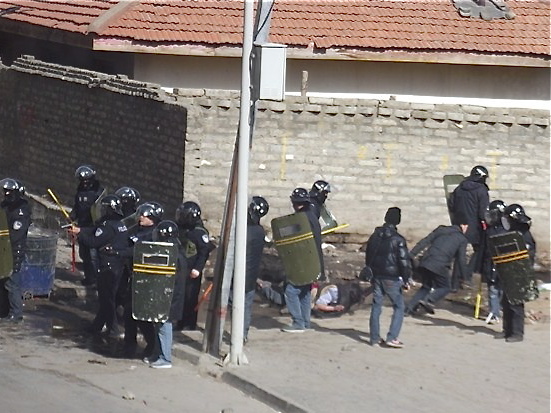 In the aftermath of three more Tibetan self-immolations, the Chinese regime has issued a warning to its officials in Tibet, to strengthen stability or face severe punishment.
Since three more Tibetans in Seda County, Sichuan Province, set themselves on fire on Feb. 3, communication to the outside from Seda County (Serthar) and Luhuo County (Draggo) has been cut. Several monasteries in the Tibetan capital Lhasa have been surrounded by military police. Monks are prohibited from entering and exiting the monasteries.
According to a Feb. 6 Tibet Daily article, the Central Commission for Discipline Inspection of the Communist Party Committee in Tibet issued an urgent notice to local officials, demanding tightened surveillance and inspection to ensure stability. Those who fail [to achieve stability] will face immediate dismissal and punishment, including criminal investigation.
The Free Tibet organization said that communication has been cut off in many Tibetan regions. In Ganzi, Sichuan Province, Internet and telephone connections have been shut off. Many armored vehicles and military trucks were seen on roads leading to Tibet, and special security forces from Chengdu and other areas of Sichuan have been dispatched to the region, according to several Internet postings.
"We were told that Lhasa has been surrounded by police. So are three major Tibetan monasteries in the suburbs. The monks at Drepung Monastery, Sera Monastery and Ganden Kloster are prohibited to go in and out of their monasteries," Jampel Monlam, assistant director of the India-based Tibetan Center for Human Rights and Democracy, told Radio Free Asia (RFA) on Feb. 6.
Beijing describes the self-immolators as terrorists and also blames the Dalai Lama and foreign forces for instigating these acts. While adopting somewhat more restraint when dealing with protests in the Han region, police frequently open fire on the peaceful and religious Tibetans, according to political commentator Chen Pokong.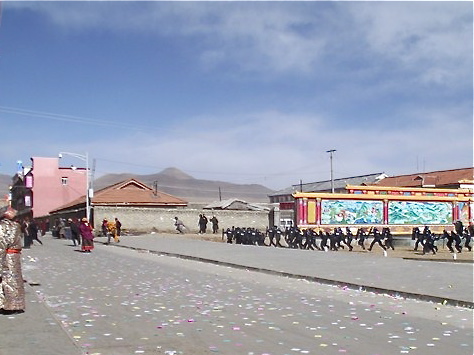 "The regime regards Tibetans as second class citizens," Chen told Sound of Hope Radio. "To put it bluntly, it is colonization with racial discrimination, much worse than the racial segregation in South Africa," Chen said.
Dawa Tsering, director of the Religious Foundation of His Holiness the Dalai Lama, told New Tang Dynasty (NTD) TV that the escalated suppression in Tibet shows that "the regime is fully aware of the gross discontentment by Tibetans with the current situation and thus regards them as enemies."
According to Chen, the regime has spent one million yuan (close to US$160,000) since 2011 to print one million photos of communist party leaders to be hung in Tibetan homes and monasteries.
"The population of Tibet is three million. One third of the population is required to hang up the pictures of communist leaders. This is outrageous," Chen said.
The Chinese communist regime is reviving the atrocities of the Cultural Revolution in Tibet, Zuoge, a monk from Dharmsala, India told NTD, adding, "This is extremely cruel to those monks and nuns."

"These days, the CCP shows off its money and believes that money talks," prominent Chinese dissident Wei Jingsheng said in a recent article. "As Western society has becomeplagued by the current economic crisis, money politics has also led many Western politicians to practice a double standard on human rights and democracy issues," he said.
Within this international environment, those Tibetans, who pay a huge personal price, using self-immolation as a protest, may not be able to change the CCP's policy in Tibet; instead it could make the CCP more arrogant and more impossible to please, Wei added.
The communist regime's urgent notice indicates that the regime will continue its brutal crackdown on Tibetans, Kelsang Gyaltsen, member of the Tibetan Parliament-in-Exile told RFA.
"This is very obvious. The regime does not have any intention to change its policy in Tibet, and it is very dangerous."

Voicing serious concern over the deteriorating situation in Tibet, U.S. Senator Dianne Feinstein and several other top American Senators, have introduced a resolution in the U.S. Congress asking China to stop religious control regulations and immediately start a dialogue with the Dalai Lama.
Speaking on the Senate floor, Feinstein said China is running a misinformation campaign against the Dalai Lama and the Tibetan leaders.
"Violence is not the answer to the legitimate grievances of the Tibetan people. We must raise our voice with this resolution to call on Beijing to respect the right of Tibetans to practice their own religion freely and preserve their distinct cultural and linguistic identity," Feinstein said.
The resolution also reaffirms the unwavering friendship between the people of the U.S. and the people of Tibet.
Other senators supporting the resolution are Barbara Boxer, Dick Durbin, Joe Lieberman, John McCain, Marco Rubio, Mark Udall, and Jim Webb.
Senator McCain went a step further in taking China to task, when he seized the opportunity during a panel discussion at a high-level security conference in Munich, Germany, on Feb. 4 to confront Chinese vice foreign minister Zhang Zhijun about the Tibetan situation.
"It is a matter of concern when Tibetans are burning themselves to death because of the continued repression of the Tibetan people in your country," McCain told Zhang, adding "I have said on many occasions, and I will say again, the Arab Spring is coming to China as well."
According to Reuters, Zhang replied, "Some people suggest the Arab Spring will come to China, but that is more than a fantasy because the policies and governance of the country have the overwhelming support of the people."