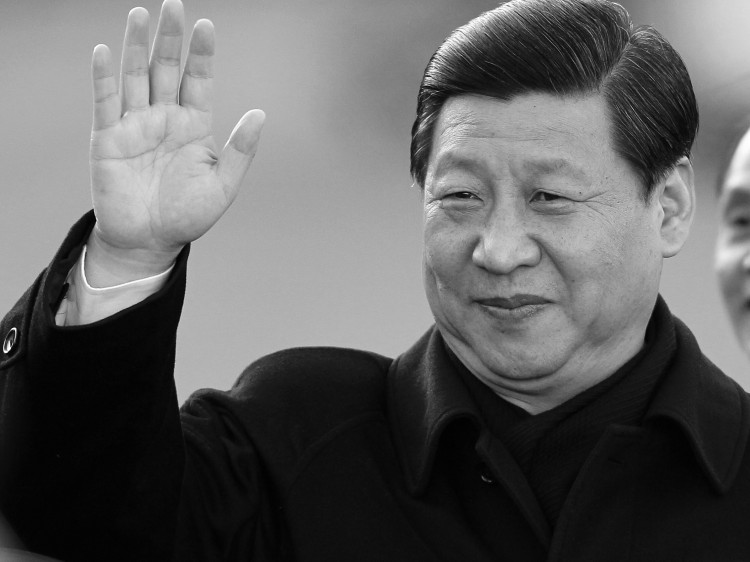 Extensive media coverage of the May 24, ten-year anniversary of the death of Xi Zhongxun, father of Chinese Vice President Xi Jinping—who is slated for the office of party secretary and president this fall—signals Beijing's right turn.
Several Chinese media referred to Xi Zhongxun as a person who never committed a "leftist" mistake. Other pundits commented that Beijing is using the opportunity to further strike at "residual poisons" of leftist ideologies and policies promoted by Bo Xilai, the recently disgraced party secretary of Chongqing. 
An interview by Jinan Daily with Gu Juchuan, Xi Zhongxun's biographer, titled "10th Anniversary of Xi Zhongxun's Death" appeared on the front pages of China's state mouthpiece Xinhua Net and People's Daily Online. 
Hong Kong-based Wen Wei Po published a 2002 Xinhua report introducing the life of Xi Zhongxun, which was republished on its website under the title "No Leftist Mistake Committed in His Life." 
Xi Zhongxun almost lost his life in a purging campaign during the Cultural Revolution when he fell victim to a power struggle and was sentenced to 16 years in prison. 
Xi was redressed in 1982 under Hu Yaobang, a Chinese leader and Comrade of Deng Xiaoping who served as both Chairman and Party General Secretary. Hu himself was purged and recalled a number of times during the Cultural Revolution. In 1987 Hu was forced to resign as General Secretary by political opponents who blamed an escalation of student protests on what they called Hu's "bourgeois liberalization." 
Under Deng Xiaoping, Xi was hailed as one of the "Eight Great Eminent Officials." After the Cultural Revolution, Xi became a pioneer in creating the first special economic zone in Southern China's Guangdong Province. 
Xi once voiced strong support for Hu Yaobang against the leftist faction within the Chinese Communist Party. In the early 1980s, Xi and Vice Premier Wan Li defeated a political coup launched against Hu Yaobang by Bo Yibo, the father of Bo Xilai. 
Later, when Deng deposed Hu Yaobang, Xi again strongly opposed attacks directed against Hu by Bo Yibo and his clan. These historical events were recorded in a series of articles and memoirs by Hu's former assistant, Lin Mu. Lin praised Xi Zhongxun for his kindness and integrity. 
Click www.ept.ms/ccp-crisis to read about the most recent developments in the ongoing crisis within the Chinese communist regime. In this special topic, we provide readers with the necessary context to understand the situation. Get the RSS feed. Get the new interactive Timeline of Events. Who are the Major Players?

Present Leaders' Legacy
Xi Zhongxun was a liberal; his sense of humanity reflected that of Hu Yaobang and Zhao Ziyang, who succeeded Hu as General Secretary and carried on with many of Hu's economic and political reforms. 
Hu Jintao and Wen Jiabao were both promoted by Hu Yaobang and owe him a favor; they are thus also close to and respectful of Xi Zhongxun's memory. Xi Zhongxun was a mentor for both Hu Jintao and Wen Jiabao. As such, it is no wonder that Hu and Wen have favored Xi Jinping. 
Well-known online commentator Zhou Xiaohui said that Bo Yibo and Xi Zhongxun were completely different men in ideology and in action. The former was a cold and cunning leftist, Zhou said, while the latter was a practical moderate, known for his integrity and tolerance. Consequently, their offspring, Xi Jinping and Bo Xilai, are very different as well, according to Zhou. 
When Chongqing's former top cop, Wang Lijun, fled for his life to the U.S. Consulate in Chengdu on Feb. 6, he set in motion a political storm that has not subsided. The battle behind the scenes turns on what stance officials take toward the persecution of Falun Gong. The faction with bloody hands—the officials former CCP head Jiang Zemin promoted in order to carry out the persecution—is seeking to avoid accountability for their crimes and to continue the campaign. Other officials are refusing any longer to participate in the persecution. Events present a clear choice to the officials and citizens of China, as well as people around the world: either support or oppose the persecution of Falun Gong. History will record the choice each person makes.
Read the original Chinese article. 
chinareports@epochtimes.com
The Epoch Times publishes in 35 countries and in 19 languages. Subscribe to our e-newsletter.