Chinese Foreign Minister Wang Yi said on Aug. 29 that Washington's "attitude toward China" would decide how the two countries would work together on Afghanistan, during a phone call with U.S. Secretary of State Anthony Blinken.
Wang not only set the conditions for bilateral cooperation, but also accused the United States of "fighting terrorism selectively," according to a statement published by the Chinese foreign ministry.
While the Chinese ministry's statement detailed Wang's demands for the United States, State Department spokesperson Ned Price issued a brief statement on the call.
Blinken and Wang spoke about "the importance of the international community holding the Taliban accountable for the public commitments they have made regarding the safe passage and freedom to travel for Afghans and foreign nationals," the spokesperson said.
Price's statement didn't offer any other details about the call.
Wang said the U.S. attitude would be measured by its actions: Stop "smearing and attacking" Beijing and stop "undermining" China's sovereignty. He also said the United States "should take seriously" China's "two lists" and "three bottom lines." Doing what China said would bring bilateral ties "back on track" to meet Beijing's wishes.
It's unclear what smearing and attacks to which Wang was referring. In July, the Chinese regime also accused Western journalists of "smearing China" after they published reports critical of Chinese policies on local floods. The accusation, promoted through China's state-run media, resulted in Chinese citizens harassing and threatening Western reporters covering the disaster on the ground.
Chinese state-controlled media have been publishing their own negative reports about the United States, such as labeling the United States as an unreliable partner, given its chaotic withdrawal from Afghanistan.
Beijing handed the lists and three demands to U.S. Deputy Secretary of State Wendy Sherman when she traveled to China in late July to meet with Wang and his deputy, Xie Feng. One of the lists asked the United States to correct its "wrongdoings," including revoking U.S. sanctions on Chinese Communist Party (CCP) officials.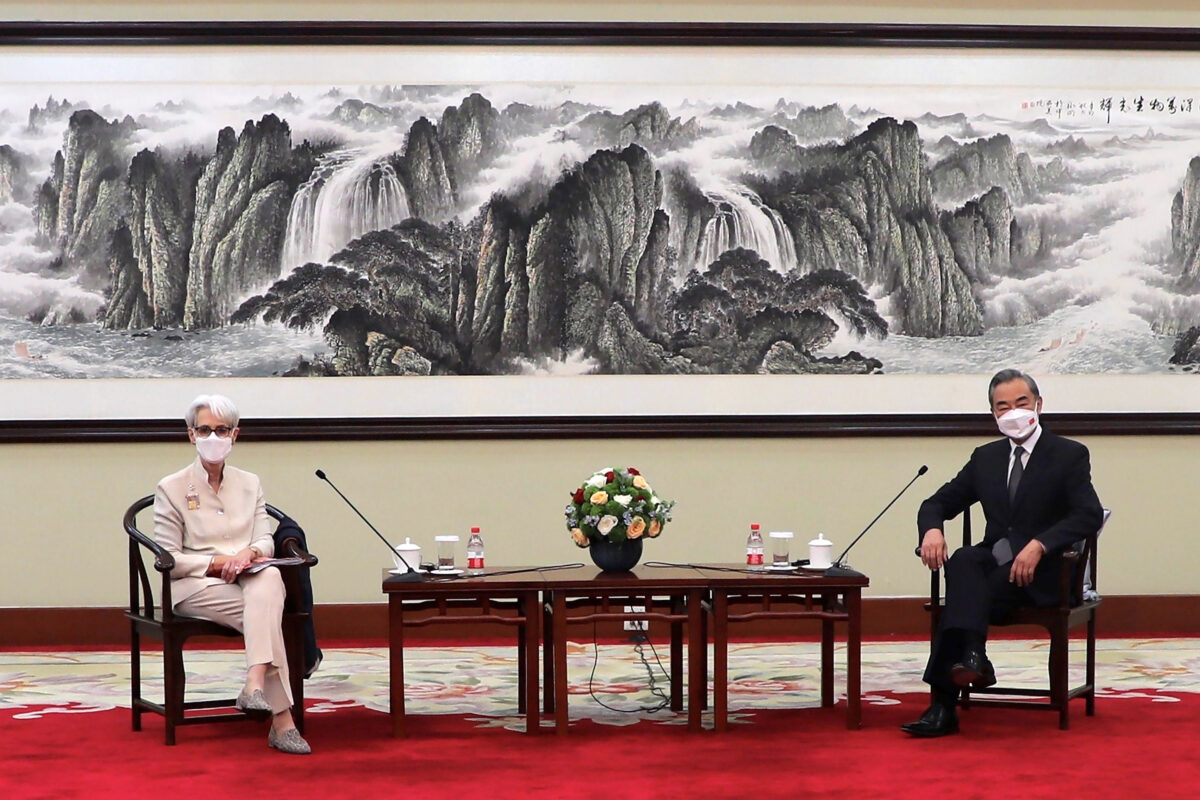 One of the demands requires that the United States not "interfere" in the Chinese Communist Party's management of issues in the troubled regions of  Xinjiang, Tibet, and Hong Kong. Many Western governments, including the United States, have called out China for its human rights violations in the three regions, particularly over the detention of more than 1 million Uyghurs in Xinjiang.
The communist regime has turned Sherman's China visit—as well as a March meeting in Alaska when Wang and China's foreign policy official Yang Jiechi dressed down Blinken and national security adviser Jake Sullivan—into a propaganda coup.
Feng Chongyi, an associate professor in China Studies at the University of Technology in Sydney, said the Chinese regime is taking advantage of a U.S. policy on China that he described as "soft."
"Do you want to cooperate with me? If you ask me to cooperate, you have to meet my demands," Feng told The Epoch Times, describing Beijing's strategy on dealing with the United States. "You are looking to me for help, right?"
According to Feng, this has been the main reason the United States has been at a disadvantage when engaging with China.
The professor suggested that the Biden administration was too "indecisive" in its approach toward the Chinese regime. U.S. officials have said that the administration would "compete, collaborate, and confront China as needed," which sounds perfect, but "is actually conflicting," Feng said.
The call on Aug. 29 was the second talk between Blinken and Wang over Afghanistan this month. According to the State Department, Blinken and Wang spoke about the "security situation" in Afghanistan during the earlier call on Aug. 16, after the fall of Kabul to the Taliban.
During that call, Wang said China was ready to "have communication and dialogue" with the United States on issues related to Afghanistan, but he criticized the swift U.S. withdrawal as having a "severely adverse impact" on the war-torn nation, according to China's foreign ministry.
It remains to be seen how much China would actually benefit from a Taliban-controlled Afghanistan.
"I'm not sure that China is actually going to benefit, because Beijing now has to do something that it's never done before, which is to manage a very difficult security situation outside its borders," Gordon Chang, author of "The Coming Collapse of China," said during a recent EpochTV webinar.
Aside from Afghanistan, Wang also accused U.S. intelligence officials of "cooking up" their report on the origins of the CCP virus during the latest call with Blinken, according to the Chinese statement. He also demanded that the United States stop "politicizing" tracing the origins of the virus.
The U.S. intelligence report, which was released on Aug. 27, stated that it couldn't come to a conclusive assessment about the pandemic's origins, given China's refusal to cooperate.
The CCP virus originated in China's central city of Wuhan. The report concluded that the virus could have either come from an infected animal or a "laboratory-associated incident."
China's Wuhan Institute of Virology (WIV), home to one of China's highest-level biosafety P4 laboratories, has been under scrutiny for potentially being the source of the virus. U.S., Canadian, and French funding to the lab for controversial gain-of-function research has also come under scrutiny.
A State Department fact sheet released in January stated it had reason to believe that "several researchers inside the WIV became sick in autumn 2019, before the first identified case of the outbreak, with symptoms consistent with both COVID-19 and common seasonal illnesses."
Eva Fu and Luo Ya contributed to this report.