Beijing Resident: Police Framed and Tortured My Husband
July 24, 2013 8:23 pm Last Updated: July 24, 2013 7:17 pm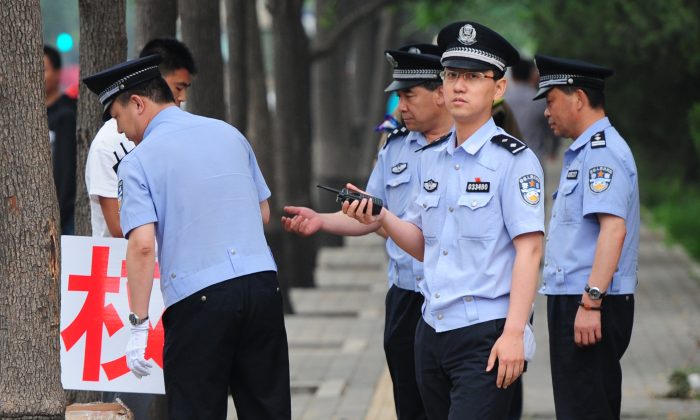 For the past two years, Beijing resident Mrs. Li has petitioned various authorities seeking justice for the wrongful death of her husband.
According to her, her husband, Li Wenhai, was detained for a period of five years on false charges fabricated against him by the Beijing police, including a three-and-a-half-year detention in a mental hospital, where he was brutally tortured and administered harmful psychotropic drugs. He later died at home, after the police prevented emergency services from reaching him.
The events leading up to the incident began after Mrs. Li lost her job, and the couple rented a building's basement in a residential district, which they then partitioned into a few dozen rooms to sub-let out to other people. They were thus able to earn enough from the rent to support their entire family.
According to a petition letter written by one of Li Wenhai's relatives, a retired estate-manager and temporary security guard for the neighborhood community named Liu Guirong was envious of the substantial income Li was earning through renting out his basement rooms, and colluded with Cui Xiaoli, a former neighborhood committee member, and Wang Li, a police officer, to frame Li.
On May 13, 2006, police from the Dongcheng Public Security Bureau in Beijing went to Li's home, secretly arrested him, and destroyed the family's possessions. They then interrogated and tortured Li, fabricated criminal evidence against him, and forced him to falsely admit that he had participated in the robbery of an armored car. The Dongcheng Public Security Bureau twice submitted requests to the People's Procuratorate to have Li jailed, but was rejected on both occasions due to the falsified criminal evidence they provided.
On June 5, a policeman named Wang Jun contacted Li's family and told them that the police intended to allow Li to return home after carrying out a psychiatric assessment of him. Meanwhile, Li was instructed to act like a mental patient. He was then diagnosed with a mental disorder.
When Li was released from jail on July 14, he was transferred directly to the Daliushu private psychiatric hospital, where he was detained for three years, six months, and nineteen days and forcibly administered various harmful psychotropic drugs. Li's relatives repeatedly applied for his release, but the Dongcheng Public Security Bureau constantly rejected them on the grounds of "maintaining stability during politically sensitive periods".
"When we finally took Li Wenhai home, his hair and eyebrows had all turned white, he had lost many teeth, and was just skin and bones," Li's wife said. "He was so weak that his hands couldn't stop shaking even when he was just holding chopsticks. Soon after he returned home, he tried to commit suicide by taking sleeping pills.
"We called the ambulance hotline 120 as well as the police hotline 110. When the police arrived, they kept the people sent by 120 from rescuing Li Wenhai, who was still alive when they arrived. The police spent the next three hours investigating the scene and taking notes, and after he had died, sent his body directly to the morgue to be frozen," Mrs. Li said.
"Even our neighbors said, 'He would have lived if we hadn't called 110 [the police],'" she said.
The Epoch Times called the Longtan Police Station in the Dongcheng District of Beijing and attempted to contact its director, Yang Pingchuan, but was told, "Director Yang is having meetings all day long. We are not sure when his meetings will end." When the reporter inquired over the phone about the death of Li Wenhai, the person said he did not know anything about it and immediately hung up.
Ever since Li's death in June 2011, his family members have filed over 200 complaints and petitions to various state and Party organs, including the District and City level Police Departments, the Municipal People's Congress, the Municipal Communist Party Committee, the Municipal Government, the State Bureau for Letters, the Ministry of Public Security, the Political and Legislative Affairs Committee, the Central Commission for Discipline Inspection, and the Procuratorate.
Staff at the Procuratorate reportedly threatened the attorney who had acted on behalf of the case, telling him that "your license will be revoked if you continue to be involved!"
The Dongcheng District Procuratorate has also since refused to meet Li's family members, and has called the police on multiple occasions to have Li's family members arrested.
The Epoch Times attempted to contact the Dongcheng District Procuratorate on over ten separate occasions, but all of the calls went unanswered.
"The police went from committing a criminal offense to murdering the victim. Li Wenhai committed no wrongdoing from the start to end, and yet he was so unjustly killed," said Li's wife.
"Over the past three years, I have sent many, many letters, including 67 formal letters of complaint through registered mail alone," she said. "But none of them have received any response."
"The law is like hanging out a sheep's head and selling dog meat! [A Chinese saying meaning to mislead others with false promises.] The officials all protect each other, they are like wolves in sheep's clothing! Wherever my son and I go now, there are plainclothes policemen or even police vehicles following us. I had even closed a deal with Beijing News and Legal Daily to have my case published as a paid advertisement in their newspapers, but the police quickly interfered and stopped it from going through. Although we the ordinary citizens speak truthfully with facts, the CCP's judicial organs refuse to be equally reasonable with us!"
Original Chinese article.