Beijing Police Stop Appellants' Press Conference
March 1, 2008 12:00 am Last Updated: March 1, 2008 12:00 am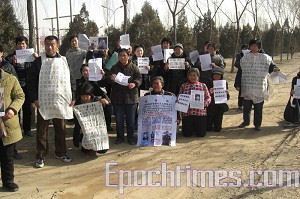 A press conference, "Making Public China's Human Rights Condition" in Beijing, was forcibly aborted because of police interference. The press conference was originally planed to be held near Gongyi East Bridge, on the outskirts of Beijing on February 28 by many petitioners from all over of China, but police obtained information about it before hand. "There are many police here today. They surrounded the areas close to the venue. About 6 to 7 police vehicles are parked around. Petitioners dared not approach the site. Today's activity was forcibly aborted." said Cheng Yingcai, a petitioner from Hebei Province.
"There were 4 or 5 buses of petitioners coming today, but many were arrested by the police after getting off the buses. There were over 30 people in our group who escaped." said Chen Lianqing, another petitioner from Hubei.
Even under the strict control of the police, there are still hundreds of petitioners scattering into the woods and streets around Gongyi East Bridge. One group of them was interviewed by a Japanese journalist.
Foreign Press on Scene
According to a human rights defender on-the-scene, who does not want to be named, some petitioners hiding in the woods noticed one journalist from Kyodo News Agency that was not tracked by the plain-clothes police, so they approached him. Their interview finished in 20 minutes at the moment when someone warned, "The police are coming!"
"The Japanese journalist hid his camera in his armpit. After receiving the petitioners' written petitions, taking some photos, and talking for a short while, he hurried away." said the rights defender.
Despite Promises—No Press Freedom
In January 2007, Beijing promised that foreign journalists could interview anyone in China and only need the person's permission until the end of the Olympic Games.