Beijing Police Beat Rights Activist Hu Jia
November 12, 2007 12:00 am Last Updated: November 12, 2007 12:00 am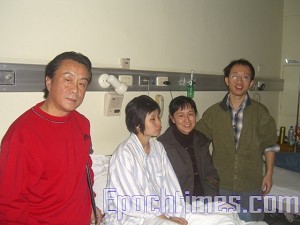 On November 9, Beijing rights activist Hu Jia was beaten by police as he was leaving his apartment building to visit his pregnant wife in the hospital.
According to Hu, the police from the Beijing Public Security Bureau National Security Brigade used to monitor his family. Hu and his mother-in-law were about to leave the building when police tried to block their way. When Hu refused to stay, "One police officer pulled my collar and with his other hand, hit me in the mouth. I instantly tasted blood," said Hu.
Hu Jia added, "They wrenched my arm around to my back and pushed me to the floor. My elbow and middle finger right hand were so badly injured that I still cannot hold anything." Hu was later allowed to visit his wife in hospital after the police made a phone contact.
According to Hu Jia, these policemen never wear uniforms, show their badges or give their names. The police officer who beat him is in charge of the group.
Hu Jia's wife Zeng Jinyan was admitted to hospital for abdominal pain and vomiting on November 7. When she noticed that her husband had an altercation with the police she started severely vomiting again. Hu said, "From last night to this early morning, Jinyan has vomited severely four times… her throat is sore and she cannot even swallow water. She is also showing signs of dehydration and the doctor said it was all caused by shock."
On November 10, when rights activist Jia Jianyin and Qi Zhiyong visited the Hu couple in the hospital, four Beijing police were also standing guard outside the ward.
To date, the Hu family has lived under Beijing police surveillance for over five months.