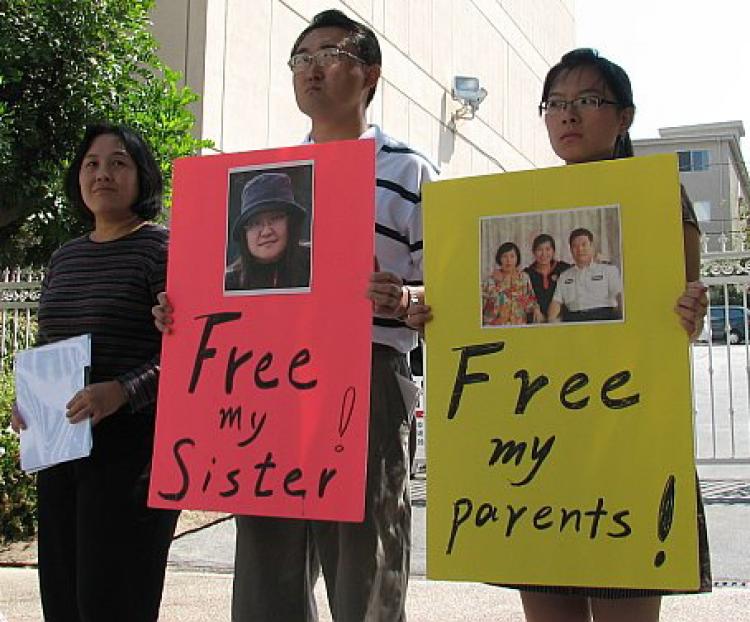 Family and friends of Chinese labor camp victims call for help
LOS ANGELES−Family members of Falun Gong practitioners who have been sent to labor camps in the run-up to the Olympics, decried the Chinese Communist Party's persecution of Falun Gong on August 19 in front of the Los Angeles Chinese Consulate.
Jason Si, a computer engineer from Moreno Valley, explained how his sister, a Falun Gong practitioner, was arrested in China last Apr. 22. "About 20 Chinese national security agents and local police raided my sister's home." Police thoroughly ransacked the apartment and arrested his sister and father, Si said.
After three days of interrogation, according to Si, police were unable to charge them with any crimes, yet placed his father under house arrest and sent his sister to Shijiazhuang Women's Labor Camp. "I now ask for help from everyone who cares about justice and human rights. I demand that the Chinese authorities release my sister from the labor camp immediately. As the Chinese regime continues with its Olympic 'show' business, let us not forget the severe human suffering and sacrifices that the Communist government has forced upon tens of thousands of innocent people–all in the name of the Beijing Olympics."
This year, over 8,000 Falun Gong practitioners have been imprisoned without trial because of their beliefs, according to the Falun Dafa Information Center.
According to Amnesty International's most recent report, "Preparations for the 2008 Olympic Games in Beijing were marked by repression of human rights activists," and "Growing numbers of human rights activists were imprisoned, put under house arrest or surveillance, or harassed.[…] Falun Gong practitioners were at particularly high risk of torture and other ill-treatment in detention."
Jin Pang, a first-year MBA student at Missouri State University, traveled to Los Angeles for the press event. "On July 29, just one week from the Olympics, my parents were kidnapped by police when they were at a friend's home in Weifang City," according to Pang. She said police took computers, a digital camera, Falun Gong books and other personal property worth a total of US$7,000. "They are now illegally detained in Weifang City Detention Center," she said.
As if Pang's family's situation couldn't worsen, she received another shocker: "Yesterday, I learned that my aunt, who is also a Falun Gong practitioner, was sentenced to one year in a forced labor camp on August 10," the second day of the Olympics. According to Pang, her aunt had been tortured in China before by being bound to a bench for six days, not allowed to move, and not given food for several days.
Baldwin Park resident Yaning Liu also attended the press event. With the Chinese Consulate in the foreground, she described how, for the past year and a half, she has advocated for the release of her 62-year-old mother, Shuying Li, who was sentenced to two and a half years in a labor camp in 2007 because she practices Falun Gong. Local Congressional Representatives Adam Schiff and Hilda Solis have helped Liu with rescue efforts.
Within the past few months, in addition to her mother, Ms. Liu's aunt, Shuqin Li, and cousin, Chunxiu Li, have also been detained and sentenced to labor camps because of their beliefs.
Liu believes that the most challenging task of the Chinese Communist Party during the Olympics has been to cover up the tortured victims in labor camps and to silence people. She explained, "Last weekend, when I called my father who has been visiting my mother every month since she was sent to Beijing Women's Labor Camp, he told me that this month's routine visit has been cancelled."
"He also told me that many Falun Gong practitioners in the labor camp, especially the younger ones, have been transferred to other jail facilities outside Beijing, some as far as Inner Mongolia."
She added, "This is what the Olympics has brought to China–more cover up, more persecution, and more deception!"