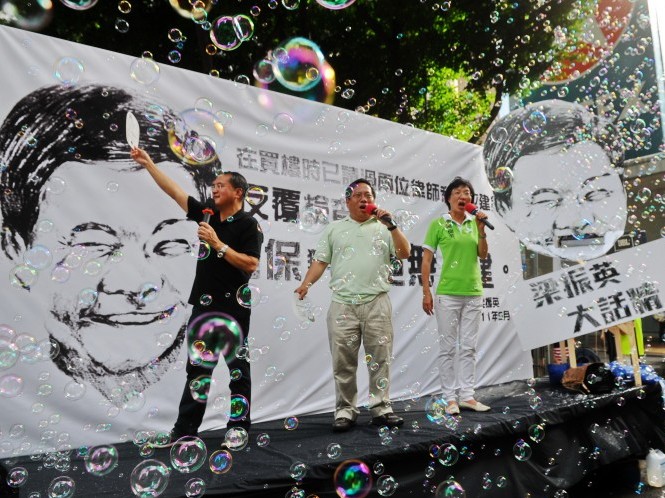 NEWS ANALYSIS
The new leadership in China has begun to display its dissatisfaction towards Hong Kong's chief executive Leung Chun-ying.
On Dec. 7, Leung and Chinese Communist Party (CCP) head Xi Jinping both visited separate parts of Guangzhou Province, which connects Hong Kong to the mainland. However, they did not meet up, according to Hong Kong news reports, and Leung returned to Hong Kong later that day. 
Hong Kong's Apple Daily quoted China analyst Willy Lam as saying that historically, whenever Hong Kong's chief executive and any CCP leader visited Guangdong Province at the same time, they would arrange to meet as a form of courtesy.
Insiders said that although Leung had wanted to meet with Xi, the CCP leader avoided him, a sign that the communist leadership is displeased with several of Leung's recent actions.
The sources also said that ever since Leung took office, instead of listening to the previous leaders Hu Jintao and Wen Jiabao, or current leaders Xi Jinping and Li Keqiang, all of whom are broadly part of the same faction, Leung was at the beck and call of Zeng Qinghong, a once powerful apparatchik of the faction headed by former Party leader Jiang Zemin. Zeng assisted Leung's rise through the Party ranks, a fact that reportedly troubles Xi.
Leung's Actions Anger Beijing
Just months before the CCP's 18th National Congress in November, Leung introduced the controversial National and Moral Education course in Hong Kong, as directed by Zeng, according to widely held views among political observers in Hong Kong. Hong Kong residents widely regarded this as "brainwashing classes" for children by Beijing, and the proposal was eventually shelved after two months of protests and opposition by angry residents.
Leung also permitted 14 Hong Kong activists to land on the Senkaku Islands using Hong Kong fishing vessels in August. This provocative act was not approved by the top leadership in Beijing, and placed pressure on then Party leaders Hu Jintao and Wen Jiabao in the runup to the congress.
Sources said that Hu later ordered Leung not to attend the upcoming Asia-Pacific Economic Co-operation (APEC) meeting, and hinted that Leung could soon be replaced. This forced Leung to further ally himself with Zeng, believing he had no one else to turn to.
The recent actions of a group called the Hong Kong Youth Care Association (HKYCA) were also masterminded by Zeng and carried out by Leung, according to sources who spoke with The Epoch Times.
The group has been publicly harassing, intimidating, and trying to incite hatred against practitioners of the Falun Gong meditation discipline in Hong Kong. The objective of the attacks was to demonstrate the ongoing power of Jiang's faction, while also implicating Hu and Xi with the ongoing persecution of Falun Gong, so that the members of the Jiang faction might escape future charges.
Hong Kong Residents to Demonstrate Against Leung
Many Hong Kong residents have already been upset by Leung's plans to introduce "brainwashing classes", his unauthorized building scandal, and for inciting attacks against Falun Gong through the HKYCA. Up to 70 Hong Kong grassroots groups, with an estimated 50,000 participants, have expressed their intent to participate in a Jan. 1 demonstration against Leung, organized by the Hong Kong-based Civil Human Rights Front. 
Insiders say that the Beijing leadership has already privately decided Leung will step down, possibly using his unauthorized building scandal to achieve this. However, when this actually happens is likely to be subject to Hong Kong's situation, as well as any future opportunities that may arise for the leadership.
Read original Chinese article. 
The Epoch Times publishes in 35 countries and in 20 languages. Subscribe to our e-newsletter.
Click www.ept.ms/ccp-crisis to read about the most recent developments in the ongoing crisis within the Chinese communist regime. In this special topic, we provide readers with the necessary context to understand the situation. Get the RSS feed. Who are the Major Players?