Beijing Infighting Behind Meeting With Hong Kong Security Chiefs
September 16, 2013 1:12 am Last Updated: September 16, 2013 2:27 am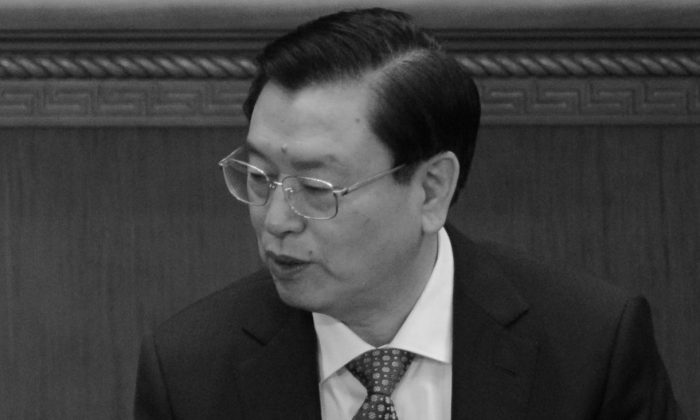 News Analysis
HONG KONG—The recent meeting between the number three man in the Chinese regime and Hong Kong's security chiefs deserves a second look, because media reports missed a key dimension for understanding what took place.
Zhang Dejiang, the chair of the National People's Congress and a member of the Politburo Permanent Standing Committee, met on Sept. 3 in the Great Hall of the People in Beijing with Hong Kong Security Chief Lai Tung-kwok and 5 other directors of the security forces of the Special Administrative Region.
Among other things, the meeting served as a very public, and highly unusual, pat on the back for embattled Hong Kong Chief Executive Leung Chun-ying, with regime mouthpiece Xinhua's account speaking of the SAR's success under Leung and the central authorities being satisfied with Leung's performance.
Media outlets reporting from Hong Kong picked up Xinhua's spin on the meeting, seeing it as a declaration of support for Leung and also for security forces that have recently come in for stiff criticism in Hong Kong.
The reporting on this meeting missed the key connection between politics in Beijing and in Hong Kong.
Zhang Dejiang is a loyalist to the faction of former Party chief Jiang Zemin, as is Leung Chun-ying.
According to someone in a position to know, after Leung took office in July 2012, he chose not to listen to Party leader Hu Jintao or Premier Wen Jiabao. After Xi Jinping took office, Leung has also refused to follow him or Premier Li Keqiang.
Instead, Leung has followed the instructions of Jiang faction powerbroker Zeng Qinghong. Zeng is Leung's longtime sponsor in the Chinese Communist Party (CCP) and formerly held the portfolio for Hong Kong and Macao, as Zhang Dejiang does now.
Hu Jintao made his displeasure over Leung Chun-ying's independence known when he humiliated Leung by forbidding him to attend the APEC meeting in September 2012.
Xi Jinping similarly distanced himself publicly from Leung Chun-ying when the director of China's Liaison Office, Zhang Xiaoming, had lunch on July 16 with the Hong Kong Legislative Council without notifying Chief Executive Leung.
Shi Cangshan, a China analyst based in Washington, DC, believes that the pep-talk given by Zhang Dejiang to Hong Kong's security chiefs indicates that Jiang Zemin's faction is openly giving support to Leung Chun-ying, while publicly showing defiance towards Xi Jinping.
Shi Cangshan says that the three Jiang loyalists promoted to the Politburo Standing Committee in the recent leadership transition are not wielding any real political power. The three were added as part of a deal meant to bring peace between Jiang's faction and those loyal to Hu Jintao and Xi Jinping. Now, Zhang Dejiang, according to Shi, is merely a figurehead in dealing with the affairs of Hong Kong and Macao.
Legislative Council member and spokesman for the Anti-Leung Alliance Albert Chan Wai-yip believes the meeting with the Hong Kong security chiefs was motivated by fear that Hong Kong may spin out of control in the coming year.
The Occupy Central movement, which threatens to put 10,000 protesters in Hong Kong's central business district in 2014 if Hong Kong does not achieve universal suffrage, and the opposing, CCP-backed Silent Majority, have many observers predicting the coming year may be one of turmoil.
Albert Chan Wai-yip believes that Zhang Dejiang, whose public message was to call for honoring one country-two systems in Hong Kong, actually wanted to encourage Hong Kong's security forces to use illegal and underhanded means to suppress any coming pro-democracy protests, while seeking to impose greater control over those forces.
Chan Wai-yip believes that the CCP leadership's dissatisfaction with Leung Chun-ying will cause him to be removed after the CCP's Plenary Session in November.