The Chinese regime has recently implemented orders that require organizations, schools, and companies to ensure that most of its members and employees receive COVID-19 vaccines as soon as possible, according to a government document obtained by The Epoch Times from a trusted source.
The document, titled, "Zhangjiagang Vaccination Plan," was issued on March 27 by the Epidemic Prevention and Control Command Center of Zhangjiagang city in Jiangsu Province. It stated that the goal is to carry out the COVID-19 mass vaccination plan that was implemented by the Chinese Communist Party (CCP).
According to the document, "at least 572,000 local residents [around 45 percent of the city's population] should be inoculated with the first dose of COVID-19 vaccines" by the end of April. It focuses on high-risk groups and people between the ages of 18 and 59, and requires at least 85 percent of that population to be vaccinated. The high-risk groups include front-line workers, citizens going abroad, and public workers such as educators, firefighters, and police.
The plan requires all workplaces and schools to "strengthen the vaccination propaganda." State-run media has encouraged people to get inoculated by promoting homegrown vaccines.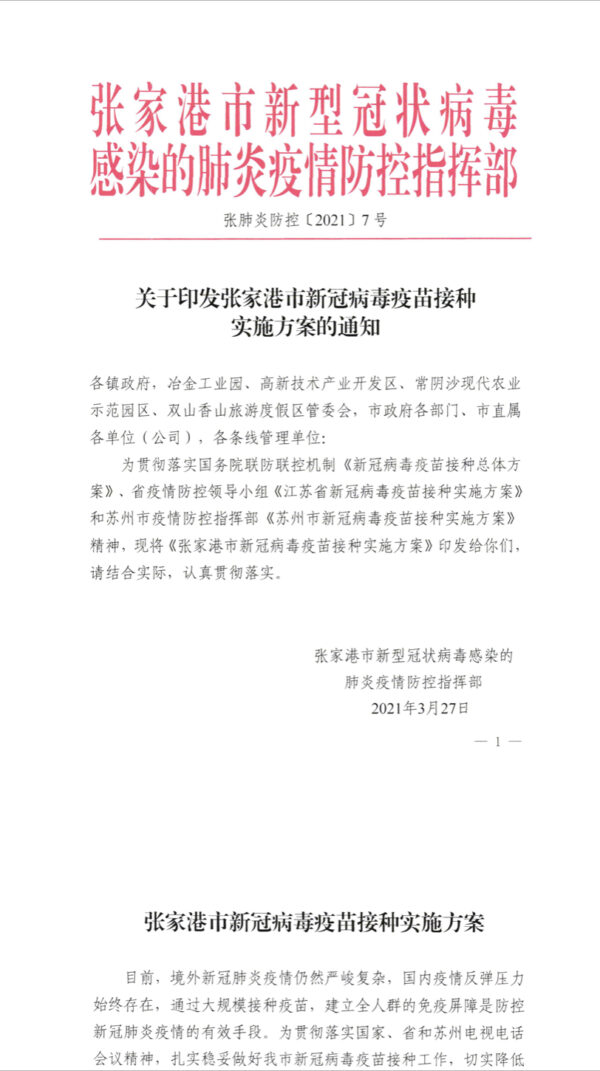 The mass vaccination campaign launched by the CCP has become a political task. The regime uses various tactics to make vaccination mandatory such as through coercion and surveillance. Beijing has implemented a color-based digital health code system last year to curb the spread of COVID-19. However, the digital QR health code is connected with Chinese public security departments as part of the regime's big data surveillance and control.
The Epoch Times obtained the government document from a resident of Zhangjiagang, surnamed Shen. He said, "My workplace also requires all employees to be vaccinated. For those employees who refuse it, they are required to document the reason(s) on a vaccination form, such as chronic diseases, allergies, cancer, pregnancy or wanting to become pregnant."
"Most people don't want to be inoculated. My friends who are policemen told me that they don't want to be vaccinated and would try their best to avoid it. However, the school teachers as a group have already been vaccinated and the statistics are being collected," Shen said.
An employee at a Chinese state-owned enterprise in Beijing shared his experience with the publication. He requested anonymity due to security concerns.
"The company requires us to report the vaccination status [of employees] on a weekly basis. If you do not get vaccinated [now], you may be questioned by the company's management in the future or placed under investigation by relevant departments," the employee said.
Chinese citizen are reluctant to get inoculated with homegrown vaccines due to quality concerns, side effects, and lack of data transparency.
Last month, Pakinstan's president and prime minister tested positive for COVID-19 after taking Chinese-made vaccines.
As of March 25, 10 people have died in Hong Kong after receiving Chinese-made vaccines in the three-week period after vaccinations began. It's unclear whether the vaccines contributed to the deaths.
A phase three clinical trial of the Sinovac vaccine conducted in Brazil in January reported that it was 50.4 percent effective, which is far below the initial claims of the Chinese company, which touted a 78 percent efficacy rate.
In March, the COVID-19 vaccine made by Sinopharm, another Chinese company, reported 11.5 percent and 33.3 percent efficacy rates against two virus strains in its phase three clinical trials in Peru.
In an interview with China Central Television (CCTV) on March 20, Gao Fu, director of the Chinese Center for Disease Control and Prevention, suggested that an additional third dose of the vaccine may be needed to boost its effectiveness, after a fully vaccinated Chinese doctor tested positive for COVID-19. Meanwhile, the distributor of China's Sinopharm vaccine in the United Arab Emirates has started offering a third dose to some people with low immune response to it.
Hu Yuanzhen contributed to this report.