Beijing Human Rights Activist Ye Guozhu Protests from Prison
February 3, 2006 12:00 am Last Updated: February 3, 2006 12:00 am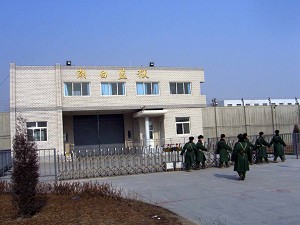 After being arrested on September 17, 2004, well-known Beijing human rights activist Ye Guozhu was sentenced on December 18, 2004 to four years in prison for the crime of "provoking trouble." Ye was arrested on August 24, 2004 because he had applied for permission to hold a march in Tiananmen Square on September 18, 2004.
On January 23, 2006, Ye had his first meeting with his family since his imprisonment. He told his family that he did not admit to any crime and that he had suffered serious abuse at the hands of prison authorities. Nonetheless, Ye said, "Even if it means death, I am continuing this fight to help more people to stay the course."
Tortured and Deprived of His Rights
Prison authorities deprived Ye of the customary bi-monthly family telephone calls. After one and half years in prison, this was the first time the family had obtained visitation rights
Ye had lost a lot of weight. Dressed in the blue and white striped prison uniform, he had a pained expression on his face during the meeting. Ye told his family that he had been assigned to the Strict Disciplinary Team in prison and had been forced to wear hand and foot shackles for long periods of time. After four months locked in heavy foot shackles, both of Ye's feet were distorted, and large bumps had formed on his legs. Recently, he was released from the Strict Disciplinary Team and sent to the Prison Squadron because he had to be hospitalized for surgery.

Ye's son Ye Mingjun indicated that his father's health was poor; his blood pressure was between 100 and 120; and there was too little pressure differential. Prison authorities agreed to a medical consultation, but a consultation had not yet been granted.
Ye was sent to the Strict Disciplinary Team because he refused to admit guilt to the authorities and has insisted on the fact that his application for the parade permit was not against the law. "It is you, the Communist Party, who forcibly threw me into prison."
Ye Helped Falun Gong Practitioners During the Harshest Crackdowns
Ye's family once owned two thriving restaurants in the bustling and flourishing Yongding Gate area. Ye had seen how Falun Gong practitioners were savagely beaten and arrested while appealing peacefully in front of the State Council and the National People's Congress Appeals Office.
One day in Ye's restaurant, the policemen goaded Ye's son, saying to him: "If you'd like to realize your dream of beating people, there are two handcuffed women (Falun Gong practitioners) whom you can beat up, so long as you don't beat them to death."
Ye told his son, "Son, we cannot do those kinds of wicked things." He sternly reprimanded the two policemen for being wicked and exchanged sharp words with them. Ye diligently helped Falun Gong practitioners both openly and behind the scenes during periods of the most severe persecution of Falun Gong.
The Local Government Stole Ye's Family's Assets
When China was granted the right to hold the 2008 Olympics in Beijing, Ye's family was ecstatic. How could they ever have imagined the calamity that would happen to them? After Beijing won right to hold the 2008 Olympics, the Chinese communist regime initiated large-scale construction projects that displaced people.
In 2003, local Xuanwu District officials colluded with developers to force large numbers of the city's residents to relocate. The regime seized both of Ye's restaurants and his living quarters in exchange for a newspaper stand and a dilapidated house in remote Tong County. Furthermore, over a year ago, the authorities repossessed the newspaper stand. Ye's family lost their restaurants and living quarters and were left without any compensation.

Photo Caption: Authorities gave this newspaper stand as "compensation" for both of the Ye family restaurants and later repossessed the newspaper stand. (The Epoch Times)
Members of the Ye Family Frequently Detained
Ye, his brother Ye Kuoqiang, and his son Ye Mingjun appealed the expropriation of their properties. As a result, the authorities detained them many times. On October 1, 2003, Kuoqiang, jumped into the Jinshei River in an attempted at suicide, which failed. He was sentenced to two years in prison and has since been released. Ye applied for the "September 18 ten thousand person march" to protest the various atrocities committed by the Chinese communist regime. As a result, he was arrested and sent to Beijing's Chaobai Prison.
People Declare Their Support for Ye Guozhu
After Ye's home was forcibly dismantled, he persistently told the media many of the tragic experiences of the dispossessed residents; however, the media never interviewed him or reported on any of the cases.
In a borrowed house, Ye hosted many of the people who came to appeal. He tried to arrange interviews for them, fed the poor noodles, and let them take baths. Ye is well-liked by the appellants, respected for the way he puts others' welfare ahead of his own. Many of those interviewed said hundreds of people would respond if he called.
Attorney Gao Zhisheng represents Ye free of charge. Although the trial date was set on a Saturday and the authorities mobilized massive policemen and police cars to make arrests, nearly a hundred people gathered outside the courthouse to protest.
Ye Guozhu Courageously Exposes the True Nature of the Communist Party
In an interview in July, 2004, Ye said, "The Communist Party is the child of the devil." The Communist Party is a "hoodlum regime and an evil cult. In the dismantling of our houses, there was adjudication without even an announcement. Moreover, there were no procedures. They should at least let us keep our assets. They started dismantling… before we finished moving, and they stole our valuables. Our cash was all gone, and our furniture was smashed. They robbed so much of our assets, even the past Kuomintang was not like this, right? The Communist Party promoted itself as being great, honorable, and correct. Are these actions correct?"
"The regime under the leader ship of the Communist Party commits crimes against the people, and does not allow me to appeal. I will therefore sue the Party everyday."
"I certainly must awaken the Chinese people to the realization that our country has no democracy and no human rights. I want to call out to the whole world that the Communist Party has been trampling on their own constitution at will. I want to disclose the darkness of the Communist Party! Disclose the ugly face of this regime! And let the whole world know what sort of a thing the Communist Party really is!"
"We Will See the Light One Day"
In a July 2004 interview, Ye said that the world's doctrine today is so dark; the common people's lives are in such deep distress; and it is all caused by the Communist Party. "The darkest time of the day is also the time when the daylight is near. I believe the path towards truth and democracy, although full of twists and turns, cannot be too much longer. Having been corrupted to this extent, the communist regime is already decayed. We will persist to the end, and I believe we will see the light one day."
Ye, already 51 years old, has another two and half years before he completes the sentence and is released. Ye told his family, "I am already this old. The Communist Party owes me too much. I will continue to protest even if I die on this path, and I will help more people to protest for freedom from tyranny."
Beijing people speak admiringly of Ye. They say he must be made of iron.