Beijing Golf Clubs Filled with Children
July 26, 2006 12:00 am Last Updated: July 26, 2006 12:00 am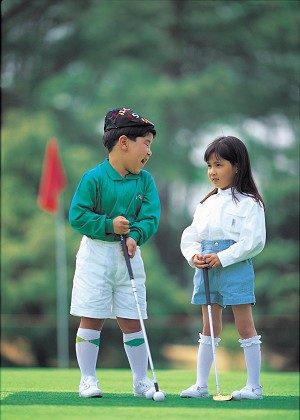 TAIPEI — Many golf clubs and driving ranges in Beijing are filled with children during the summer holidays because their parents are so fanatical about them learning golf despite high tuition fees.
Golf is considered as a noble sport in China. Parents expect their children to foster social etiquette and noble manners through this world-popular sport.
According to Beijing-based newspaper The First , the popular enthusiasm for learning golf among Beijing's youngsters was growing last year and has hit its peak this summer. All of the kids-junior golf clubs are filled with young novices.
Any of golf clubs in Beijing charges registration fee of at least 1,000 yuan (US$125) per student. The SGA Golf Club in Chaoyang District of Beijing has offered the 10-day short-term summer training course for 2,800 yuan ($350) per student. The Beijing Bureau of Sports Training has provided the summer training session for 4,000 yuan ($500), while other clubs have arranged 2,000 to 4,000 yuan ($250-500) summer courses.
Li Nan, chief of the SGA Golf Club in Chaoyang, said the SGA club would also offer a long-term course — three 90-minute lessons per week for 800 yuan ($100). This long-term course would cost a trainee about 10,000 yuan ($1,250) for three months.
According to Li Nan, most of the children who have been sent to these golf clubs are foreign-born children. Their parents are working aboard and enjoy playing golf.
One father said, "Learning golf can not only train the children in basic knowledge and skills of the sport while fortifying their physical health and thinking ability, it can also cultivate their noble etiquette and social communication skills."
Another mother said, "Golf is regarded as a sport of the nobility in the Unites States. Children learning golf can develop their noble temperaments, sedate quality and self-confidence."