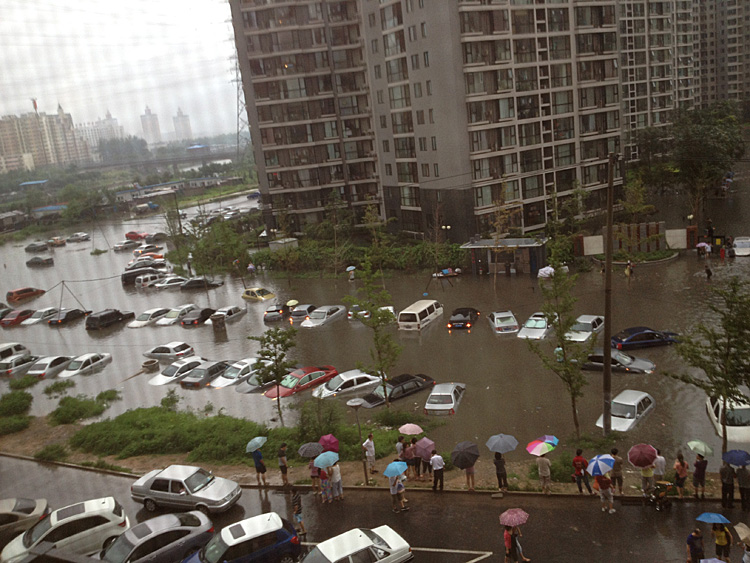 Some of the worst flooding to hit Beijing in decades left at least 37 people dead and forced more than 30,000 residents to flee, state-run media reported, citing local authorities on Sunday. The number of deaths officially sits at 37, but numbers in China are often political and are likely to not reflect the full toll.
The floods, which state media said were the worst in six decades, came on Saturday afternoon and lasted into the night, leaving 80,000 people stranded as over 500 flights were canceled.
Around 6.7 inches of rain on average fell on Beijing by 6 a.m., but some areas fared worse than others. In suburban Hebei township, 18.1 inches fell. In six townships, Internet access and mobile communication was cut, while train services between Beijing and Guangzhou were shut down because railway sections were inundated.
A lightning strike killed a person, and the head of the police bureau in Fangshan district was shocked by a downed electric wire.
Four people were killed in Shuozhou city in northern Shanxi Province when floods carried their truck into the middle of a river while attempting to cross it. Six people were left dead in southwestern Sichuan Province in rain-caused landslides. Seven counties said they received more than 3.9 inches of rain.
Photos uploaded to the popular Sina Weibo microblogging website showed numerous instances of flooding in Beijing. One showed several dozen men pulling a rope in a tug-of-war fashion, in an attempt to drag out five cars and trying to help one man who was drowning.
One user on Weibo said that some of the figures released by state media, which said that 10 people were killed, may not be correct. The user said that "certainly far more than 10 people" were killed in the floods.
Other posts on the microblogging site blamed local officials for not doing enough to mitigate the disaster and said the city's draining systems and roads have a problem.
"Lang," a Weibo user, said that the roads were poorly designed because they could only hold "50 millimeters (1.9 inches) of rainfall," while Beijing authorities only blame the disaster on "acts of God" rather than admitting that the roads and the city's infrastructure have problems.
"Bad engineering, corruption, and incompetence forced people to suffer" during the floods, said user "Not to V."
Another user sarcastically said, "We hoped [authorities] could have established a drainage system that is as effective as deleting the words they dislike," referring to China's censorship policy on the Internet.
One user, "Han Zhiguo" said the floods showed that there were "two totally different sides of Beijing," saying that kind-hearted people spontaneously rescued thousands of people and even provided shelter locations, but the local government provided no shelter locations including hotels or officials buildings.
Even worse, the user said, "toll stations still paid close attention and collected the charges and traffic cops posted tickets on flooded vehicles," accusing the city's management of being "inhumane."
The Epoch Times publishes in 35 countries and in 19 languages. Subscribe to our e-newsletter.