News Analysis
The Chinese Communist Party's (CCP) coming ban on non-state media in China expands Xi Jinping's power at the expense of his domestic rivals and the Chinese economy.
The CCP is making yet another move to consolidate its growing power. Non-state media will likely be banned in the near future. That means outlets like Caixin and the South China Morning Post, which field reporters on the mainland and have leagues doing more critical reporting on China than state media like the People's Daily and Global Times, are about to go under. Their loss will be a further loss to international investors of insights into China's economy, making it more opaque and riskier than ever. A significant decrease in foreign direct investment (FDI) and Chinese asset values should ensue.
The draft law has been released for comment and states that privately funded organizations "shall not engage in news-gathering, editing, and broadcasting." The regulation is included in a list of "prohibited" industries that newly includes private media-related businesses such as social media, the reproduction of foreign news articles, operating frequencies for foreign news organizations, and live-streaming of almost anything, including events of a political, economic, military, or foreign policy nature, as well as important cultural, scientific, social, and sporting events.
The draft law's comment period is just one week and ends on Oct. 14.
It is unclear whether foreign news outlets, which also field reporters in China, will be allowed to continue gathering news on the mainland. Likewise, it is unclear whether financial terminals in China that are leased from foreign companies like Bloomberg and Refinitiv, which stream foreign news for Chinese financial analysts, would be able to continue taking advantage of this function, which is critical for investors.
News organizations have faced increasing official harassment and attacks in China. The CCP heavily censors the media, with government officials scrubbing social media of banned words, arresting local freelance journalists, ordering the deletion of articles by Chinese news organizations, cancelling visas of foreign journalists who displease the authorities, and banning entire newspapers, such as The Epoch Times, that go against the CCP's narrative. BBC World News was banned in February.
According to Reporters Without Borders, China is ranked the fourth-worst country in the world for press freedom.
Alibaba Group Holding is likely to be particularly affected by the new law, as it has invested in a broad swath of Chinese and Hong Kong media companies, including the South China Morning Post (SCMP), headquartered in Hong Kong, and in China, Yicai Media Group, Caixin Media Company, as well as BuzzFeed-type outlets, Twitter-style social media, and TV production companies.
While the new law would only apply in mainland China, as opposed to Hong Kong, Alibaba has been pressured to sell its ownership of the SCMP, and other media holdings outside China, according to a source who spoke to Bloomberg in March. Beijing is increasingly extending its mainland legal regime into Hong Kong.
Alibaba's media empire, likely assembled in part to ensure positive coverage of its billionaire founder, Jack Ma, has been seen as a threat to Beijing because of its long culture of free reporting. Jack Ma is a CCP member, yet the Party is shunning him, especially since his public criticism of China's financial system in 2020. Alibaba's ownership of a media empire, without apparently clamping down on all content critical of Beijing, could have pushed the new law toward enactment.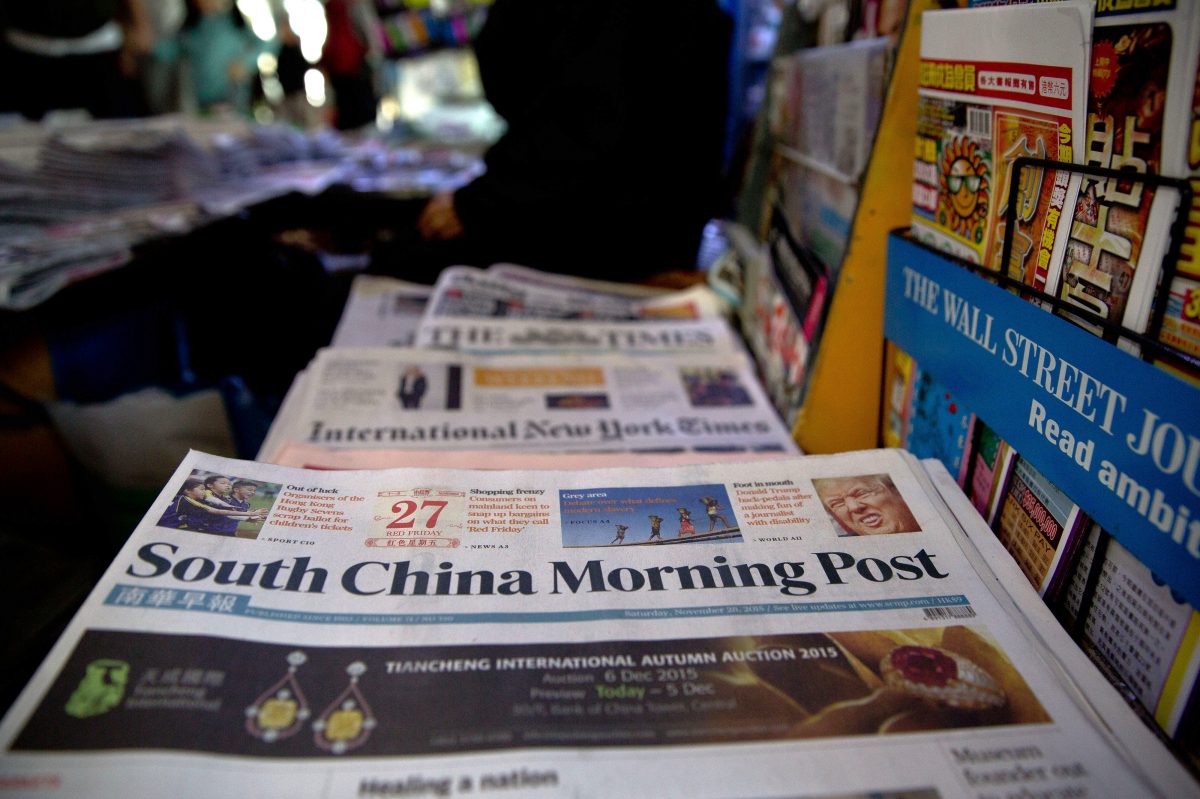 Caixin Media, which is a Beijing-based financial news company founded by Hu Shuli, dubbed China's "most dangerous woman," is known for feisty investigative journalism. Caixin has specialized in covering corporate fraud and government corruption, and the paper blew open the regime's coverup of the 2003 SARS epidemic. Hu is feared by Chinese billionaires, and as recently as 2018, stoutly defended Caixin's ability to evade censorship.
Caixin's unique press freedoms may have been due to the need for truly free business news in order to attract foreign investment and Hu's alliance with Wang Qishan, who was then arguably China's second-most powerful individual. Wang led Xi's politicized anti-corruption drive from 2012 to 2017.
Wang essentially retired in 2018, along with four other members of the Politburo Standing Committee. Wang walked with a largely ceremonial title of Vice President, which he still has. Without support from the Politburo Standing Committee starting in 2018 and facing a new law against privately-owned media, Caixin Media is likely either on the way out, or to be taken over by the regime. With it will go the last vestiges of business transparency in China.
Meanwhile, other islands of relative independence from the CCP are vanishing in the rising sea of the regime's totalitarianism. Shopping platform Meituan's billionaire founder, Wang Xing, locked down his social media accounts, including on Weibo and his own social media company, Fanfou, according to an Oct. 11 report. Other Chinese billionaires have also vanished from social media, and are publicly seeking to demonstrate their loyalty to the CCP through statements of support and donations to Party-supported causes.
"The move [against non-state media] is the latest salvo in China's broad regulatory crackdown this year on companies in industries including ride-hailing, e-commerce and after-school tutoring," according to Bloomberg, which noted in an article about the new law that the "MSCI China Index has sunk 16% this year on concerns about global inflation and interest rates, geopolitical tensions, how the new regulations would reshape businesses and where Beijing might strike next."
With the likely loss of what little relatively independent reporting remains in China, transparency, including business transparency, will be increasingly lost. With that loss will be increased risks to business in China and yet more downward pressure on Chinese assets.
The move against non-state media in China is the latest mismanagement by Xi Jinping, who is grinding down China's economy, along with what could have been the country's rising economic, journalistic, academic, and political heroes of the future.
Chinese citizens who resist are risking their lives. It is incumbent on the rest of the world to step up and respond with logical consequences. If there is no business transparency provided by a free press in China, then there should be no business with China. Anything less is risky business based on trust and Beijing has already proven itself untrustworthy. Now more than ever, it is time to decouple.
Views expressed in this article are the opinions of the author and do not necessarily reflect the views of The Epoch Times.