Beijing Begins Censoring Text Messages
January 24, 2010 6:12 am Last Updated: October 1, 2015 8:54 pm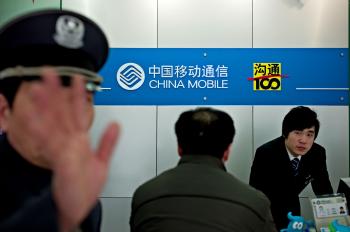 China Mobile, the largest mobile phone company in China, recently said it is censoring text messages based on a list of keys words provided by public security agencies.
A user's text message account may be disabled if the content of a message is deemed "indecent" or "sexually explicit." Human rights advocates and attorneys say the practice is illegal and only an excuse by Chinese authorities to conduct censorship.
Text messaging has been disabled on more than 70,000 phones in Shanghai, according to the Hong Kong-based Apple Daily. An employee with China Mobile in Shanghai told The Epoch Times on Jan. 19 that some cell-phone users whose service has been disabled have come to the company to have it restored.
The company has issued orders about the handling of these requests: "The person must go to the public security agencies to verify the content of the message in question," according to a Jan. 16 report in the Shanghai Youth Daily.
Illegal from many aspects
Mr. Chen Shuwei, a human rights advocate familiar with the field of telecommunications, told The Epoch Times, "Based on Chinese laws, the mobile company has no right to monitor the content of text messages. Even public security agencies cannot monitor messages until it is proven that the user has violated the law."
Chen said there are three reasons why the monitoring of text messages is illegal. First, it is based on the assumption that everyone who sends text messages has violated the law. Second, even if the message is sexually explicit, if it is between two consenting adults, it is not a crime. Third, China Mobile is not a law-enforcement agency and does not have the authority to monitor text messages.
Mr. Hu Yiming, a writer from Hubei who frequently publishes on the Internet, said that sexually-explicit jokes used to be popular and widely forwarded in the early 2000's. The practice has since gone out of fashion.
The real reason behind the authorities' censorship is to filter politically sensitive information. They are afraid the public will use cell phones to transmit political messages, Hu said.
Attorney Xie Yanyi from Beijing told The Epoch Times, "No matter what the stated purpose, the process should follow the law and be approved by the public. It should go through a legislative process and be debated by the citizens: What is the definition of 'sexually explicit messages'? What websites are considered pornographic? What sort of content needs to be monitored? This censorship is a violation of a cell-phone user's rights."
Mr. Wan Dongfeng, a technology employee from Beijing, said, "It's very clear that the restriction on sexually explicit messages was only an excuse. The authorities' real goal is to completely control the Internet and cell-phone communications in China."
He added: "We used to feel sorry for the North Koreans. Now China is learning from North Korea—and even surpassing North Korea!"
Read the original Chinese article