Beijing has suspended barley imports from Australia's top grain exporter claiming pests were found in multiple shipments, in what appears to be the latest trade strike by the Chinese regime against Australian exports.
West Australian grain handler CBH Group vowed to fight the "extremely disappointing" decision, which came just a week after beef imports from family-owned Queensland abattoir John Dee Warwick were suspended.
Finance Minister Mathias Cormann said the federal government would get to the bottom of the situation.
"We do respect the fact that China—like any other country would, like we would—has got quarantine inspection arrangements," he told reporters in Canberra on Sept. 2.
"We will be working with the company once we are aware of all the facts to make the appropriate representations," he added.
Beijing's General Administration of Customs publicised the decision on Sept. 1, saying quarantined pests were found in CBH barley exports multiple times.
But the grain cooperative insists there is no evidence to support the claim.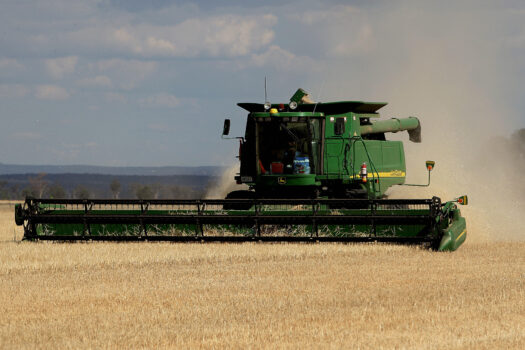 "CBH is therefore extremely disappointed the suspension has been put in place and will continue to work with the Australian government to challenge the suspension," the exporter said.
Australian farmers were already reeling from an 80.5 percent tariff introduced in June on barley exports.
Cormann said CBH had an excellent track record but declined to speculate if diplomatic issues had sparked the ban.
"The truth is, Australia's grain products, Australia's barley products, are highly regarded all around the world," he said.
"If there is less opportunity to export high-quality Australian grain into China, there will be more opportunity to export grain into other markets around the world," he continued.
Federal Opposition Leader Anthony Albanese said relations between Australia and China were worsening.
"It's a real issue that Australian ministers can't pick up the phone and seem to have no relationship with their Chinese counterparts," he told ABC radio.
"China is the largest recipient of our exports, by a long way. It is a real concern that the Australian government don't seem to be able to manage the relationship."
The latest episode continues a long-running, Beijing-instigated trade dispute between the countries.
To date, the Chinese regime has imposed tariffs on Australian barley imports, banned imports from five Australian abattoirs, and issued travel warnings to Chinese citizens about visiting Australia; which targeted the valuable education and tourism sectors. Last month, the regime also launched an anti-dumping investigation into Australian wine exports.
The trade-related actions began intensifying in April when Foreign Minister Marise Payne called for an inquiry into the origins and early mishandling of the COVID-19 outbreak in Wuhan, China.
The Australian government has been tightening its efforts to counter foreign interference in the country and diversifying its trade relationships.
Last week, Prime Minister Scott Morrison announced a constitutional power play, giving the federal government power to review, and veto, agreements between sub-national governments and foreign nations.