Thousands of alleged victims of peer-to-peer (P2P) lending platforms recently gathered near the Beijing headquarters of China's bank regulator, the Banking Regulatory Commission (CBRC), to seek redress after losing their investments.
Local authorities sent scores of police—as many as 30,000, according to Radio Free Asia (RFA)—to disperse the protesters who had gathered on Aug. 6.
P2P allows people to lend to each other while earning high interest rates—higher than those offered by banks. Firms that operate a P2P platform connect yield-hungry investors with cash-strapped individuals or small businesses.
But many of the P2P platform operators have recently folded. Some firms turned out to be scams. Other companies weren't able to fully return customers' investments and instead offered to pay back the money in installments, or with stock options, as an alternative. For the least fortunate of investors, some firms closed down without any explanation.
More than a hundred buses, transporting tens of thousands of police, arrived in Beijing, according to Voice of America (VOA), to guard the areas near the CBRC office. Many P2P victims, including two who spoke to VOA, were arrested and escorted onto buses before they could voice their grievances.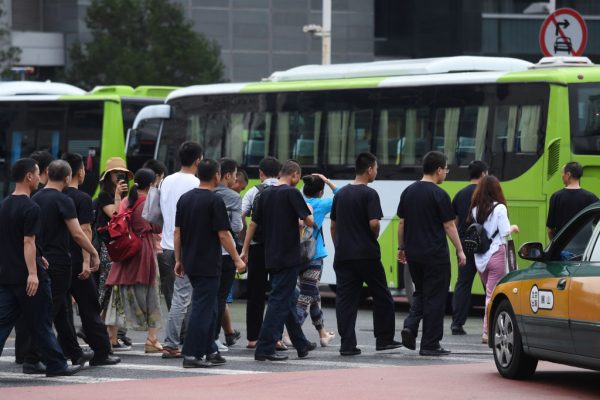 The overwhelming police presence forced the cancellation of a scheduled group petition.

P2P victims from around the country were prompted to protest in Beijing after remarks by CBRC chairman Guo Shuqing at a financial seminar in Shanghai on June 15. According to state-run Xinhua, Guo warned Chinese citizens with plans to invest their savings should beware of the dangers of illegal fundraising. Savers should be prepared to lose all their money if they lend at more than a 10-percent interest rate, as it's likely a scam, Guo implied.
Guo's remark was interpreted as a sign that Chinese regulators would soon move in on the poorly regulated P2P industry. Coincidentally, just a day later, the collapse of one of the country's main P2P operators, Shanghai-based Tangxiaoseng, was reported. Many investors were unable to get their money back.
Since then, stories of P2P operators defaulting, shutting down, or having their executives disappear have sprung up. According to an Aug. 5 report by Chinese business newspaper Yicai, more than 180 operators have reported some kind of financial problem.
Spooked by the many failing P2P platforms, many Chinese savers have rushed to retrieve their money—even from healthy, operating P2P platforms—before their deposits reach maturity.
After failing to get help from local authorities, many victims who placed their savings in failed P2P platforms have decided to travel to Beijing. Most have gone to their failed platforms' registered offices in the capital, hoping that they could request their money back, or to CBRC headquarters, with the purpose of petitioning to a government authority to fix the problem.
Many victims were taken away by police in the middle of the night from their lodging places in Beijing, according to RFA. At the Shanghai high-speed rail station, some victims were arrested before they could even travel to Beijing.
Mr. Wu, a victim who traveled to Beijing from southern China's Guangdong Province, told VOA that the P2P platform he invested in had received regulatory approval from CBRC. In addition, the state-run broadcaster CCTV also reported about the platform, so he believed it was safe to invest.
Another victim, Ms. Fang from Zhejiang Province on China's eastern coast, told VOA she had been cheated out of roughly 800,000 yuan ($116,940) of her investment in a P2P platform.  
The world's first P2P lending company is Zopa, a British company established in March 2005. This lending concept then appeared in China in 2007, before taking off in 2010. By 2013, the P2P transaction volume in China stood at about 105.8 billion yuan (about $15.5 billion), compared to just 3.1 billion yuan (about $454 million) in 2011, according to Chinese state-run magazine EWS Magazine.
P2P lending is considered part of China's shadow-banking system. According to statistics widely reported by Chinese media, there are 50 million registered P2P users in China, with a total of 1.3 trillion yuan (about $190 billion) in outstanding loans.
He Qinglian, a well-known Chinese economist, wrote in an opinion article published on the Chinese-language The Epoch Times that most P2P victims are of the middle or lower-middle class, who don't have enough money to invest in the real estate market, as housing prices continue to skyrocket. As a result, they turned to P2P platforms—earning interest rates from about 7 to 14 percent—to hedge their savings against the yuan's depreciating value, according to He.