Beijing Authorities Intensify Arrest of Appellants During National Day Weekend
October 4, 2006 12:00 am Last Updated: October 4, 2006 12:00 am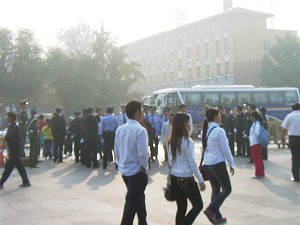 To properly welcome this year's October 1 National Day, Beijing authorities began their arrest of appellants a dozen days in advance. On October 1, an unprecedented number of police guarded bus stops and roads near Tiananmen Square to make arrests. Few people succeeded in staging a protest.
Appellants Publicly Beaten by Beijing Appeals Offices, Raided by Police
Officials nationwide traveled to Beijing to intercept appellants from their areas. They blocked entrances to the appeal offices of the State Bureau for Letters and Calls, the National People's Congress, the Ministry of Public Security, the Supreme Court and the Ministry of Construction. Appellants were beaten and arrested by hired thugs. On October 1, officials intercepted appellants gathered in front of the Tiananmen police station and marched away the arrested appellants before they were registered by the police, in order to reduce the number of recorded appeals from their region.


According to a veteran appellant, the Beijing authorities have raided the appellants' almost razed village many times on September 20 and 26, and at least several hundred people had been arrested. He also claims the authorities have become slier in making arrests and try to catch people off guard.


On the night of September 26, Beijing police arrested over 300 appellants and took them away in three buses. Those who escaped that raid went back to sleep in their hotels after seeing the police withdraw. However, the police came back for another surprise raid an hour later.

Wang Zhiyong, who went to Beijing on September 20 with over 200 appellants from Shanghai, was arrested when filing an appeal at the State Bureau for Letters and Calls on September 27. Thirty-eight other Shanghai appellants were arrested with him. At the Dazhalan hotel near Tiananmen Square, another 20 some of those Shanghai appellants were also arrested. Wang said that over several hundreds of Shanghai appellants were arrested in Beijing before October 1.
Number of Police on Duty Surpasses Previous Years
The police waited at bus stops near Tiananmen Square to arrest appellants. Over 20 appellants were immediately taken away by the police after stepping off their bus.
Normally, only two to three armed police and police guard the entrances to the Tiananmen Square on October 1, but there were over 20 police and armed policemen guarding the entrances covering both the underground channels and the ground exits to the Tiananmen Square.
Tiananmen Square was filled with police with canines, conducting body and bag searches. They arrested people as soon as they discovered any materials that could be used as appeal materials. Foreigners were also subject to searches. Few people succeeded in making protests.
Beijing appellant Wang Xuexin witnessed a middle-age person from Sichuan Province holding a newspaper banner written with "Return my hard-earned money" at Tiananmen Square in the morning before being taken away. Wang also witnessed about 20 people being arrested and deported in two police vans that morning. Those deported had no chance to protest, as they were arrested immediately after their materials were confiscated.
Authorities Tighten Control for Upcoming Plenary Session
The Chinese Communist Party will hold its Sixth Plenary Session of the Sixteenth Central Committee of the Party from October 8 to 11 in Beijing. Shanghai has already begun detaining appellants. Beijing human rights defender Liu Anjun, a serviceman, and three other appellants in different areas have already been monitored by the Beijing authorities and have their lost freedom of movement.
Appellants in Beijing who came from other areas said they heard that those arrested would be detained until the conference is over.
Appellants Crying Out for Justice at CCTV Were Arrested
On the morning of October 1, over 100 appellants from across the country gathered in front of the China Central Television (CCTV) station to appeal for justice. They were forcefully dragged into police vehicles by public security officers, security officers and plain clothed police, and transported to Majialou. The appellants were released after 7 p.m.