Beijing authorities have covered up new CCP virus infections that were discovered at a local residential compound, according to a local resident.
Two people who live in the Liuyi residential compound, located in the city's Daxing district, were recently found to be infected with the CCP virus, according to a resident named Ms. Li, who is familiar with local virus outbreak information.

The entire compound, which is home to roughly 1,000 residents, was locked down after the new cases were discovered, on July 4; only one small gate remains open for grocery deliveries, she said. 
However, the Beijing municipal health commission hasn't reported any confirmed patients from the Liuyi compound in recent days. 
Li shared with The Epoch Times a government list of local businesses and residential complexes that were mandated to conduct systematic disinfection and nucleic acid testing, including a total of 43 locations in Beijing.
However, under the Daxing district category on the list, the Liuyi residential compound was missing, which Li believes is because Beijing authorities purposely sought to conceal the new infections.

The first page of a Beijing government list of locations for mandatory disinfecting and COVID-19 testing. (Provided to The Epoch Times)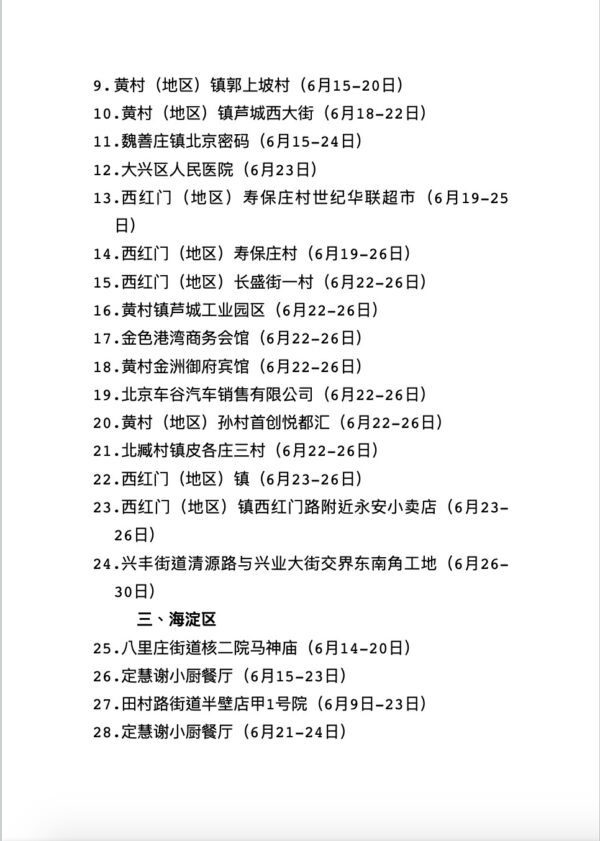 Li says the compound is now being guarded by people wearing protective gear inside the gate and guards in grayish-black outfits on the outside, with a buffer zone separating the checkpoints.
Local residents citywide are now subject to strict monitoring at security checkpoints and required to have their temperatures checked. People must show their resident cards in order to enter housing complexes, and deliveries must be left outside the gate on the street. 
She says the checkpoints are now being manned by personnel from private security companies, rather than by local volunteers.
"No one can take such long hours of work. It has to be done by contract workers now," she said.