Beichuan Issues Emergency Evacuation Order on Potential Dam Break
May 17, 2008 12:00 am Last Updated: May 17, 2008 12:00 am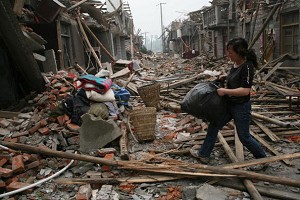 CHINA—Beichuan County in Sichuan Province sent out a notice on the danger of a dam break at around 3p.m. on May 17. The report urged all rescuers and local residents to leave the area. Thousands of people rushed to higher ground in the mountainous region.
According to Mingpao, a reporter was conducting interviews on site on May 17 when this official notice on a potential dam break was issued, asking people to leave. As a result, many people quickly left the area.
Xinhua.net reported on May 17 that rescuers in Beichuan County received the evacuation order via two-way radio. The message from an observation airplane said that a crack was spotted on the Chaping dam that is located on the mountain side by Beichuan City, a dam break may occur. More than ten thousand rescue staff left immediately for higher ground.
A Cascading Disaster Is Possible
On another site, Kuzhu dam located up stream from Beichuan City is damaged by a landslide that may threaten dams and areas downstream.
In Qingchuan County in Guangyuan City, Sichuan Province, the earthquake caused two mountain hills to collapse into each other blocking streams. The huge amount of fallen material has caused a natural dam and lake to form that may give way at any time. The authorities are considering an order to evacuate 1.18 million people from the area.
Guangyuan municipal government had an emergency briefing Saturday morning on the seriousness of the situation. With the collapse of the two mountain hills, over 30 million cubic meters of earthen material shifted, burying much of two townships, Hongguan and Shiba, under the newly formed lake.
If this newly formed dam breaks, the flood waters would entirely cover Qingchuan City and the Zhuyuan dam area. Currently, the area needs over 500,000 tents to support about 1.18 million people on safe ground.