A Wisconsin brewery recalled one of their beers due to a "risk for explosion."
Lakefront Brewery made the announcement, saying that its brew, "My Turn Junk," was being recalled.
"Friends, we're asking anyone with bottles of My Turn Junk to either refrigerate or carefully dispose of them. Wild yeast from the cherries used to brew the beer may continue to ferment, building up pressure in the bottles, making them at risk for explosion. The beer itself is completely safe to drink," the brewery wrote.
It said, "We're offering a refund to those who dispose of their My Turn Junk. Shoot a photograph of the bottle's back label, send it to support@lakefrontbrewery.com, along with your address, by October 1st and we'll send you a check. Thanks for helping us out and cheers!
According to the Journal Sentinel, the defect allows carbon dioxide to build up in the bottles, putting them at risk of exploding.
"The walls of the glass actually crack," added Michael Stodola of Lakefront Brewery to CBS Minnesota.
He said there is a potential risk involved that the brewery doesn't want to deal with.
So far, the brewery hasn't received any complaints or injuries, the CBS affiliate reported.
"The beer is still delicious and 100% safe to drink, Lakefront just can't allow it to remain on the market due to the potential liability of volatility," Andrew Jungwirth, who created the "My Turn Junk" beer, said, according to the news outlet.
Coors, Budweiser, Popular Beers Contain Weed Killer
Traces of the RoundUp herbicide were discovered in popular beers and wines, according to a report from the U.S. Public Research Group (USPIRG) Education Fund. (Lakefront Brewery's beers were not named in the study).
RoundUp, a popular weed-killer that uses glyphosate, was bought by Germany's Bayer AG. It was previously owned by U.S. agriculture firm Monsanto.

The USPIRG tested 15 beers and five wines and found glyphosate, a carcinogen, in 19 of them.
That includes Budweiser, Coors, Miller Lite, Sam Adams, Corona, Heineken, Guinness, Stella Artois, New Belgium, and Samuel Smith Organic. Wines include Beringer, Barefoot, and Sutter Home, according to the study.
The highest levels of the chemical were discovered in St. Helena wine, which had 51 parts per billion, according to the report. The brand is sold at places like Walmart, Target, and other popular chains.

Among beers, Tsingtao, China's largest beermaker, had the highest levels at 49.7 parts per billion, 
USA Today reported.
"The levels of glyphosate we found are not necessarily dangerous but are still concerning given the potential health risks," USPIRG wrote.
A representative for the Beer Institute industry group said the report acknowledged that glyphosate levels are below the Environmental Protection Agency's (EPA) risk for beverages.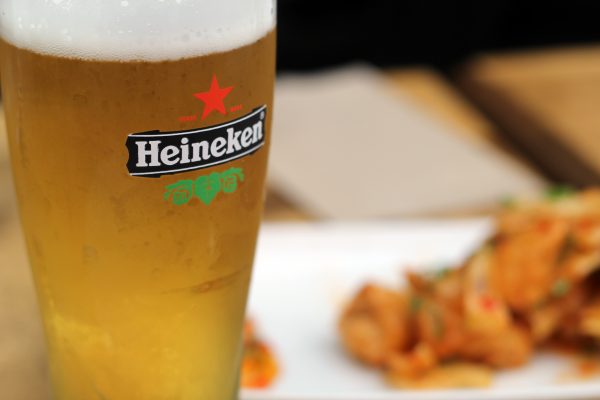 "Our members work with farmers who go to great lengths to raise their crops sustainably and safely. … The results of the most recent federal testing showed farmers' use of glyphosate falls well below federal limits," said the spokesperson, USA Today reported.