A bear was captured on camera taking a bath in a Tennessee rental cabin's hot tub.
Elizabeth Strickland posted photos of the bear on the back porch of their cabin in Gatlinburg, WBIR reported.
"I just had to share with y'all. I was in that same seat 14 hours ago!" she said of the bear in the hot tub.
There were also three bear cubs, she told the station.
The Tennessee Wildlife Resources Agency warns that bears might be cute or friendly, but people should be cautious.
"They have been called a charismatic mega-fauna and for good reason—everyone from non-hunters, to hunters, to wildlife watchers—we all love bears in our own special ways," the website says. "For these reasons, it is everyone's responsibility to keep them wild and keep them alive."
PHOTOS: Couple vacationing in Gatlinburg spots bear relaxing in their hot tub https://t.co/NIGlbdqqYo pic.twitter.com/q0Jm7QiOBQ

— WKRN (@WKRN) May 3, 2019
According to the agency, there are several ways to deal with bears, which applies to black bears in any state:
-Never feed or approach bears!
-If a bear approaches you in the wild, it is probably trying to assess your presence.
-If you see a black bear from a distance, alter your route of travel, return the way you came, or wait until it leaves the area.
-Make your presence known by yelling and shouting at the bear in an attempt to scare it away.
-If approached by a bear, stand your ground, raise your arms to appear larger, yell and throw rocks or sticks until it leaves the area.
-When camping in bear country, keep all food stored in a vehicle and away from tents.
-Never run from a black bear! This will often trigger its natural instinct to chase.
-If a black bear attacks, fight back aggressively and do not play dead! Use pepper spray, sticks, rocks, or anything you can find to defend yourself. If cornered or threatened, bears may slap the ground, "pop" their jaws, or "huff" as a warning. If you see these behaviors, you are too close! Slowly back away while facing the bear at all times.
Bears Rescued
In another part of the country, in Arizona, three bear cubs were rescued after their mother died.
Arizona Highway Patrol troopers were responding to the crash near Dudleyville on April 29 when they stumbled on the cubs, and managed to load two into the back of their patrol car.
Pictures released by the Department of Public Safety show the 4-month-old cubs clambering on the seats in the back of the vehicle, while an officer from Arizona Game and Fish Department tracked down and caught the third cub.
AZGFD Tucson & Mesa responded today to three bear cubs orphaned and recovered by the AZ Hwy Patrol after a rare auto-on-bear accident on State Road 77 south of Winkleman. Their mother was likely killed instantly. The cubs are en route to the SW Wildlife Conservation Center in Scottsdale. One first responder rescuing the cubs was scratched on the forearm by one, is seeking treatment at Oro Valley Hospital and likely will be released.

Posted by Arizona Game and Fish Department Tucson on Monday, April 29, 2019
"Sergeants Tarango and Marquez, with assistance from DPS and a concerned citizen, arrested these three bandits, charged with raiding picnic baskets!" wrote the Hayden Police department in a statement on Facebook.
"Bears are incredibly smart animals," he said. "They need to be challenged. Our bears here are given games to play and puzzles to do."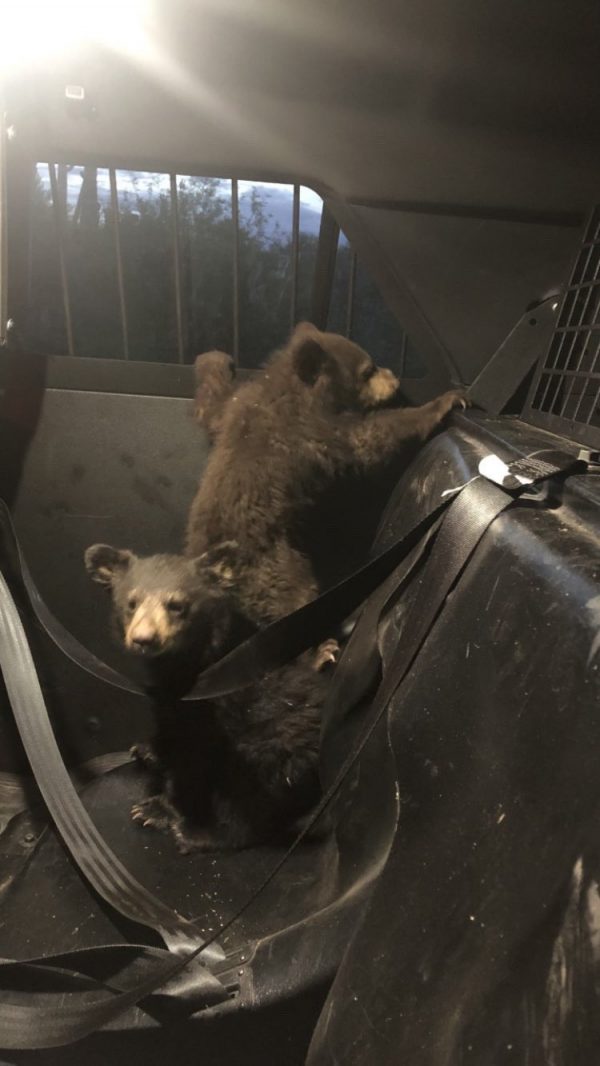 Epoch Times reporter Simon Veazey contributed to this report.