The targets of a two-week national manhunt used a cellphone to record a video of their "last will and testament" before they died, according to a news report.
Kam McLeod, 19, and Bryer Schmegelsky, 18, had been on the run for weeks before their bodies were located near Nelson River in northern Manitoba. Authorities said two firearms were also found at the scene, and autopsies conducted by a Manitoba medical examiner concluded that the pair had died by suicide.
The Star Vancouver reports that a video was found on a cellphone located near the bodies, which the men left as a kind of "last will and testament" for their family members.
Family members were shown about 30 seconds of the video, according to a relative interviewed by the Star, during which time the two briefly outlined their wishes for their remains. It was considered a "goodbye" to their loved ones before their deaths, the relative said.
It's unknown how long the video is, but RCMP is reportedly holding on to the rest of the footage to be used as evidence in their investigation. They declined the Star's request for comment but said they will be releasing more detailed information about the case in the coming weeks.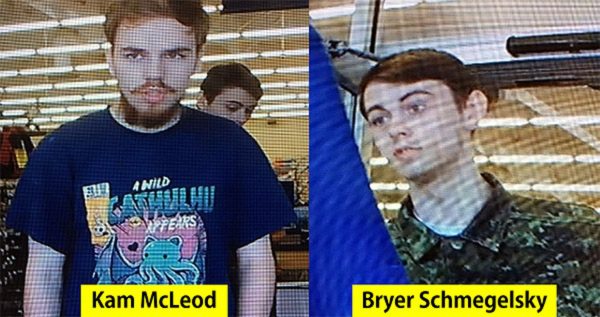 McLeod and Schmegelsky had been suspected in the murders of three people since July: Australian tourist Lucas Fowler, his American girlfriend Chynna Deese, and UBC professor Leonard Dyck. The tourist couple was fatally shot at a highway in British Columbia, while Dyck was found dead near an abandoned vehicle that was later linked to the two suspects.
Although the case originally started out as a missing persons investigation, accumulating evidence and tips eventually led the RCMP to connect the two men's disappearance to the three murders. On July 24, they were charged with second-degree murder in Dyck's death.

Police officers had been combing areas across the country such as Manitoba and Saskatchewan in hopes of finding the pair and bringing the case to a close.
The last confirmed sighting of McLeod and Schmegelsky before they were found dead was in Gillam, Manitoba, where the RCMP organized extensive search efforts involving the use of drones, thermal imaging, and door-to-door canvassing for information. K-9 units and helicopters were also dispatched to aid the search.
After Gillam came a tip from the rural community of York Landing in the same province. Members of a patrol group had reported a sighting of two young men near a local dumpster, saying they had immediately "bolted" into the forest after realizing they had been seen.
The tip also came to nothing, however, and RCMP eventually left York Landing after no success despite what they called a "thorough and exhaustive" search.
McLeod and Schmegelsky's bodies were found only a few days later, close to where several items linked to them had been discovered.
RCMP assistant commissioner Jane MacLatchy told reporters at a Winnipeg media conference that the suspects had been found dead kilometres from where their burned-out vehicle was located. "Over the last two weeks, our officers have worked tirelessly to find the suspects," she said.
"While there were no confirmed sightings since July 22nd, our officers never gave up in their search efforts—following-up on every lead, considering all options, and using every available resource."