It's graduation season again, and counties in the San Francisco Bay Area have made adjustments so students can still have graduation ceremonies despite the shelter-in-place orders.
Most people will have to modify their celebrations this year due to the pandemic, but they are coming up with creative ways to end the school year.
San Mateo County issued an order on May 11 allowing up to 200 vehicles to gather, with many restrictions. This is intended to help schools host modified graduation ceremonies.
The San Mateo County Event Center and Audio Visual Resources have partnered with local schools to offer drive-in packages for 2020 graduation ceremonies.
"These are challenging times indeed. Collaborating with Audio Visual Resources has helped us to come up with a truly creative strategy, that helps celebrate the Classes of 2020," said Dana Stoehr, CEO of San Mateo County Event Center, in an emailed press release. "Packages can be customized, but the general idea is a drive-in movie theater format to assure social distancing in the safe confines of student and family vehicles."
Commencement speeches will be broadcast through big screens and FM transmitters. Audience members can tune into the correct channel and listen from their vehicles. Students can also be granted the opportunity to individually walk the stage, pick up their diplomas, and get photographs to complete their graduation.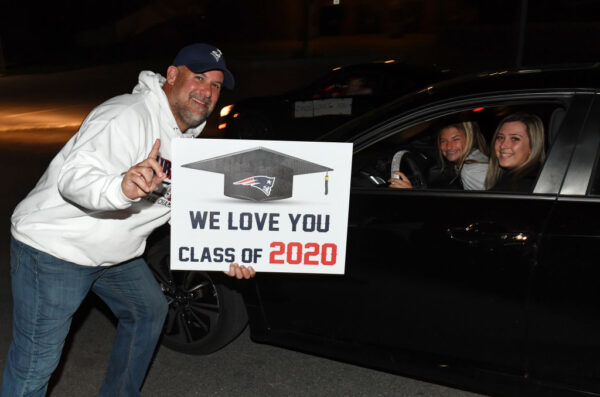 Contra Costa County also made efforts to celebrate student achievement. On May 12, it urged schools to host online graduation celebrations.
For those that can't, they may also hold drive-in ceremonies of up to 200 vehicles, six feet apart. Starting May 19, the county will allow vehicle-based gatherings and services.
For those in other counties who do not have drive-in service, here is a list of graduation celebration ideas:
Decorate your car. Instead of decorating caps, decorate the car with balloons, banners, and photos, and encourage others to do the same. Then drive down the street to create a graduation car parade.
Organize a graduation party at home. Decorate the living room and kitchen and celebrate with your closest loved ones.
Host a virtual celebration. Call up everyone to throw an online party for those who are graduating this year.
Make your own gown. Take an old item of clothing and repurpose it into a graduation cap and gown.
Put together a scrapbook. Write messages to each other and mail photos. Keep your memories in a scrapbook or photo album.
Leave gifts at the front door. Buy or make gifts, and surprise the graduate at their door.
Cook for the graduate. Prepare a special cake, dessert, or meal for that achiever.
Put together a video. Find video clips of your friends filmed before the lockdown, and compile a video of the past school year or the last four years.
Play a game. Find a board game like Monopoly, Telestrations, Apples to Apples, Risk, or Othello, or complete a puzzle. Another option is to go play outside in the yard or near home. Play Twister or Frisbee or have a water balloon fight.
Do your own photo shoot. Find a spot in your yard, a nearby park, or even your house, and play with angles and lighting for that professional graduation photo. Be creative!