As the Bathurst 12 Hours entered its final third, the entire running order upended itself.
The defending champion #1 Erebus Racing Mercedes SLS AMG driven by Nico Bastian pulled into the pits a few minutes before the four-hour mark for a routine pit stop but had issues the right rear wheel—the corner which clipped the wall near halfway. The crew tried to repair it on pit lane, then decided to take it to the garages.
The Erebus crew, normally excellent, wasted precious time on indecision—and lost the lead of the race.
With the #1 Erebus Mercedes in the garage, the #37 Darrell Lea McLaren MP4-12C driven by Klark Quinn took over the lead it had surrendered two hours earlier. Quinn then brought the McLaren in for a routine pit stop, handing off to brother Tony Quinn, saving ace driver Shane Van Gisebergen for the all-important final stints.
The McLaren's pit stop let the #88 Il Bello Rosso Ferrari 458, coming back from being a lap down (without wave-bys) into the overall lead.
This was a huge treat for the local fans, as Aussie V8 star Craig Lowndes was at the wheel.
UPDATE:
After two laps in the lead, the race-leading #88 Il Bello Rosso Ferrari was black-flagged for a pit-stop rules violation: apparently the pit board, which shows the driver where to stop,  was left over the red line demarking the mechanics' section from the racing surface. Lowndes turned a hugely quick lap, brought the car in for the drive-through penalty, and got back on track just ahead of the #37 McLaren, preserving the lead.
Earlier in the race the Ferrari was penalized for being two kph over the pit lane speed limit; it has been the only car penalized in the race so far.
With the #1 Mercedes losing six laps for repairs, the best placed Mercedes was the Erebus racing sister car, the #63—which started the race by hitting a kangaroo, later on hit the  #65 Daytona Coupe, ripping off even more of the front end. Even with the mangled bodywork, Will Davison started charging hard after the two leaders.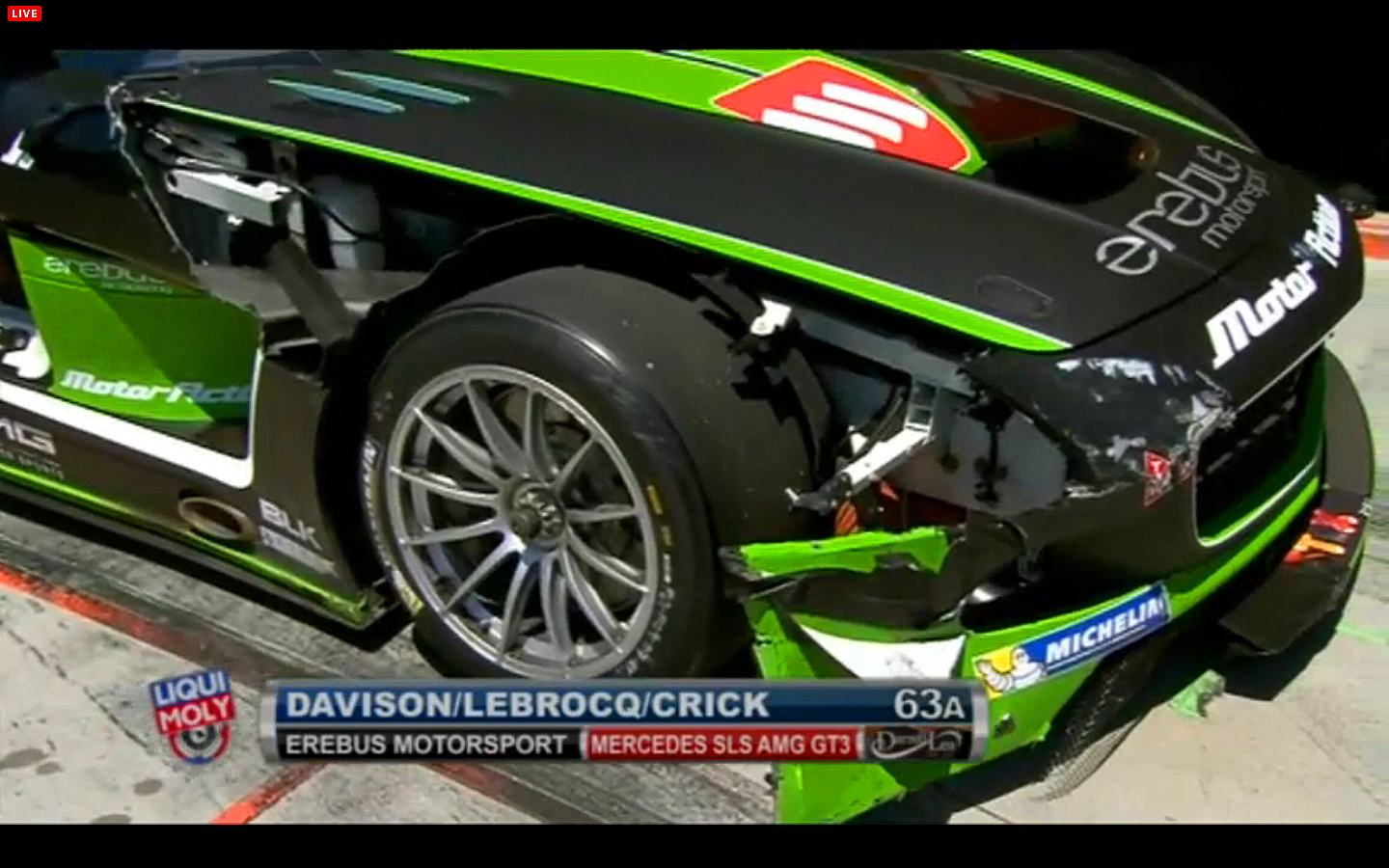 Class Leaders at Eight Hours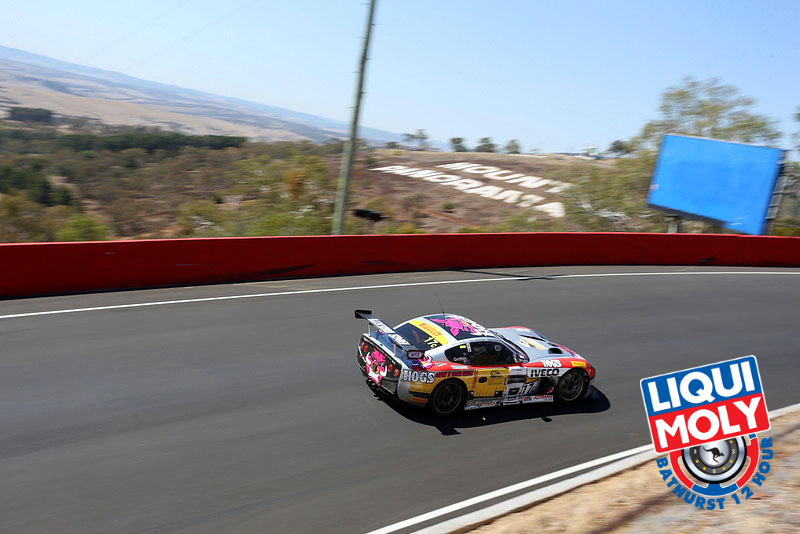 Class Leaders After Six Hours

Class

Place

Car #

Team and Car

A

1

88

il Bello Rosso Ferrari F458 Italia GT3 2013

B

9

12

Ice Break/Competition Motorsports Porsche 997

C

17

15

Griffith Corporation Ginetta G50

D

22

20

GT Radial/Radio Hauraki Leon Supercopa

F

24

96

Fiat Abarth Motorsport Abarth 500

I

13

70

MARC Focus GTC