Baseball's First Half Award Winners
July 18, 2013 6:17 am Last Updated: July 17, 2013 10:26 pm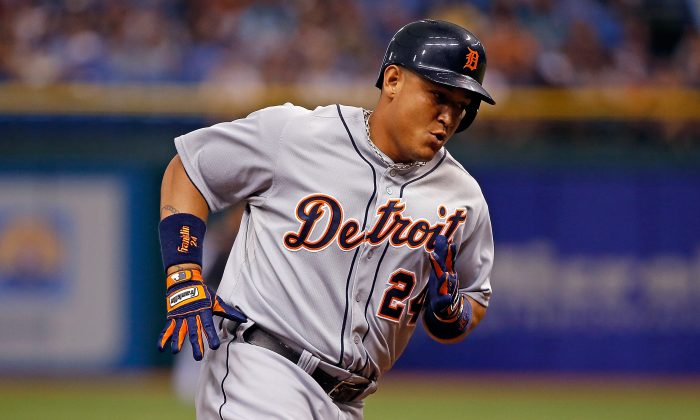 Now that a little more than half a season is in the books, it's time to recognize the mid-season leaders for the MVP, Cy Young, and Rookie of the Year awards. Let's start in the American League, with statistics through the All-Star Break:
MVP: Miguel Cabrera, Detroit Tigers—While Chris Davis has taken a little more of the spotlight with his 37 home runs, Cabrera has still hit 30 himself to go along with a majors-best .365 average and 95 RBIs, which put him on pace for 164—most since Manny Ramirez's 165 in 1999. The reigning-MVP Cabrera is also tops in the AL in wins above replacement (WAR) at 5.6, well ahead of second place Manny Machado's 5.0. And topping off Cabrera's case for MVP honors is Detroit's lead in the AL Central. It will be hard for anyone to catch him.
Runner-up: Chris Davis, Baltimore Orioles—Davis's aforementioned 37 home runs put him on pace for an incredible 62 in this, his breakout season. He's also just behind Cabrera with 93 RBIs.
Cy Young: Max Scherzer, Detroit Tigers—This is probably the closest of all the races at this point, as Scherzer's sparkling 13–1 record is hard to ignore. In addition to leading the league in wins (tied with Matt Moore) Scherzer is ninth in ERA at 3.19 and second in strikeouts with 152—putting him on pace for 262 for the season.
Runner-up: Felix Hernandez, Seattle Mariners—Hernandez leads the league in ERA at 2.53 while sporting a 10-4 record with 140 strikeouts. Should he get closer to Scherzer's 13 wins, while keeping his ERA at the top of the league, he would then take home his second Cy Young Award. But voters tend to put the highest value on wins.
Rookie of the Year: Jose Iglesias, Boston Red Sox—Boston's dazzling shortstop/third baseman always had a fine glove in the minors, but his .367 average through 199 at bats this season puts him at the head of the rookie class. However, Iglesias hit just .202 in 133 minor-league at-bats in AAA this season, so it's assumed his average will come down by the end of the season. Still, he had a great start.
Runner-up: Dan Straily, Oakland Athletics—The 24-year-old Straily has been solid thus far with a 6-2 record and 4.28 ERA in 14 starts for the first-place A's.
National League
MVP: Buster Posey, San Francisco Giants—Posey leads the most wide open race of the three major awards right now. The reigning MVP is hitting .325 with 13 home runs and 56 RBIs (on pace for 22 homers, 97 RBIs) while excelling in the field at the toughest position in baseball—catcher. Posey's biggest detriment however is his team's failing record of 43-51. But the Giants are better than that and should they rally, he should cement his second straight MVP.
Runners-up: Andrew McCutchen, Pittsburgh Pirates and Yadier Molina, St. Louis Cardinals—Pittsburgh and St. Louis have the two best records in the National League so if one of these players heats up a bit in the second half, the MVP is his. Molina is the unquestioned leader of the Cardinals and his .341 average leads the league, but he is a little low in the power department (for an MVP) with seven home runs. McCutchen is hitting .302 with 10 home runs and 49 RBIs while playing a stellar center field, but those numbers are noticeably down from 2012 when he hit .327 with 31 home runs.
Cy Young: Clayton Kershaw, Los Angeles Dodgers—Kershaw sports an unspectacular 8-6 record but currently has an MLB-leading 1.98 ERA through 20 starts while also leading the league with a 5.1 WAR. In addition, his 139 strikeouts are second in the league to Matt Harvey's 147 and the former Cy Young winner also allows the least hits per nine innings at 6.007. These numbers don't yet represent Pedro Martinez-like dominance but Kershaw is the best of the senior circuit.
Runner-up: Matt Harvey, New York Mets—Harvey is as good as advertised in his first full season with a 7–2 record, 2.35 ERA, and the aforementioned 147 strikeouts.
Rookie of the Year: Yasiel Puig, Los Angeles Dodgers—Puig has taken the majors by storm this season, since his callup on June 3. At the time of his call-up, Los Angeles was 23–32 and manger Don Mattingly's job was in serious jeopardy. Since then though the Dodgers are 24–15 and Puig, who has hit .391 with eight home runs and 19 RBIs during that stretch, is the major reason why.
Runner-up: Shelby Miller, St. Louis Cardinals—Miller is 9–6 with a 2.92 ERA in 18 starts for the Cardinals. Any other year, that would put you in the driver's seat for best rookie in the game. But Puig has great stats and great hype right now, so it'll be tough for anyone to overtake him.