The United States is aggressively pushing back against Chinese economic espionage and foreign influence activities, partnering with private enterprises, academia, and its allies to combat this threat, top U.S. officials said on Feb. 6.
The Chinese regime is deploying an "all-tools and all-sectors approach" to "steal their way up the economic ladder" at the United States' expense, FBI Director Chris Wray told a Washington conference on the Department of Justice's (DOJ) "China Initiative" program.
"That demands our own all-tools and all-sectors approach in response," Wray said.
In late 2018, the DOJ launched the China Initiative to crack down on state-sponsored theft of U.S. trade secrets and Beijing's foreign influence activities. Since then, the department has brought dozens of China-related espionage cases against a variety of actors, including Chinese intelligence officers, Chinese and U.S. academics, and Chinese companies. Some of these actors are "non-traditional collectors," such as Chinese graduate students participating in university research programs.
More than 80 percent of all economic espionage charges brought by federal prosecutors since 2012 have implicated China, according to the department.
The communist regime employs a wide range of techniques—such as cyber hacking, corrupting company insiders, and physical theft—to target valuable scientific and technical information held by the private sector and academia, Wray said.
"They are attempting to capture the benefits of our free society by outright stealing our technology. The stealing of technology is not a sideshow. It undergirds and propels their efforts," Attorney General William Barr said at the same event.
Barr described the regime's efforts as a "technological blitzkrieg" that poses an "unprecedented challenge to the United States."
The technologies targeted for stealing can be found in Beijing's "Made in China 2025" plan, which lays out core technologies the regime aspires to dominate in the future—including artificial intelligence, pharmaceuticals, and aerospace.
Since the launch of China's industrial plan in 2015, the DOJ has brought trade-secret theft cases in eight of the 10 technology sectors slated for aggressive development, Barr said.
The FBI has about 1,000 investigations involving China's attempted theft of U.S.-based technology, in all 56 field offices, covering almost every industry and sector, Wray said.
In the 2019 fiscal year, the bureau arrested 24 people in China-related counter-intelligence cases, John Brown, assistant director of the FBI's counterintelligence division said, adding that this number is set to be exceeded this fiscal year with 19 people arrested to date.
Most recently, the DOJ announced three separate prosecutions relating to alleged actions to aide the Chinese regime: the chair of Harvard's chemistry department was charged for allegedly lying about his ties to a Chinese recruitment plan that authorities say facilitates the transfer of sensitive U.S. research and technology to China; a Chinese military officer studying at Boston University was charged for allegedly concealing her ties to the military; and a Chinese researcher was charged over allegedly attempting to smuggle vials of stolen biological research.
To give a sense of the scale of the fed's efforts, Wray noted that all three cases were investigated by just one of the FBI's 56 field offices—Boston—and charged in a little more than a month.
Working With Business, Academia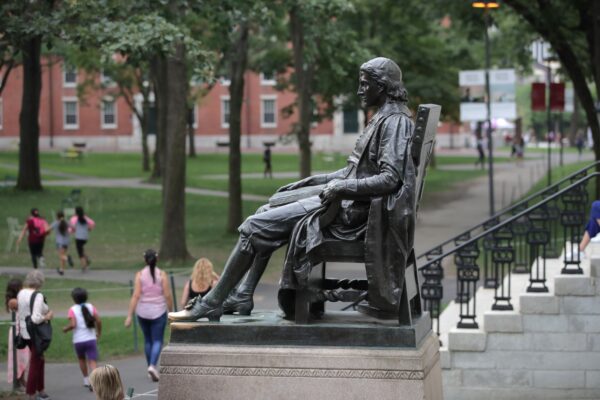 DOJ and FBI officials said they were increasing their engagement with the private sector and academia to raise awareness about the threat of Chinese economic espionage.
This approach does not, however, mean that the U.S. businesses and academic institutions should stop doing business with China, hosting Chinese guests, or welcoming Chinese students, Wray noted. But rather, firms and academia should "keep the long view in mind when engaging with China."
"We've got to be clear-eyed and thoughtful about the threat from China and do everything possible to ensure a level playing field between our two countries," Wray added.
William Evanina, director of the National Counterintelligence and Security Center, countered criticism that the federal campaign was driven by a "racial issue," saying that "this is a fact-based issue of the theft of intellectual property and trade secrets and ideas by a communist country."
Wray said the FBI was asking business executives to carefully consider the implications of working with Chinese firms, such as through a joint-venture.
"It might make a lot of money today; it might sound great on the next earnings call," he said. "But it might not look so great a few years down the road, when they find themselves bleeding intellectual property or hemorrhaging their most sensitive data."
Authorities are also encouraging universities to protect students from intimidation by foreign governments, to seek transparency in agreements with foreign institutions, and to conduct due diligence on foreign nationals working and studying on campuses, Wray added.
"University and think-tank colleagues: Do not allow the theft of technology under the guise of academic freedom," Barr said.
"Do not allow the PRC [People's Republic of China] to dictate your research or pressure you into ignoring diverse voices on controversial topics. Consider whether any sacrifice of academic integrity or freedom is worth the tradeoff."