A man climbed atop a huge crane on a construction site in Hollywood. What more, he was barefoot and shirtless and later also took his jeans off and draped himself in a large United States flag.
A guy is on top of the crane across from my apartment in Hollywood… ?? pic.twitter.com/UhFQH65zj0

— Mark Dohner (@MarkDohner) April 9, 2018
The incident was reported by the Los Angeles Fire Department on Sunday, April 8, at 5:19 p.m.
#Assist; 5:19PM; 6140 W HOLLYWOOD BL; https://t.co/WxKgFdhVfu; #Hollywood; LAFD personnel including Urban Search & Rescue (US&R) members on-scene of a person atop a crane approximately 200' above ground located at a … https://t.co/iUsnsi2Qbx

— LAFD (@LAFD) April 9, 2018
The man climbed the 200-foot crane on the Hollywood Boulevard near North El Centro Avenue.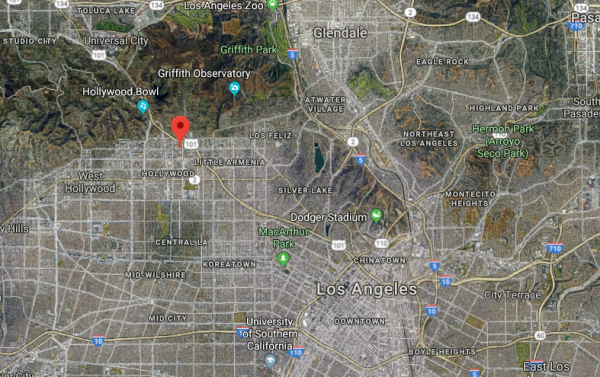 Happening now on Hollywood Blvd – man on crane causing police blockade. – his pants falling to the ground pic.twitter.com/ezNT0ygygX

— TisforTravel (@TisforTravel) April 9, 2018
"He climbed up and he was shirtless already, like he had his jeans on, then all of a sudden took them off and threw them on the ground," a witness told FOX11. "He took the American flag off the crane, was wearing it as a cape pretty much."
The man who climbed a crane in #Hollywood is wrapped in an American flag. #LAFD is here. He appears to be hanging out. @CBSLA #CBSLA #MyDayInLA pic.twitter.com/DWUIv7dvxE

— Cristy Fajardo (@fajardonews) April 9, 2018
The man eventually climbed down from the crane and was "very apologetic," said Los Angeles Police Department Sgt. Jose Torres.
"He was rambling a lot of different things, not very comprehensive," Torres told KTLA. "The main thing is that he was mostly sorry for what he did and telling us that he didn't want to put us in danger, nor did he want us to use all the resources that we did just for him."
The man was taken to a nearby hospital for a mental evaluation, but it remains a mystery why he climbed the crane and even how exactly he got atop of it.
Recommended Video:
Mesmerizing Footage Captures A 'Sea Pig' In Action