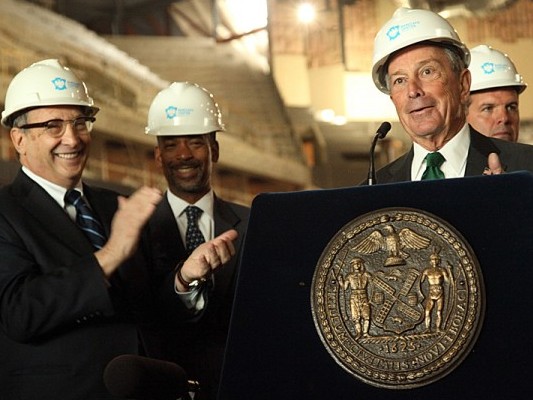 NEW YORK—Mayor Michael Bloomberg toured Barclay's Center in Brooklyn with the media on Thursday and announced, in conjunction with Forest City Ratner Companies Chairman and CEO Bruce Ratner, the new home of the Nets Basketball team would fill approximately 2,000 jobs. While it sounds like a win for the city and the state, which are handing Ratner hundreds of millions in subsidies, it is unclear how many of the estimated 2,000 positions will be full-time positions.
"Over the next few weeks and months, we will be posting approximately 2,000 jobs, everything from food service to security and ticketing, as we prepare for the arena's grand opening on September 28," Ratner said in a statement.
During the Q&A portion of the tour, which was broadcast live on the mayor's website, Norman Oder of the Atlantic Yards Report, asked how many full-time equivalent jobs there would be. Bloomberg responded, "I don't have any idea what they are."
He went on to add, "It is hard to calculate. If the average person works 30 hours and you say a full-time job is 40 hours, then you would just take three-quarters of the 2,000 …" before he was cut off by Ratner who adlibbed a joke.
Oder pressed that the state claimed only 1,100 jobs would be created to which the mayor responded, "That is fine. What does that got to do with their numbers? Maybe the numbers are right, maybe the numbers are wrong. Address it to the state, don't address it to me."
Oder was referring to a 2006 Final Environmental Impact Statement from the state, which said full time employment would be approximately 1,120.