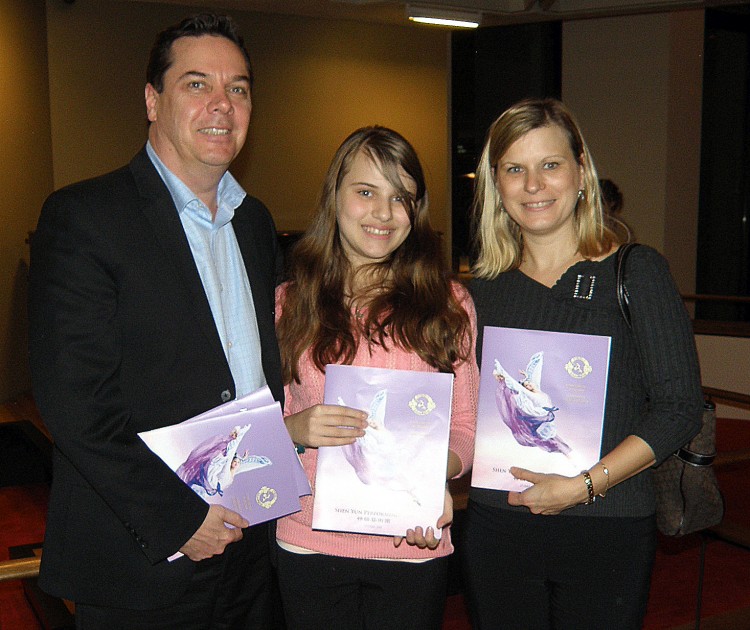 OTTAWA, Canada—Shen Yun Performing Arts' multifaceted spectacle of music and classical Chinese dance at the National Arts Centre left a strong impression on James Baillie, his wife Tanya, and their daughter on Friday, Dec. 28, 2012.
Mr. Baillie, a vice president for the Upper Canada District of CIBC, said he enjoyed the entire performance.
"It was wonderful," he said.
New York-based Shen Yun was established in New York in 2006 by a group of overseas Chinese artists. It now has three performance companies of around 100 people each that visited over 20 countries last year.
Mr. Baillie made specific mention of the quality and power of the vocalists. "[My wife] thought there was microphones involved, and there weren't any. That's amazing, very, very impressive."
According to Shen Yun's website, "Shen Yun vocalists' singing technique is the genuine bel canto tenor and soprano technique, and is very similar to the technique used by the '10 great tenors' of the past."
Interactive Backdrops
Mrs. Baillie, an accountant in the federal government, spoke about Shen Yun's animated backdrops that bring to life the many dance pieces as the performers on stage interact with them. "They integrated the background and brought it into the foreground and really captured your eye," she said.
"I like the way they [Buddhas] flew to heaven. I like the interactions with the animals. That was awesome," Mr. Baillie said in the latter case referring to the piece Sand Monk is Blessed in which the protagonist battles a shape-shifting river ogre that sometimes appears as a large fish.
The digital backdrops also display the wide range of scenery across China, the mountains of Tibet, the grasslands of Mongolia, and heavenly realms.
The Baillies' daughter loved pieces like Phoenix Fairies with the elaborate skirts of female dancers flowing elegantly.
"The costumes were fantastic, and the choreography was very amazing. It really impressed me greatly," Mrs. Baillie said. "And our daughter loves everything to do with the fairies, so she found it a real treat."
"[I'll] definitely come back, definitely recommend it," Mr. Baillie said.
Reporting by Becky Zhou and Rahul Vaidyanath.
New York-based Shen Yun Performing Arts has three touring companies that perform simultaneously around the world. Shen Yun's New York Company will be in Ottawa until Dec. 30 before going on to Montreal, Toronto, and other cities in eastern Canada. For more information, visit ShenYunPerformingArts.org
The Epoch Times publishes in 35 countries and in 20 languages. Subscribe to our e-newsletter.