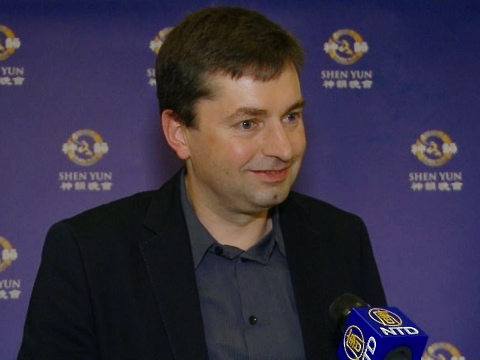 ZURICH—Shen Yun Performing Arts International Company's fourth performance at the Kongresshaus in Zurich on March 24 was attended by three friends whose forefathers came from Italy. Mr. Masiliano Firelli, team manager at a bank, Mr. Fabio Porcella, a project leader, and Mr. Alessandro Godina all had a lot to say about the New York-based company that brings to life 5,000 years of ancient China's civilization through classical Chinese dance and music.
"It was a wonderful show. Everything was beautiful and harmonious, and very impressive," said Mr. Firelli.
"During the first scene, An Era Begins, when the fog came up from the stage, and then one heard the drums, I felt great energy emanating from the drummers escaping the fog. And, the orchestra underscored the intensity. All this combined was very impressive," he said.
He continued to speak about his experience: "I have never in my life experienced something like this show. There is a backdrop, which is in the background. It comes alive with artists coming out of there and then they suddenly are on the stage. This is so special. Then again, the music underscores all of what is shown. I can only say that this was phenomenal."
Mr. Godina was of the same opinion, as the friends had been discussing it since the show finished.
"I have never seen anything like this. What I am referring to is the backdrop in the background. This is such a great idea. My respect—everything was so well brought together," he said.
"Additionally, I loved the pictures on the backdrop, the costumes in those special colors and the movements, the artists—very impressive."
Mr. Godina wants to tell all his friends about the show and say that one learns about "Chinese culture, stories from China, as well as what is happening in modern China."
"The show's content is very interesting, especially that it is such a rarity for one to come across. It is especially rare because one hears rarely about what is going on in modern China and one can't experience it. This is what I will tell all my friends and that they have to see this show," he said.
Mr. Firelli said, "It is as if one is surrounded by energy. This is what I will take with me and remember."
Mr. Porcella felt that "the stories were very emotional. One felt sorrow and happiness. At times I had goosebumps. The show was very impressive.
"The artists were high level. Everything we saw was so impressive."
New York-based Shen Yun Performing Arts has three touring companies that perform simultaneously around the world. Shen Yun Performing Arts International Company will next perform in Frankfurt, Germany from March 30-31.
For more information, please visit ShenYunPerformingArts.org.