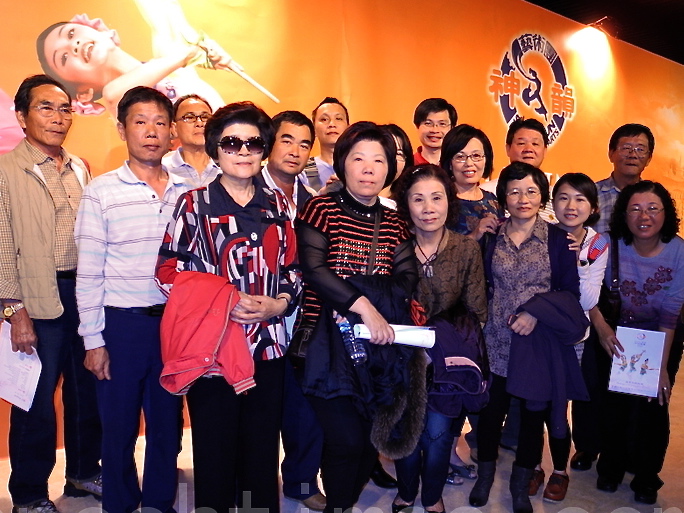 TAINAN, Taiwan—The second performance of Shen Yun Performing Arts New York Company in Tainan, Taiwan, ended with enthusiastic applause on March 8. Mr. Ye Zhenglong, a bank manager with the Bank of Banhsin in Taipei, saw the performance with 15 family members. "It's the first time for me to see such a performance. I felt stunned. It's amazing!" Mr. Ye said.
By way of invitation from his relatives in Hualien, Mr. Ye traveled from Taipei to met his relatives in Hualien and Taitung in southeastern Taiwan. The 16 family members drove across the central mountains from east to west to see Shen Yun in Tainan. The trip to "enjoy Shen Yun" impressed Mr. Ye deeply. "I was overwhelmed," he said.
"Every program was fabulous. I liked every program." After seeing the performance, Mr. Ye, speaking on behalf of the whole family, said every program contained different stories, all of which were appealing. "We also saw the Taiwanese Amei Dance, [In the Mountains]," he said. "They were very unique and a performance of international standard. It was pure and touching."
Mr. Ye was especially impressed by the program depicting the persecution of Falun Gong practitioners in China. Falun Gong, also known as Falun Dafa, is a traditional spiritual practice. He said he only had a little understanding about Falun Gong, but seeing the sharp contrast between good and evil in the program, he said it stirred his interest and he would like to learn more about Falun Gong after his return to Taipei.
One of the young girls in the family group said: "The representation of Shen Yun was extremely exquisite. The arrangement of the programs was as fluid as floating clouds and flowing water. It was completely different from other performances. The profound and delicate performance was an eye-opener for our whole family."
Mr. Ye's family members work in various fields, including financial services, police, public office, and owner of a supermarket, and are quite busy and come from different locations. In order to see Shen Yun, they had a family gathering. Mr. Ye particularly appreciated his aunt in Hualien for inviting them to see Shen Yun together.
'It is worthwhile sharing with all people.'
Among the Wednesday audience in Tainan was Tainan City Police Department Deputy Director General, Mr. Lin Jinyuan. He said, "Shen Yun's performance is full of the spirit of truthfulness, compassion, beauty, and honesty. Seeing the performance could greatly purify the human character and pacify the society. It is worthwhile sharing with all people."
Mr. Lin praised all aspects of the performance. He said: "Shen Yun's overall performance was excellent. The entire program was arranged in a very harmonious manner. The dynamic backdrops were very vivid and colorful. The dancers were so wonderful and looked very elegant and exquisite.
"Shen Yun's illustration of historical stories with traditional Chinese dance is very inspiring. It can purify people's mind and harmonize society, so it is worth further promotion."
He added that as he is a regular attendee at Taipei's National Theater and National Concert Hall, he is familiar with performing arts. He felt his mind had become very peaceful once he saw the Shen Yun performance. He explained, "Shen Yun is of great benefit to upgrading humanity, as it can help one have a positive attitude toward life."
Reporting by Long Fang & Sunny Chao and Lai Yourong & Billy Shyu.
Shen Yun Performing Arts, based in New York, tours the world on a mission to revive traditional Chinese culture. Shen Yun Performing Arts New York Company will perform in seven cities in Taiwan until April 8 and then continue to top venues in Australia and New Zealand.
For more information visit ShenYunPerformingArts.org
Read the Chinese article
Read the Chinese article