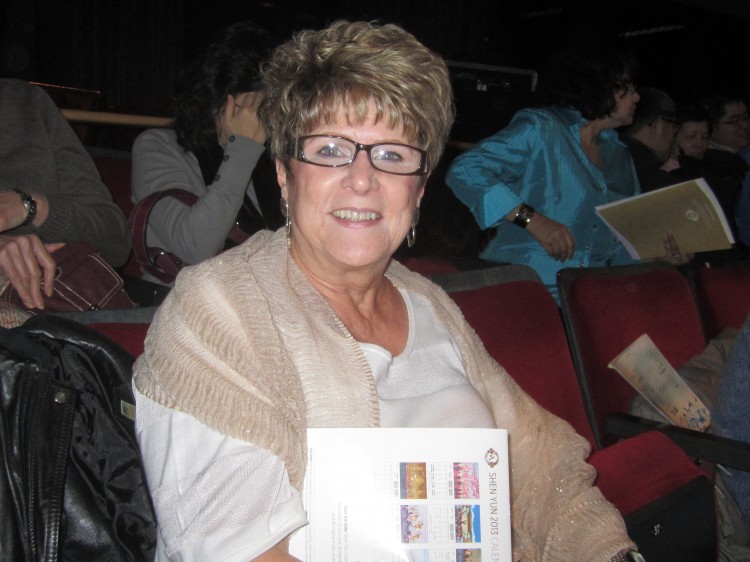 MISSISSAUGA, Canada—The Shen Yun Performing Arts performance on Sunday afternoon at Mississauga's Living Arts Centre was the first time for Carole Tamulionis to see classical Chinese dance, and she was fascinated.
A ballet school vice-principal and co-artistic director, Ms. Tamulionis was amazed by the expressive quality of the art form.
"Beautiful. The costumes are fabulous; the girls are beautiful. Everything is wonderful," she said.
Ms. Tamulionis teaches at the Marie-Ann Longlade School of Dance, a Mississauga-based school that specializes in ballet, tap, acrobatics, and other dance styles.
New York-based Shen Yun, the world's premier classical Chinese dance and music company, has wowed audiences in over 100 cities around the world with its superior artistry and uplifting performances.
"The choreography is great," said Ms. Tamulionis, who was particularly struck by the use of the sleeves in two of Shen Yun's dances, Ancient Elegance and Dancing for the Gods.
The program book describes Ancient Elegance as depicting the epitome of feminine grace, where fairies are evoked to dance by the silvery notes of a flute. Barely touching the ground, they spin skillfully with long silken sleeves.
Dancing for the Gods depicts young Tibetans extending their white khata sleeves in a ceremonious offering to the heavens. "The dancers' crisp footwork and waving sleeves showcase the energy, power, and grace of traditional Tibetan dance, expressing a spirited beauty in the face of adversity," describes the program book.
"It's beautiful," Ms. Tamulionis said.
Alongside ballet, classical Chinese dance is one of the most comprehensive dance systems in the world, with a set of extensive and strict training methods in both physical expression and specific postures.
Passed down through the people, the royal courts, and ancient theatre, the dance has developed into a vast and systematic form that has managed to capture China's rich cultural traditions. This allows its movements to be deeply expressive and to vividly portray any type of character or scenes.
Ms. Tamulionis found it rewarding to experience both the dance form and Chinese culture.
She also appreciated the bilingual hosts, who provided an introduction to each performance, guiding the audience to better understand the stories and meanings behind the dances.
Reporting by Lisa Ou and Madalina Hubert.
New York-based Shen Yun Performing Arts has three touring companies that perform simultaneously around the world. Shen Yun's New York Company will play the first of five shows in Ottawa on Dec. 27 and then proceed to Montreal, Toronto and other cities in eastern Canada.For more information, visit ShenYunPerformingArts.org
The Epoch Times publishes in 35 countries and in 20 languages. Subscribe to our e-newsletter.