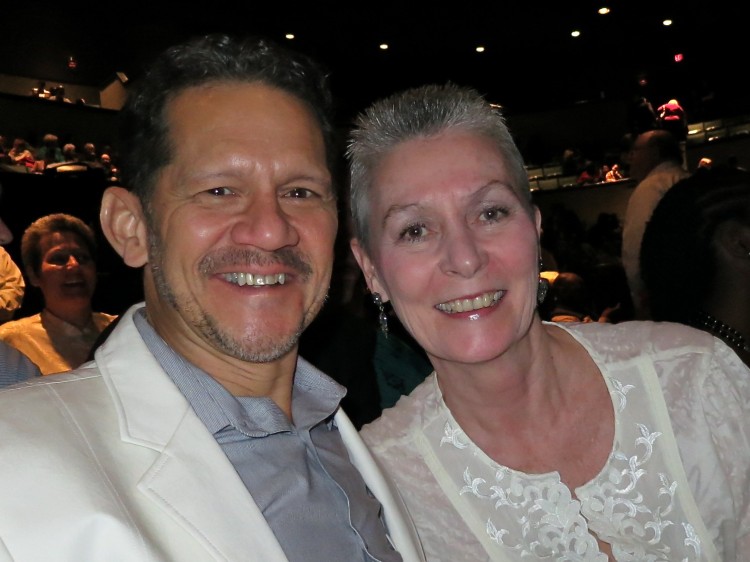 AUGUSTA, Ga.—Shen Yun Performing Arts, the premier classical Chinese dance company based in New York, toured to Augusta, Ga., on Jan. 31. A global sensation, Shen Yun Performing Arts, on its 2012 world tour, left audience members in awe with its magical performance at the William B. Bell Auditorium.
Ron and Kathleen Jones, owners of Columbia County Ballet in Evans, Ga., for 28 years, were among the audience. "We are very excited to be here to see this," Mrs. Jones said.
Shen Yun's mission is to revive the 5,000 years of traditional Chinese culture. Said to be divinely inspired, the traditional culture has been lost in China today due to communist rule.
Established in 2006, Shen Yun has three companies simultaneously touring the globe.
"We've seen the promotion for years. We have always wanted to come and we finally get to come. It's wonderful!" exclaimed Mr. Jones, who has an extensive background in dance.
Mr. Jones developed an interest in dance at young age, growing up on his family farm in Hawaii. He attended the American School of Ballet in New York on a scholarship, was the first paid dancer of the Atlanta Ballet, and a principal dancer with the Pittsburg Ballet Theater, according to his website.
Mrs. Jones, with an administrative background in ballet, formerly in public relations for the Atlanta Ballet, owner and pre-ballet director of Columbia County Ballet, said of the Tuesday-night performance: "Excellent! Beautiful! Beautiful work! Beautiful people!
"I was just telling my husband, it's amazing what's going on up there. It gives me ideas, it gets me excited about what they can do and what people can do because what we're seeing here is unbelievable. It is very wonderful."
Mr. Jones added, "It is such an extravagant pageantry—the colors, the dancing, the power, and the culture that they share are just marvelous."
Each year, Shen Yun presents a completely new production in dances, songs, and musical lineups. Audiences travel through legends and fairy tales relating the creation of the ancient Chinese culture up to contemporary China with the story of Falun Dafa, also known as Falun Gong, a traditional form of qigong, or cultivation practice.
Shen Yun's artists are professionally trained in classical Chinese dance, as well as numerous ethnic and folk dance styles, according Shen Yun's website.
"Not just the men, but the women, when they move, the physicality and their ability to move so beautifully—it's just very powerful. And the number of the people on the stage doing all of this, all together—it's marvelous," Mr. Jones said.
Shen Yun's performance includes a live orchestra with all-original compositions blending instruments from East and West. "The music is marvelous, and I was reminding myself this is a live orchestra. The orchestra is amazing. It's so rare that you hear that anymore. Live orchestra with stage presentation—it's so rare to see that and to hear that. It is beautiful music," Mr. Jones said.
Mrs. Jones added: "It's wonderful; there is so much excitement when you have live music. I'm watching all the people and see how they respond to all this because this is what we do for a living. We want to see how the people are experiencing this, and all the people here seem to be so receptive to all of the elements, the dance, the music, the camaraderie of everything. It's just beautiful."
Shen Yun performs to sold-out shows the world over and performed to a near-full house at the Bell Auditorium. Shen Yun's performances have graced celebrated stages from the Lincoln Center in New York to the Palais Des Congrès in Paris.
"This theater is a marvelous venue for something like this because it will house all these people to come see something this excellent," Mrs. Jones said.
Mr. Jones was particularly impressed with how the artists share rich traditional Chinese culture through varying art forms. "The power of the culture that's being shared, the value system of what they believe in, what is important to them, the struggle that they've had, how they show it through the movement, music, singing, the accomplishment of the performers, and the production itself is so beautifully done," he said.
Columbia County Ballet in Georgia teaches over 300 students, according to Mrs. Jones. "We have several dancers here in the audience, and we've run into them tonight. They were very excited seeing this [Shen Yun] is being brought here. This is an encouragement for us," she said.
"Exquisite and inspiring," Mr. Jones added.
China, known as the Middle Kingdom, has a profound history, including three principal religions: Confucianism, Buddhism, and Taoism. Five cardinal virtues of benevolence, righteousness, propriety, wisdom, and faithfulness are products of these three religions, according to Shen Yun's website. However, in the 1950s, the Chinese Communist Party destroyed these values through various campaigns like the Cultural Revolution.
"The heart of the people and what they truly believe is very heavily woven into this. It is interesting how the government tries to squelch creativity, but the people always come out. They always burst out of their hearts!" Mr. Jones said.
Reporting by Sally Sun and Kelly Ni.
Shen Yun Performing Arts has three touring companies that perform simultaneously around the world. Shen Yun Performing Arts New York Company will perform next in Cincinnati and then in Raleigh, North Carolina.
For more information, visit ShenYunPerformingArts.org.