Bagram Plane Crash: Video Shows Terrifying Crash in Afghanistan
April 30, 2013 3:19 pm Last Updated: April 30, 2013 3:51 pm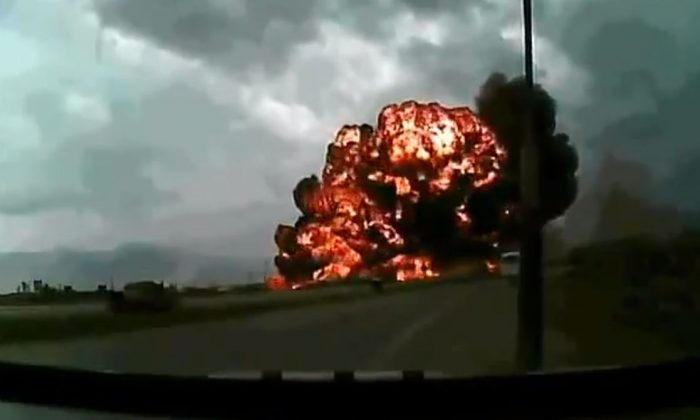 Bagram plane crash video:  A video was captured of the deadly plane crash at the Bagram Air Field in Afghanistan on Monday that left seven people dead.
The plane was operated by a contractor and was carrying vehicles and other cargo.
The video footage appears to have been captured via a car's dashboard camera.
In the video, which was uploaded to YouTube this week, the plane is shown falling at a sharp angle before it hits the ground, bursting into flames and smoke.
The Taliban quickly claimed responsibility for the crash, but the coalition said in a statement to The Associated Press: "Taliban's claims are false."
It said the cause of the crash was being investigated by emergency crews that rushed to the site, but there was no sign of insurgent activity in the area at the time.
Capt. Luca Carniel, a coalition spokesman, said the aircraft crashed from a low altitude right after takeoff.
The victims were not immediately identified.
The Associated Press contributed to this report.